Loyiso Gola
One random comedian, eight random questions; it's the ultimate test of funny person and fate.
This week we roll out the red carpet for Loyiso Gola, who has just made history. The popular South African is the star of the first Netflix stand-up special from that whole continent, which is quite a claim to fame.
Still, "it's been a very gruelling and tiresome 12 months," admits Gola, whose show Unlearning is about letting old ideas go. It was recorded in Cape Town, at the mighty Zeitz Museum of Contemporary African Art - but trying to a film an important thing last year was more fraught than usual.
"Between figuring where to shoot the special and how to shoot the special, it was hard to ascertain the next move. We lived in fear of planning a shoot and then after the plans, the country goes back to an intense level-five lockdown.
"I also just needed a place to be a comedian again, just to remember the gears. I was anxious about my health because I know people around me were catching COVID."
Thankfully all went relatively smoothly, Unlearning is now out there, and a damn good reason to remain safely rooted on the sofa.
Loyiso Gola, your Random 8 await.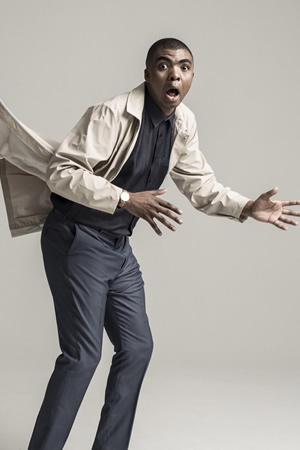 What's the best advice you ever received?
There is nothing to it but to do it. The older you get the more you realise that to implement is the hardest part of many things. And to start anything is very difficult. That's why you have to just dive in and do it.
Sometimes people who wanna start stand-up comedy ask for advice and my response is 'start getting on stage'. Just start.
Your most interesting injury?
Pulled my groin recently and every time I would massage where the pain was I would think 'this is creepy.' I get injured a lot generally, because when I was younger I played sport at a pretty high level. Now in my 30s my body is reminding me about that leaping I used to do as a teenager.
Mmmmm, and I once cramped up during sex. Told a friend and he said you only cramp up if you doing it right. My friend is currently in prison.
What's the most regrettable thing you ever bought?
Real Estate. They tricked me into that. That shit is costly; just the upkeep. I didn't investigate the idea, I just did it. I would rather rent, thank you; in that way I don't have to deal with the fixing of anything pertaining to the house. I am being told that the rewards are long term but I am not convinced.
Which movie would you love to have been in, and which part?
Snatch, as Brad Pitt's character. I catch on to accents easily, I think I would have done the gypsy accent. For years I thought Brad (we on a first name basis) made the accent up until I heard someone actually speak like that. I was concerned as to how they go about their day-to-day, speaking in such an inarticulate way.
What's the best thing you ever ate?
I don't think in hyperbole. It's the same reason I don't have a best friend. I enjoy Indian food if that's what you asking? I am not a foodie, I am more of a functional eater. Don't get me wrong, I enjoy eating but if you could just inject me with the food that would be fine too.
When were you most embarrassed?
There you go again with the hyperbole. At 37 I am finding all the things I used to get embarrassed about as silly. I once got a one-star review at The Edinburgh Fringe Festival. I was embarrassed by that. It felt like everyone at the festival read the review. I spent two days not socialising because the reviewer called me a hack.
Your greatest sporting moment?
Arsenal winning the league at Old Trafford; that's more recent.
I remember in 1996 when the South Africa football team won the African Nations Cup. I was 12 years-old and Mark Williams scored two great goals. It was just after our first democratic elections and it put the whole country in a good mood. We were optimistic about the future after that. The South African Rugby team had won the World Cup the previous year so we felt untouchable.
What's the best thing you ever bought a ticket for?
I once bought a ticket for a Dave Chappelle music jam in Johannesburg. Ed Sheeran and Stormzy rocked up, they did a 30-minute session together. Jay-Z and Beyonce (rolling with Tyler Perry) were in the building but they didn't jump onstage. I would have lost all my marbles. It was all so, so surreal considering it was a dingy club called Carfax.