Lloyd Griffith
Welcome one and all to the first edition of Random 8, where one brave comic is faced with eight random questions, about... pretty much anything really.
Our debut contestant is Lloyd Griffith, the talented comedian and chorister who was billed to perform at the Latitude Festival this weekend, on a typically spectacular comedy stage with the likes of Harry Hill, Bridget Christie and Alan Davies (and everyone from Sandi Toksvig to Ed Milliband in other tents). But he's stuck in Russia. Stuck in Russia in a good way, that is; covering the World Cup, England games and all. Suck up that envy and follow his exploits on Instagram
The football work is keeping Griffiths busy, as he began hosting Sky Sports' flagship magazine show Soccer AM last season. But stand-up remains the proper job, and last week he announced a big old tour, of the show All Rounder, kicking off in January 2019. Those details are below.
Now, Lloyd Griffith, your eight await.
What's the worst thing in your wardrobe?
All the clothes that don't fit me. I constantly buy clothes 'to slim into'. They're just a constant reminder of me not going to the gym and being a little fat idiot. I reckon I can fit in to 30% of the clothes in my wardrobe
Who is your most interesting relative?
My godfather Geoffrey, who sadly passed away in 2007 when he was 75. He was my father figure growing up. Up until the week before he died he used to cycle 16-20 miles a day. He used to drive a Subaru Impreza Turbo and wear (original) aviators, but in a way where if you looked at him you knew he'd lived a life.
He had as well; he used to be a rally driver, play table tennis for Great Britain, play squash for the county, built his own house. His house was full of silverware from all his achievements. He's the reason I'm doing what I'm doing today. I miss him and as I type this in a cafe in St Petersburg I'm starting to well up, which is far from ideal.
Cheers guys, and fully aware this is a humblebrag about me being in Russia but I'm cool with that.
Where's the weirdest place you've ever travelled to?
Obviously I have to be careful here because I have just announced a new tour, so don't want to then slag off somewhere I'm visiting. So I'll play it safe.
What was your greatest sporting moment?
Playing at Blundell Park in a team full of Grimsby Town legends against a current Grimsby Town team. I came on as a half-time substitution and within 60 seconds I'd given away a penalty and guess what... I let in that resulting penalty. But what a memory to tell any grandkids I may have.
Do you have a signature dish?
I'm awful at waiting ages for things to cook. I have to cook it and eat it straight away which results in me constantly having a burnt tongue. I can't wait for something to 'simmer' or 'roast in the oven for two hours'. So I'd say I do a cracking chilli (I use wine, chorizo and chocolate, FYI), and best of all, can knock it out within 35 minutes.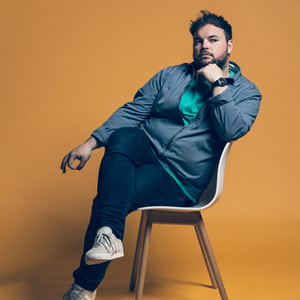 Who was your first celebrity crush - and have you met them?
Pamela Anderson. Not yet. I used to have pictures of her all over my hymn book at school.
Ever relieved yourself somewhere memorable?
I do a lot of wees in St George's Chapel, Windsor Castle. Literally meters away from dead royals (I probably should add that I'm a deputy choirboy there, so I sing there quite a bit and the wees are legit, not illegal/disrespectful).
Which film would you love to have been in?
This Is England. I've watched it so many times. Every single character is the coolest person you'll ever meet. I get told I look like Gadget too (Andrew Ellis) so reckon it could have happened if I (a) could act and (b) had a time machine. I'm also pals with Thomas Turgoose now - not humble, just a brag - and I often just sit with him imagining I'm in it.