Jon Brittain
One random comedian, eight random questions; it's the ultimate test of funny person and fate. This week that comedy brain is Jon Brittain, the Olivier-winning playwright, director and all-round side-of-stage.
You may know Brittain for inventing Margaret Thatcher Queen of Soho, directing both of John Kearns's Edinburgh Award-winning shows, and Richard Gadd's recent, much praised Baby Reindeer. Now he's trying out some intriguing new stuff at London's Vault Festival, including this week's The Ultimate Lad, a collaboration with the award-winning actor Ash Palmisciano.
"It's a true(ish) story," says Brittain, "based on the year in Ash's life after he transitioned to male, in which he attempted to become 'the ultimate lad'. It's a funny and unexpected look at masculinity and the rules men live by, told by someone who had to learn them very quickly after 25 years living as female.
"Ash and I met years ago through the charity Gendered Intelligence and quickly became friends. We were keen to write something together but nothing we came up with was as interesting as the hilarious and heartbreaking stories Ash told me about his own experiences, post-transition.
"I'm really excited about it - Ash is a brilliant performer and very funny writer and we're delighted to finally be sharing a work in progress performance of the script, after working on it off and on for many years (we started in 2017!)."
That's on March 13th-15th at the Vaults, and Brittain is "also doing a scratch night on 21st March at the same festival - Brain of Brittain - in which I'll be trying out new stuff including a new short film starring Joz Norris. After that it's back into Baby Reindeer rehearsals with Richard Gadd for its West End run in April!"
Best get started then. Jon Brittain, your Random 8 await.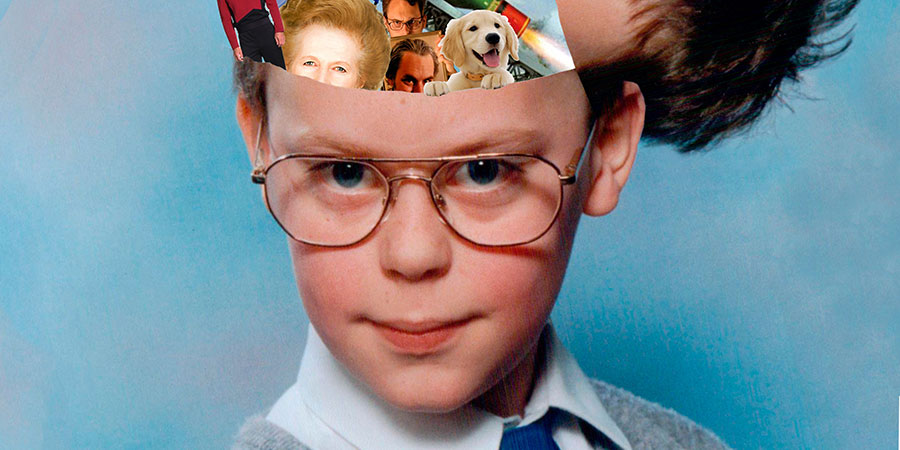 What was your childhood career dream?
Actually, from a really young age I used to say I wanted to be an 'author'. It's important to note that I didn't actually know what an author was or did. I used to imagine that authors stood at lecterns in cathedrals writing beautiful words in leather bound books with a quill.
The reality turned out to be sitting at your own kitchen table, surrounded by empty Red Bull cans, at midnight, desperately writing down whatever words you can think of because you've got a deadline the next day.
Do you have a favourite device - theatrical or technological?
I'm a bit of a technophobe beyond the mandatory phone and laptop. In theatre, I like breaking the fourth wall. In fact, I love it when the fourth wall isn't there at all. My favourite way to begin a show is for the main character to say to the audience "Hello, I'm going to tell you a story".
I'm not a huge fan of monologues where a character talks to an imaginary person who's not there. Whenever I'm asked who a character in a one-person show is talking to I always reply 'the audience'. And if I'm asked where they are, 'the theatre'.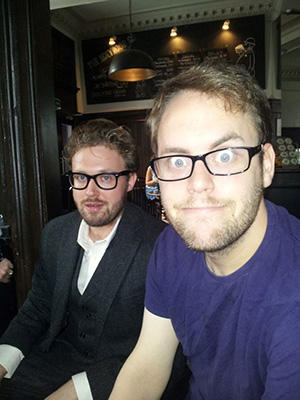 What's the weirdest thing you ever saw?
I did a show at the Edinburgh Fringe in 2008 with John Kearns in a Wetherspoon's that followed a show performed by Mr Methane - Britain's premier flatulist (professional farter). Every day he ended his show by firing a dart out of a blow gun that was stuck up his arse and bursting a balloon balanced on an audience member's head. That was quite weird.
How do you feel about cats (the animal, not the musical)?
I was very allergic to them when I was a child so I've never really totally got on board with them. I also find that my friends tend to get a lot more boring after they become pet owners. Nights out finish much earlier with the excuse 'we need to get home to the cats'. They seem to be as burdensome as children without the eventual promise that they'll look after you in your old age.
The movie however is beyond reproach. Instant. Classic. Ray Winstone 'singing' is one of the funniest things I've ever seen.
Ever met a particularly great or awful celebrity?
I wrote a play about a young girl whose imaginary friend is Patrick Stewart (My Imaginary Friend Patrick Stewart - the more literal the title the better!). I sent it to his agent for him to read. Years later I met him at the Evening Standard Awards just after not winning one.
I introduced myself, told him I was a massive fan and then giddily explained that I was the author of the play. I have never seen someone be so quickly consumed by the desire to leave a conversation. Ah well.
Also, one time I was stuck between an opened door and the wall as Sting and Annie Lennox had a conversation in front of it.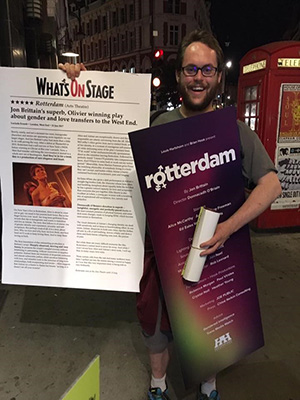 What's the best thing you ever bought a ticket for?
I went to a Star Trek convention with my brother in 2018 which was a lot of fun. We got a photograph with Quark, Nog and Rom in full make up (for the uninitiated, they're aliens with big ears). Two of them were fully in character and loving every minute, but Quark steadfastly refused to play along.
As I went up for a photo he muttered wistfully to me 'the man who just stood for a photo, I've known for 30 years, longer than either of these two'. He sighed a big sigh. Smile. Photo taken. Move along.
Ever walked out of a film or show?
Very, very rarely. One of the few fairly firm beliefs I have is that you shouldn't really judge something that you haven't seen the whole of. Having said that, a friend and I once went to see a Gilbert and Sullivan operetta and we were so bored we couldn't face the second half. I don't know what Sideshow Bob sees in it.
What should be Britain's next national anthem?
I'm very partial to Bruce Forsyth's 1968 single I'm Backing Britain. It's a charity single to promote the I'm Backing Britain campaign that encouraged British workers to work for an extra hour each day without billing for it to help boost the UK economy. Different times.