John Rutledge
One random comedian, eight random questions; it's the ultimate test of funny person and fate. This week we welcome a proper rap star, which is rare in these parts, at least since Snoop stopped sending us those lengthy thinkpieces on You Rang, M'Lord?. This rapper is Eggsy, aka John Rutledge, the Goldie Lookin Chain hitmaker turned actor, comedian and now cool audio-thing creator.
Meet The Street was conceived early in lockdown, when "like everyone else I spent my allocated exercise quota walking around the block or looking out of the window, moaning about next door's cat and the fat kid at the end of the road who was making too much noise on his microscooter," he admits.
"After about three weeks of this it struck me that I had become 'that' next door neighbour, the retired bloke who spends all his time curtain twitching whilst discussing other people's lives, and at that point David Plympton was born."
Strong origin story. And then?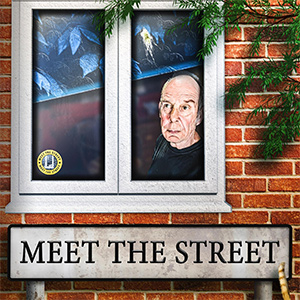 "I tried pitching it to some radio types but nothing happened so I sat down, watched the entirety of Netflix, baked 500 loaves of bread, lost 25 Zoom quiz nights and then decided to go ahead and make it. I got in touch with Mark Davison, Richard Sandling, Eleri Morgan, Mike Bubbins, Alex Lowe and Dan Mitchell who are some of the funniest people I've ever met and asked to interview them in the style of a nosey neighbour.
"The basic idea is each episode takes you on a journey into David Plympton's world, there are in-depth interviews with his equally strange neighbours, reports on his daily routine and general musings on life from a man who holds a deep love for his local community, provided everyone plays by the rules. Hopefully it will give anyone who listens a bit of a laugh and provide a bit of a break from the current madness."
You knows it. John 'Eggsy' Rutledge, your Random 8 await.
Who was your childhood hero, real or fictional?
I was strongly drawn to ITV's Boon, played by Michael Elphick; previous to this I would say Zed from the Police Academy films or any of that lot from Star Wars. Oh yeah and also Ivor Cutler, so a bit of a mixed bag really.
Ever gatecrashed anything interesting?
I once ended up in a dressing room with proto-punk legends New York Dolls who seemed to be playing a gig in the same venue as Goldie Lookin Chain (but in a bigger room with more fans). They had a slightly better rider than us and I nicked the peanut butter they had requested. Nice lads. I also had a hot dinner with Kraftwerk by accident once... that was good.
Do you have a signature dance move?
I'm a big fan of what I refer to as 'ITV studio audience clapping.' Imagine shuffling from side to side whilst clapping in time to the beat, a bit like Mick Jagger from the Stones combined with Bobby Gillespie from Primal Scream but Welsh and with less rhythm, or talent or money.
What's the weirdest thing you ever saw?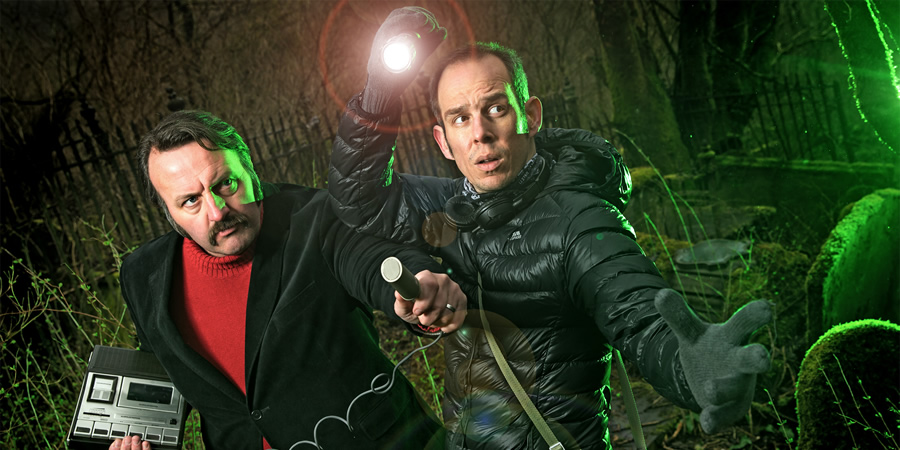 During the recording of The Unexplainers series I got to meet loads of people who had witnessed paranormal happenings, everything from ghosts and UFOs to people with psychic powers.
I didn't actually see any ghosts, aliens or gain any psychic powers but I did get to see the Nanteos Cup in the National Library of Wales which is said to be the Holy Grail used by Jesus during The Last Supper. That was quite strange although I'm not sure how he managed to drink out of it as it's knackered.
Oh yeah, I also saw a dildo gaffer-taped to a one-litre water bottle on the floor outside of Birmingham International Airport. That was really weird.
Ever met a particularly great or awful celebrity?
I once stood next to Paul McCartney at a showbiz do. He was ushered in through a side door and no one else was present, we sort of acknowledged each other and I proceeded to pick at the buffet. He seemed nice but I just remember thinking that the poor guy is about to get hounded for photos and questions about being a Beatle, so I left him alone to have five minutes with the finger buffet.
Also met Rick Wakeman twice: anyone who wears a cape and plays the organ is alright in my book.
Oh yeah, I once used one of the New Kids On The Block's t-shirts as a hand towel. He was not very nice.
What's the best thing in your wardrobe?
A Richard Whiteley-era Countdown t-shirt that used to belong to my Mrs.
Your most interesting injury?
I once held on to a firework for far too long and the resulting explosion ripped all the skin off of my hand, the pain was unbearable for weeks afterwards and I had to walk around like Peter Sellers in Dr Strangelove for about two months. Loads of fun picking the scab off though.
What's your favourite phrase or expression?
"Have a good time, all the time," a phrase coined by the mighty Viv Savage from Spinal Tap. I try to live by that motto. Or "Don't Smoke in Bed." It's educational, which is good.