Jinkx Monsoon and Major Scales
One random comedian, eight random questions; it's the ultimate test of funny person and fate.
Hang on, what's that - two people? Yes, this week we bring you a four-legged fun machine: Jinkx Monsoon, who won season five of the mighty global phenomenon RuPaul's Drag Race, and long-time musical partner, Major Scales. They're Seattle's finest export since grunge.
The Space Needle Bacharach-and-Springfield (as we're calling them) are on a UK tour from early-April onwards, dragging this wind-lashed land out of the winter doldrums single-handedly. Well, four-handedly, if that's a thing.
It is now! Jinkx Monsoon and Major Scales, your Random 8 await.
Who was your childhood hero, and why?
Jinkx: From a very early age, Bette Midler has been my hero. When I was young, and before I knew how Hollywood worked, I thought it was truly amazing that Bette Midler did such a diverse array of roles.
I was a child when I fell in love with the movie Beaches, and then to see her in Hocus Pocus, voicing the poodle, Georgette in Oliver and Company, and then listening to her wide range of music - she was honestly my first hero.
Major: 'Weird Al' Yankovic made a strong impression and got me into writing song parodies as a young teen. He's also why I own two accordions...
What's the most regrettable thing you've ever bought?
Jinkx: I'm a terrible online shopper. I buy things on impulse all the time, then they arrive and I feel ridiculous.
I'm trying to decide between the bat-wing romper I bought that gave me camel toe... or the time I bought a chaise lounge for a show, and it showed up and was a child-sized chaise lounge, intended for a four year-old. I didn't even know those existed!
Major: Not one but TWO boxes of Urkel-Os, the Family Matters-themed cereal [it's a famous US sitcom], as a kid. My taste buds had no taste.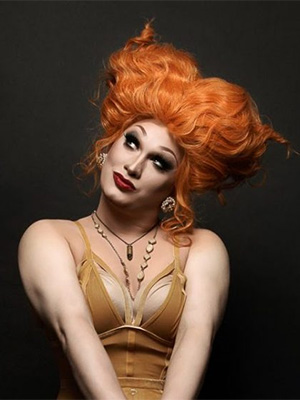 Ever gatecrashed anything interesting?
Jinkx: I'm not one to go where I'm not invited. But I've welcomed myself back to a few dressing rooms just so I wouldn't have to wait in line for a bathroom... or a drink.
Major: I've never gatecrashed, but I've been uninvited from a few stages after performing on them; does that count?
What's the weirdest thing you ever saw?
Jinkx: A person defecating on the sidewalks of New York. As people just walked by going about their business. No one stopped or paid it any attention, as a person just stood there (not even squatting) and shat on the walkway.
Major: The weirdest thing I've seen is a drag show that ended on time.
Who'd be your ideal long-journey companion?
Jinkx: My boyfriend, Michael, a Brit. Whenever I'm blue, he plays me songs on the ukulele and it cheers me up. I never knew Kylie Minogue could sound so good, sung with a ukulele.
Major: The collected audio books of Harry Potter, read by Stephen Fry.
What's the most interesting thing you've been bitten by?
Jinkx: I've had very few unwanted bites in my life. I went most of my adolescence without ever being stung by a bee, and when it did finally happen, I had no way of knowing what had happened. I honestly thought someone shot me with a B.B. gun. Besides that, I dunno...
Major: The acting bug! I'm kidding, it was a brown recluse spider.
Which movie would you love to have been in - and which part?
Jinkx: The made for TV movie, Merlin, starring Sam Neil, Miranda Richardson, and Isabella Rossellini. I would have wanted to play Queen Mab for the costumes alone.
Major: Really, any of the male leads in the movie Clue. I'm not too proud; I'd go at Mr Green with as much gusto as Wadsworth.
Do you have a good hangover cure?
Jinkx: When I still drank, it was cheeseburgers and cartoons.
Major: You Brits taught it to me: the Sunday roast!