Jamali Maddix
One random comedian, eight random questions: it's the ultimate test of funny person and fate. This week's jet-setting challenger is Jamali Maddix, who stormed to prominence with a bunch of impressive award wins early in his stand-up career, and has certainly maintained that momentum.
Now he's on a proper world tour, with the show Vape Lord, including loads of American dates over the next few weeks. Before that, though, there's his big London show, at the Hackney Empire on November 3rd.
"It's an hour of what I think and also what I don't think," he says. "Some honesty and some jokes."
It's some career so far. Jamali Maddix, your Random 8 await.
What's the most interesting thing you've been bitten by?
Got bitten by my godfather once. I was about five years old and I was biting him. When I did that he said "if you bite me again I'll bite you back," and I thought "nah you can't do that" so I bit him and sure enough he bit me back.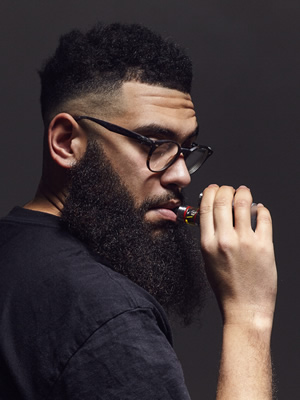 Which is the best snack?
Bitterballen. It's a Dutch bar food, deep fried ragù and veal.
Which TV show would you love to have been in, and which part?
New Japan Wrestling, which is an '80s wrestling company. I would have wanted to be Stan Hanson. He was a deaf half-blind wrestler who was known for hitting people too hard because he couldn't see them.
What should be Britain's national anthem, and why?
Lethal B [aka Bizzle] - Pow. Because it represents England.
Your most interesting injury?
Infected tattoo - it was so bad I went blind for a bit. I got it done in Sunderland. It was half finished at the time but it's now an image on my wrist of a guy clenching his fists at the sky. My advice for anyone thinking of getting a tattoo would be to just take the risk - it is worth it.
What's your favourite device, ever?
My vape rig: an 80-watt bad boy, with a slick smock tank.
The weirdest thing in your wardrobe?
A lock29 Jacket. It's brown, white and yellow with Wile E Coyote pictures all over it. Not sure where it was from but I bought it because, back in the day when I was young, it was all the rage.
Did you have a childhood career dream, apart from comedy?
As hinted above, I really wanted be a wrestler.