Harry & Chris
One random comedian, eight random questions: it's the ultimate test of funny person and fate. This week's wordy correspondent is Harry Baker, one half of the popular comedy/poetry/rap/jazz duo Harry & Chris, who are touring the UK as we speak.
Harry is a World Poetry Slam champion, so he does the heavy lifting in the rhyming department, while Chris Read is a hugely acclaimed jazz musician, so he does the playing of the tunes. That's a darn sensible division of labour, right there.
Their new show is called Harry and Chris Save the World, which seems quite ambitious for a comedy/poetry/rap/jazz duo, but commendable all the same. And it's no doubt hugely enjoyable, even if, say, the United States' stance on the Paris Climate Accord remains staunchly un-reversed afterwards. You've got to laugh, haven't you?
Now, Harry Baker, your Random 8 await.
Who is - or was - your most interesting relative?
Family legend has is that if you go back far enough there is a 'Baker of the Nile' who killed a buffalo and a lion with one bullet, but Google ruined that one pretty quickly.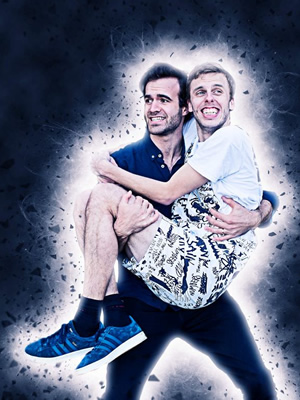 What's the best advice you've ever received?
"Enjoy it" - this was said to me just before going on stage in a rap battle where my opponent said "I'll shag your oven 13 times, that's a Baker's dozen" (It's clever because my name is Harry Baker). It honestly made a difference then because I was getting caught up in my own head, and being lucky enough to do what we do for a living, I think it's a waste if you don't remember to have fun at the same time.
Who are you most envious of?
Chris, because technically speaking he can perform Harry & Chris songs without me and the day he realises that I fear for my future in the band. Also he gets to perform on stage with me which must be pretty fun.
What's your favourite word, and why?
Nacktschnecke. It's the German word for slug with translates as 'Naked snail' - I lived in Germany for a whole year and I think other than learning to open bottles of beer with other bottles of beer and getting surprisingly good at table football, that is the main thing I took from it.
Ever had a really disastrous holiday?
I went to Newquay post-GCSEs as did many a discerning traveler in those days, and a highlight involved buying a pack of six cheap sausages before arriving at our hostel, before realising the cooking facilities were more limited than we expected and trying to cook them in the kettle and toaster respectively. The worst part was I had given up Radiohead tickets to be there.
What's your favorite piece of furniture, ever?
A bidet. I don't know if it counts as furniture and I'm not 100% sure how it works but I want one and every time someone says 'happy bday' it reminds me of that.
Ever met a surprisingly great or awful celebrity?
It wasn't a surprise but I met Jacqueline Wilson and she was every bit as lovely as I had hoped, if not more so. I won a poetry competition when I was 13 and the prize was to have your poem read out by her (she didn't remember but I think that's fair enough) - I don't think I've ever been more starstruck in my life.
What was your favourite kids TV show?
Teletubbies, because we've just written a song about it for our new show which led to extensive research that's made me release quite how freaky it was.