Gabby Killick
One random comedian, eight random questions; it's the ultimate test of funny person and fate. This week's gifted over-sharer is Gabby Killick, who tours the UK with her Girlfriend from Hell show in January - and is taking part in a notable event this very evening (Tuesday 4th December).
This Show Does Not Contain Nuts "is a massive celebration of women in comedy and I love being part of it," she says. "We're playing at The Clapham Grand in London and then going further afield in the new year. We've got a wicked line up with a real mix of comedy styles."
She's not wrong: Sarah Keyworth, Luisa Omielan, Jen Brister and Maddi Sharkey are also on. As for Girlfriend from Hell, it "offers life advice on how to resist Chardonnay's seductive ways after you promised yourself you wouldn't see her again."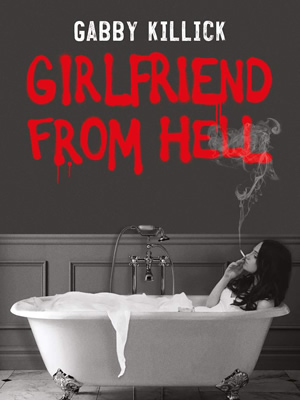 "There are hot tips on what to do when you lose your skirt in a nightclub and how to strike the sexiest Instagram poses as well as good solid advice on how to walk when you've taken too much ketamine. And underpinning it all is my fundamental belief that it's never too early to start stalking your boyfriend."
So, touring it should be fun? "I'm really looking forward to the adventure," she says, "and am already practising sleeping in the car."
Very wise. Gabby Killick, your Random 8 await.
Who was your childhood hero?
Britney Spears. Say what you want about her music and who she is now but in her prime she was an incredible performer. I remember watching her on the telly when I was kid and seeing her boss every stage she performed on and just thinking WOW! She really inspired me. I wanted to be a pop star for so many years because of her. A part of me still does.
[img=|R]What was the best performance you ever gave?
Ummmm, I was pretty good in the shower this morning. I was rehearsing for an argument I have coming up. I was giving it everything I've got. I even produced some fake tears so I know I'm ready for the big row when it comes.
When were you most embarrassed?
I can't tell you because nobody would date me ever again, but I will share this with you:
I was really off my head at a party in Birmingham and I went to the toilet and thought I lost my skirt. Nobody else was in there and I didn't have my phone on me. So I gave myself a pep talk and walked straight on to the dancefloor in a sparkly top, tights and pants (not sexy ones).
After walking around trying to find my friend for a few minutes, I decided it would be better to stay in one place and just own my new look. Then a guy came up to me and told me that my skirt was tucked round my hips. I died there and then.
What's the best thing you ever drank?
I'm pretty much in love with my morning coffee. If I don't have it, I'm noticeably more frosty.
What's the worst TV show you've ever seen?
I don't know about the worst show I've seen but Salad Fingers on YouTube is definitely the weirdest. It's a cartoon character with salad leaves for fingers who gets turned on by rusty spoons. If you haven't ever seen it, google it now.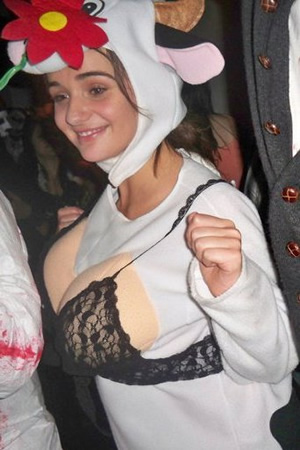 Which low-key law would you introduce, to make life better?
Legalise weed.
What have you gatecrashed, and did you get discovered?
I was pretty good at getting into the clubs underage. I only started getting discovered just before my 18th birthday so I had a good eighteen months of getting in before anyone knew the truth.
I owe it to three girls who I don't see much anymore and who were all happy to lend me their IDs. I would never lend anyone my ID when I turned 18 so I'll give a toast to them tonight. Cheers Girls!
The night my cover was blown was Halloween 2011. I was wearing a sultry cow costume with boobs for udders and when I was chucked out of the club I was still wearing it. I didn't mind though because I just went and sat in the window of a kebab shop and, dressed as a cow, ordered a beef wrap. I felt like a Big Don and knew I was winning Halloween.
Which British town should be abolished?
Well, if we had to abolish a British town what about Windsor? It's my home town, we could abolish it and rename it Saxe Coburg. The Royal Family used to be called Saxe Coburg but stole the town's name of Windsor to sound more English. Might be cool to rename it Saxe Coburg to balance things out. What goes around, comes around.