Fin Taylor
One random comedian, eight random questions: it's the ultimate test of funny person and fate. This week's hugely underrated talent is Fin Taylor, who's heading out on tour with the show When Harassy Met Sally, which is about... what, Fin?
"Well if you read the broadsheet reviews it's an invigorating attempt to navigate a Blairite-esque 'third way' between the extreme views on #MeToo and Gender Politics in general," he explains.
"However, if you've seen the show you'll know it is an hour of wall-to-wall filth. Informed, considered filth, but filth none-the-less. And so it's the eternal Catch 22 of my act; too mucky for the middle-class intelligentsia, too reflective for the scum. It's a broad church, but one that is rarely satisfied all at the same time."
Still, it's nice to have a niche. Fin Taylor, your Random 8 await.
Your greatest sporting moment?
Two weeks ago I absolutely humiliated John Kearns at comedians' football with a first-time backheel nutmeg that put through our striker to score. The fact I can't even remember who scored means I am too proud for it to be anything less than my greatest moment.
What's the best thing you ever wrote?
A short film a couple of years ago about a man who keeps trying to propose to his girlfriend in public but every time he tries someone kills themselves. I realised that a lot of classically romantic locations are simultaneously suicide hotspots and no one wants to make the film, but I still maintain it could work. So if you're reading this Hollywood, DM me.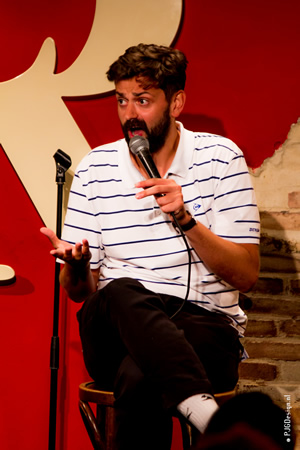 Which historical figure should get more credit?
I think it would be healthier if Stalin got less.
What's the weirdest thing you ever drank?
Guinness Foreign Extra is fizzy, which is weird at first but actually quite nice and I would recommend.
Which low-key law would you introduce, to make life better?
I have been tricked too many times by cafés that have a nice font on their shopfront and menus. If you're not prepared to back up your hipster facade with the requisite quality food and drink, then you should have to put an asterisk by your café's name.
What's the worst journey you ever took?
Had to change trains in Crewe once and the second one was delayed by three minutes so I had to be in Crewe for longer than I was comfortable with.
Who's the most interesting person you ever met?
A guy came up to me on the last night of my Edinburgh show in 2017 and said he'd seen the show three times that month and wanted to know what I thought about how Hilary Clinton had harvested kids' organs in the aftermath of the break-up of Yugoslavia. Had to have a big long think about what I do after that.
Which British town or city should be abolished?
Crewe.