Davina Bentley
One random comedian, eight random questions; it's the ultimate test of funny person and fate. This week's addictive personality is Davina Bentley, which gives us a chance to revisit this excellent short about a troubled spy, given that she pops up in his support group.
Next week though - Tuesday 2nd - Bentley is doing live confessional congregating, at a pleasingly pay-what-you-want double-header in London's Kings Cross. First up at 2Northdown are Ben Target and Pope Lonergan, trying out big chunks of their forthcoming Edinburgh Fringe shows. Then Bentley - plus Simon Munnery, Lulu Popplewell and more - appear in Pope's Addiction Clinic, the unique clubnight founded by Lonergan, but sometimes hosted by Bentley. So what is it, exactly?
"Pope's Addiction Clinic is a confessional stand-up night, in the style of an AA meeting," she explains.
"The comedians tell stories giving full disclosure about their addictions and failings, whatever they may be. Everything said is 'kept in the room'. It's very cathartic and special."
Speaking of split gigs, Bentley will be doing something similar at the Edinburgh Fringe, in August, "a split bill show with the hilarious Maggie Kowalski in The Cask Room in The Mash House," she says. It's called Never Again, which is a sentiment many comics can probably relate to at certain points of the Fringe. They keep going back though. Perhaps there should be support groups to wean comics away from Edinburgh.
Anyway, Davina Bentley, your Random 8 await.
What was your favourite kids' TV show?
I loved The Simpsons growing up because as I got older, I started to understand more of the jokes. It was also my gateway into The Shining and The Twilight Zone. Not literally.
Who's the most interesting person you've ever met?
*Sigh*. It's Pope. Pope Lonergan of Pope's Addiction Clinic.
(It isn't, but he gets petulant and starts behaving like an ageing child actor when it isn't 'all about him'.)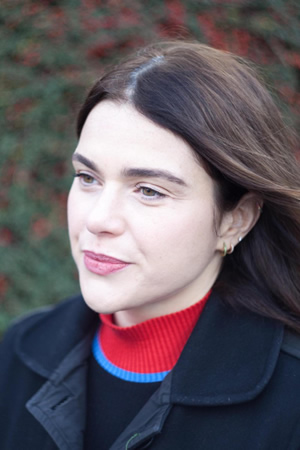 What's the worst thing in your wardrobe?
Nothing. Every item of clothing I own is dope.
Is there a book or film that changed your life?
Oliver Sacks' On the Move: A Life. It showed me that you can be a gay, bodybuilding, motorbiking neurologist, if that's what you want. It's trite but everyone has their own path.
What's the weirdest thing you ever saw?
One sunny day while walking past a gothic church in Clapton, I saw a woman who was dressed like a witch, all in black, with a tall pointy hat, veil over her face, going by very slowly, almost floating. It was so scary that I thought I was imagining it. But then some local Hasidic children, also terrified and stunned, looked up at me, and asked "what do we do?". I didn't know, so we all ran away, up the road screaming. It was a good day.
When were you most embarrassed?
I find being an alive human woman person a constantly embarrassing, relentless, experience. So just, always.
What's your favourite bit of furniture, ever?
I love the Eames Lounge Chair. You know the one in Frasier? My best mate's posh dad has it. And an ex of mine too. It's the furniture symbol of being a "hot dad".
Which low-key law would you introduce?
Which three laws, you ask?
(1) No one can walk more than three abreast on a central London pavement.
(2) One must offer their seat for pregnant women on the tube, and...
(3) All must attend Pope's Addiction Clinic.