Darren Harriott
One random comedian, eight random questions: it's the ultimate test of funny person and fate. This week's in-demand contestant is Darren Harriott, who seems to be finding the comedy business a bit of a doddle. A nominee for the Best Newcomer award at last year's Edinburgh Fringe, he's about to head out on tour with this year's show, Visceral, having enjoyed runs at the Soho Theatre and the Melbourne festival, too. Good going.
Before he gets going on that tour, though - Darren Harriott, your Random 8 await.
What was your worst ever day at work?
I used to work as a bouncer so my worst days at work were whenever there were fights, as anything could have happened. Not only could I have got hurt really badly, but also I could have accidentally hurt someone and lost my security license.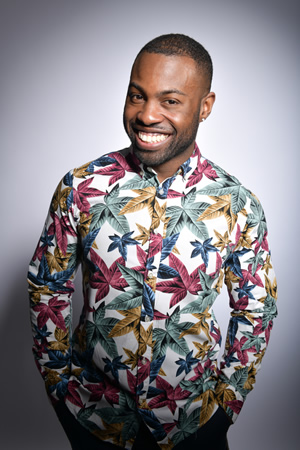 Do you have a signature dish?
I can't cook at all! I'm an Uber Eats guy.
Who's your most interesting relative?
That's got to be my nan. She came here in the early '60s from Jamaica for a better life, and has countless stories of what it was like being the only black person in the neighbourhood that I grew up in, and that most my family still live in.
She's also the most straight-talking person you will ever meet, nothing is ever held back which makes her great - and at times infuriating - but I love her to death.
What's the best party you ever attended?
I generally don't go to parties. I prefer to stay in and watch TV.
Your greatest sporting moment?
School sports day! I cheated at the egg and spoon race, I glued the egg to the spoon... was it the right thing to do? No. Am I proud? Damn right I am.
What's the best text message you ever sent?
A memorable text message? I have no idea - these questions are brutal!
Which body part are you most troubled by?
People are often troubled by my fingers. I'm double-jointed so the ends aren't straight and bend upwards so once people notice, that's it. Or my teeth - I have big white teeth and people always feel the need to tell me.
How do you feel about video games?
I love them, although I haven't been keeping up as I've been so busy recently. I'm going to treat myself to a Nintendo for Christmas I think - I miss the joy of playing Mario.