Ari Eldjárn
One random comedian, eight random questions: it's the ultimate test of funny person and fate. This week's Nordic wordsmith is Ari Eldjárn, the endearing Icelandic comic whose words are about to be immortalised in physical form: last year's very funny Edinburgh show will emerge as a vinyl album, courtesy of that city's influential venue turned record label, Monkey Barrel.
"Eagle Fire Iron was my second Edinburgh show and Monkey Barrel was my venue, just like the first time," he says. "As an added ambitious side-project they offered acts the prospect of a vinyl release - something that has always been a dream of mine, as I own hundreds of old comedy albums."
Olga Koch and John Kearns are the other vinylists, and the project is a lockdown boost for "the artists and Monkey Barrel, a fantastic comedy club that simply must survive this," says Eldjárn. "So I encourage everyone to buy a copy of one of the three vinyls (doesn't have to be mine). Or even better, buy all three!"
As for Iceland, social distancing was introduced after an ominous Covid outbreak, but things now look rather different; gigs included. "It was never on full-blown lockdown," says Eldjárn. "But almost all travel to the country was halted by itself so all of the focus was put into aggressive testing, tracking and tracing, led by a special task force with police detectives, scientist and healthcare people working side by side.
"After a few weeks the curve began to flatten very rapidly and now there are only a handful of active cases so things are slowly returning to normal, even with rescheduled gigs happening. It's a huge relief but everyone is still conscious that this is far from over and we might have to take a step backwards at some point. It has been a crash course in mindfulness."
Iceland rules. Ari Eldjárn, your Random 8 await.
Who is - or was - your most interesting relative?
My grandfather Kristján Eldjárn! He was an archaeologist and led many historical excavations in Iceland. He drove around in a Willys jeep and lived with his family in a small flat inside the National Museum, so his children grew up playing around skeletons and swords. Later he became President of Iceland.
What's the best word in your native language?
That would be "vaðlaheiðarvegavinnuverkfærageymsluskúraútidyralyklakippuhringur" which means "a keyring for keys to a front door on a toolshed for road workers on the Vaðlaheiði mountain range".
Who's the most interesting person you've ever met?
Paul McCartney. I once stood in line at Waterstone's for a couple of hours to get an armband to meet him the next day when he was signing his children's book High in the Clouds. I showed up the next day and waited in a second line for a couple of hours before I finally managed to shake hands with the man himself without any hand sanitiser - which is probably a thing of the past.
Sadly no pictures were taken as that was still not a thing in 2006, and was still strictly forbidden. Today this would probably be solved with a selfie and a namaste.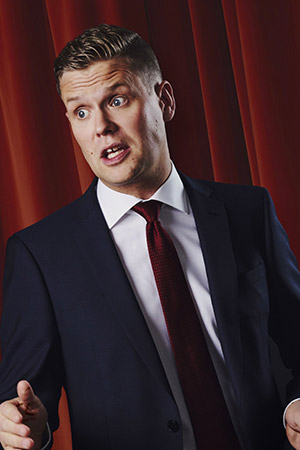 What's your favourite mode of transport?
My white 300GTS Piaggio Super Vespa that I bought from a friend two years ago when his mid-life crisis had more or less faded.
I've driven a car for 22 years and always the same routes and streets day in and out, stuck inside a little box with the surrounding world framed through the windshield like an image on a flatscreen. It is such a breath of fresh air to jet around on a scooter and to be able to see, hear and smell everything. Not much fun on solid ice though.
Which live event would you love to have attended?
Woodstock, so I could have felt that magic connection that people experienced. But with a backstage pass and access to a proper shower. And catering. And a helicopter.
What's the best or worst book you've ever read?
I'm going to say that best book is Norwegian Wood by Haruki Murakami. I read it during a two-week stint in the east of Iceland where I was installing ventilation shafts in a school and it had a profound effect on me. While reading it I listened to Nick Cave's The Boatman's Call so in my mind these two are forever entwined and no more shall they part.
Your most interesting injury?
When I was 16 I was planning to film a horror comedy film, and had some weeks earlier made a zombie head from a plastic skull, latex, PVC tubing and a bicycle brake cable for jaw movements. It was supposed to blow smoke from his mouth.
After testing it outside, where sugar and saltpeter were burned together to make smoke (something I learned from The Anarchist Cookbook) I realised that my parents' basement had filled with smoke because I forgot to shut the front door. I decided to ventilate the basement and attempted to quickly open a frozen window by banging on it with my hand. It went straight through the brittle glass and I cut my wrist pretty badly.
After a rushed ambulance trip to the hospital it was revealed that all my tendons were still intact, but I still have a huge scar on my wrist that looks like the letter 'A'. The film was never made and I have no idea what happened to the zombie.
When were you most embarrassed?
When I told a very long joke about the singer from Sigur Rós in front of a girl that turned out to be his sister. Iceland in a nutshell.