Aniruddh Ojha
One random comedian, eight random questions; it's the ultimate test of funny person and fate. This week's Weirdo is, well, let's let him explain.
"Hi! I'm Aniruddh Ojha, otherwise known as Jiminy H. Criquet. I do all sorts of things like making music, animating short videos and stand-up. As a comedian I strive to make my audience feel uncomfortable - to connect with that strange side that lies within everyone. I do my best writing at four in the morning."
The golden hour. That rude-sounding intro is due to Ojha producing/performing in a big Weirdos bash hosted by NextUp this Friday (26th June), "a real treat for the viewers," he says. "Our plan is to run a fake livestream wherein half of our cast play celebrities who are streaming video games. Here's the catch - all of the videogames are actually being faked by the other half of the cast. The Weirdos have a strong history of making wacky props, so you can bet there'll be some wild interpretations of all your favourite triple-A titles."
And how will his bit work? "I've been paired up with Sam Nicoresti this time. I'll be playing comedian extraordinaire and sitcom star Ray Romano who will be attempting to play Minecraft (recreated by Sam). My Ray Romano impression is absolutely impeccable."
As for Ojha's other projects, he's launched a community/cult called Hypnolucid (tm) "which you can sign up to for easy monthly payments of £199.99. I play the mysterious leader who claims he can open your third eye. We'll be releasing some content on snac.tv (Super Nothing Amazing Channel) next month!"
And he's also in the band Eldest Child alongside alt comedians Andy Barr, Ben Target and Sam Nicoresti. "Just a warning: we're not a comedy band. Before the lockdown started we had a few gigs planned but unfortunately the old 'rona put a pin in that. We are working on something we can put out despite the distance between us."
Child's play. Aniruddh Ojha, your Random 8 await.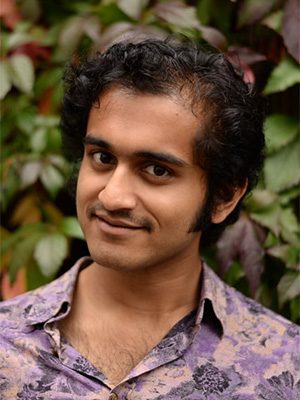 Who was your childhood hero - real or fictional?
My childhood hero would have to be Gitaroo Man. He's a very obscure PS2 game character who fights evil with the power of music. All his enemies are pretty good at jamming out, but Gitaroo Man is the best. Also his dog is his amplifier.
What's the most regrettable thing you've ever bought?
An accordion from a charity shop. As a musician, I love collecting instruments, but by God this one was in a state. It was covered in some kind of grease that wouldn't go away. Plus the bellows kept releasing some kind of 'bad air' right into my face. I'm lucky to be alive.
Is there a book or film that changed your life?
School Of Rock made me reconsider what was most important in life. I would have loved to be in that class. I saw it when I was a kid and my grades at school suffered from that moment on. In short, it's one of the main reasons I picked up a guitar.
Which historical figure should get more attention?
MIT inventor and patent lawyer, Robert Rines. The man who tried to search for the Loch Ness monster with a couple of saltwater dolphins. Spoiler Alert: he didn't find anything. One of the dolphins died.
What's the oddest thing you've ever eaten?
Crab Ovary Dumplings in China. Somehow I only read the menu after I had eaten. They turned out to be pretty good.
Which film would you love to have been in, and which part?
I'd like to have been in High Fidelity as an extra in as many scenes as possible. My character would be seen browsing the records or in the rain with John Cusack, in the background - ideally looking into the camera lens.
What's the very best thing you ever saw?
I suppose I'm biased but alt comedy group Consignia's The Abridged Dapper Eleven Hour Monochrome Dream Show (directed by my bandmate Andy Barr). It made me realise that alternative comedy owes nothing to the audience. Thanks Andy, Nathan and Phil.
What's your favourite device, ever?
Bluetooth earphones. The ability to watch YouTube videos while changing my clothes is a luxury of modern living. This is the future we all dreamed about.