Malachy Luckie, a Theatre and Performance student from the Guildford School of Acting, has made the most of his year-long placement year at London's Theatre Deli by creating a month-long comedy festival.
What began as one-off comedy night at Theatre Deli's Old Library building in Burgess Park in South London soon grew into the regular Deli Comedy Club targeting local audiences from the surrounding Aylesbury Estate - once the largest public housing estate in Europe. Malachy worked with Theatre Deli producer Emma Blackman to programme emerging comedians from under-represented backgrounds perform alongside established names, partnering with Creation Trust to provide £5 tickets for local residents.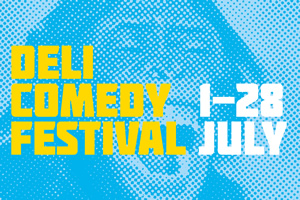 Now, Luckie is planning to build on the success of the Deli Comedy Club by launching a summer comedy festival. Alongside TV names including Romesh Ranganathan, Joel Dommett and Marcus Brigstocke, the Deli Comedy Festival will also feature over 45 top comics from the circuit previewing their Edinburgh shows, including Jessie Cave, Jamali Maddix, Lloyd Griffith and Felicity Ward.
Malachy Luckie says: "As a student intern, it is unheard of to be given the permission, let alone the resources to produce a festival of this size so I am very grateful to Theatre Deli and my university for this opportunity. Taking a placement year has provided me with countless opportunities and experience which will be vital to my progression in the industry after I graduate next year."
Co-Artistic Director Roland Smith comments: "Part of the reason Theatre Deli exists is to find new ways that people can fulfil their creative potential. Whether it is Malachy stepping up to produce the festival, or the next generation of comics that he is presenting alongside the household names, it is all part of the same mission. The fact that audiences across London have the opportunity to get a sneak preview of some of the best comedy that will be appearing at this year's Edinburgh Festival is just a wonderful consequence of that."
The Deli Comedy Festival will run from the 1st to the 28th of July and is part of a year-long programme of activities celebrating Theatre Deli's 10th anniversary. The full-line up and ticket details can be found at theatredeli.co.uk/delicomedy