Blithe Spirit tour
Jennifer Saunders to star in Blithe Spirit tour
The play Blithe Spirit, starring Jennifer Saunders, is to tour England in 2020
It'll head to Brighton, Malvern, Bath, Cambridge, Richmond and Norwich in January and February
The production will then run at the Duke of York's Theatre in the West End, from 5 March to 11 April 2020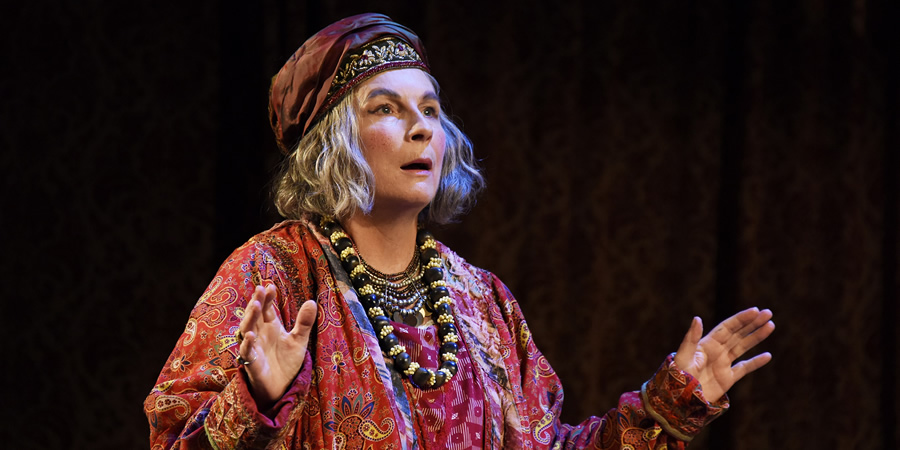 The new stage version of Blithe Spirit, starring Jennifer Saunders, will return next year for a tour around England, and a run in the West End.
Written in 1941 by Noël Coward, the "inventive, witty and meticulously engineered comedy" proved light relief and a popular distraction at the height of the Second World War. The show has previously had a record-breaking run in the West End and on Broadway, and remains one of the playwright's most popular works.
The play was turned into a hit film in 1945, and a new adaptation recently completed filming. Starring Judi Dench, Dan Stevens and Isla Fisher, it is scheduled for cinema release on 1st May 2020.
The new stage production, directed by Sir Richard Eyre, opened in June 2019 as part of the Summer Season at Theatre Royal Bath, playing to sell-out houses.
It has now been announced it will go on a short tour of England in the new year before embarking on a strictly limited 6-week engagement at the Duke of York's Theatre in London's West End.
The plot focuses on novelist Charles Condomine and his second wife Ruth, who are literally haunted by a past relationship when an eccentric medium inadvertently conjures up the ghost of his first wife, Elvira, at a séance. When the ex-wife appears, visible only to Charles, she is determined to sabotage his current marriage. Life - and the afterlife - get complicated.
The tour will open in early 2020. It starts at Theatre Royal Brighton, where it runs from 22 to 25 January, and will then visit Malvern Theatre from 27 January to 1 February; Theatre Royal Bath from 4 to 8 February; Cambridge Arts Theatre from 10 to 15 February; Richmond Theatre from 17 to 22 February; and Norwich Theatre Royal from 24 to 29 February.
The West End staging will run from 5th March to 11th April 2020. Tickets are available now from the venue websites.
Jennifer Saunders will revive her Theatre Royal Bath role as the preposterous clairvoyant Madame Arcati. She is joined by Geoffrey Streatfeild and Lisa Dillon who will star as Charles as Ruth Condomine, and Emma Naomi, who plays Elvira. Simon Coates takes on the role of Dr Bradman, Lucy Robinson is Mrs Bradman, and Rose Wardlaw plays Edith.
---
For updates, click the button below.
Share this page