Daliso Chaponda 2019 tour
Daliso Chaponda announces tour
Daliso Chaponda has announced a 2019 into 2020 tour
He'll perform his show Blah Blah Blacklist between September and March
The show focuses on disgraced blacklisted celebrities and historical figures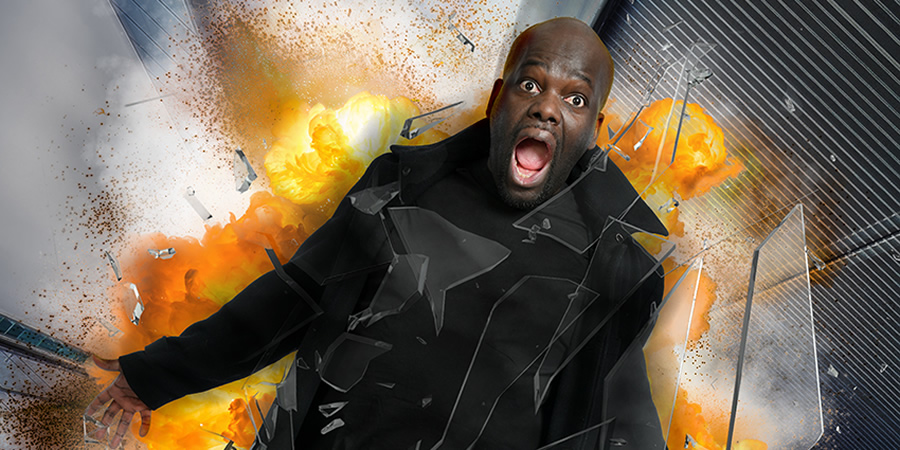 Daliso Chaponda has announced a 2019 into 2020 tour.
The stand-up comedian, who was a finalist on Britain's Got Talent, will tour his new show Blah Blah Blacklist between September and March. The 36 dates will follow on from his run at this year's Edinburgh Festival in August.
His promoters say: "In his hilarious, daring new show, Blah Blah Blacklist, Daliso looks at disgraced blacklisted celebrities and historical figures we're ashamed we once admired and who now have let us down. There's also the small matter of family member arrests, exploding buildings in his home country, the enterprising Malawian who tried to blackmail Daliso and being accused by some of his own community that he's 'not Black enough'...
"His father was a refugee who became an admired and respected Malawian diplomat until false accusations against him caused a backlash. He was proved innocent but naively thought that being cleared of charges would clear his name in public opinion. Daliso discusses this and how social media does not care about court decisions!
"He talks about the angry reception to some of last year's show and mocks the racists that decided to hate him because of one difference in opinion. He also discusses people who have been 'cancelled' and the absurdity of thinking you can remove all trace of somebody because you disagree with them. People wanted to cancel him after saying on live TV that he didn't think Lord Sugar was racist!"
Last year, Chaponda presented his own stand-up series Citizen of Nowhere. A second series has been ordered. He is also currently creating and curating an exhibit for Liverpool World Museums on Colonial artefacts.
Talking about his success on the stage, his promoters say: "The Malawian born stand-up shot to fame and captured the hearts of the nation on Britain's Got Talent where he reached the final and was Amanda Holden's Golden Buzzer act. He has gone on to amass an outstanding 200 million plus YouTube and Facebook views! His last stand-up show What The African Said sold out a 50 + date UK tour and received much critical acclaim."
Below is a list of tour dates. Tickets are available now from venues and See Tickets
Tour Dates
DARWEN - Library Theatre: Thurs 19th September 2019
NORTHAMPTON - Royal & Derngate Theatre: Fri 20th September
BUXTON - Arts Centre: Sat 21st September
MANCHESTER - Dancehouse Theatre: Sat 28th September
LEEDS - City Varieties Music Hall: Sun 29th September
LIVERPOOL - Hot Water: Thurs 3rd October
LEICESTER - Sue Townsend Theatre: Fri 4th October
DIDCOT - Cornerstone: Sat 5th October
SOUTHPORT - Comedy Festival: Sun 6th October
BROMSGROVE - Artrix: Wed 10th October
COVENTRY - Warwick Arts Centre: Sat 12th October
ABERDEEN - Arts Centre: Sun 13th October
WOLVERHAMPTON - Little Civic: Fri 1st November
BARNARD CASTLE - The Witham: Sat 2nd November
KENDAL - Brewery Arts Centre: Wed 6th November
CARDIFF - Sherman Theatre: Fri 8th November
LINCOLN - Drill Hall: Fri 15th November
MILTON KEYNES - The Stables: Sun 17th November
SOUTHEND - Palace Theatre: Fri 22nd November
SHEFFIELD - Leadmill: Sat 24th November
CRAWLEY - Hawth: Wed 15th January 2020
NOTTINGHAM - Playhouse: Thurs 16th January
BRISTOL - Redgrave Theatre: Thurs 30th January
ALDERSHOT - West End Centre: Fri 31st January
CANTERBURY - Gulbenkian: Sun 2nd February
ALNWICK - Playhouse: Sat 8th February
CHORLEY - Little Theatre: Sun 9th February
BIRMINGHAM - Old Rep: Tues 11th February
SHREWSBURY - Severn Theatre: Wed 12th February
NEWCASTLE - Stand: Sun 16th February
BRIGHTON - Komedia: Thurs 20th February
CAMBRIDGE - Junction: Sat 7th March
BATH - Komedia: Thurs 12th March
LANCASTER - Dukes: Sat 14th March
SALFORD - Lowry: Sun 15th March
---
For updates, click the button below.
Share this page