Bill Bailey 2018 tour tickets
Bill Bailey 2018 tour announced
Bill Bailey is to tour the UK between January and June 2018 with a new stand-up show titled Larks In Transit
51 UK dates have been announced so far. Tickets go on sale Wednesday
Before the tour, Bailey will undertake The Ridgeway Walk in memory of his mother, for Stand Up To Cancer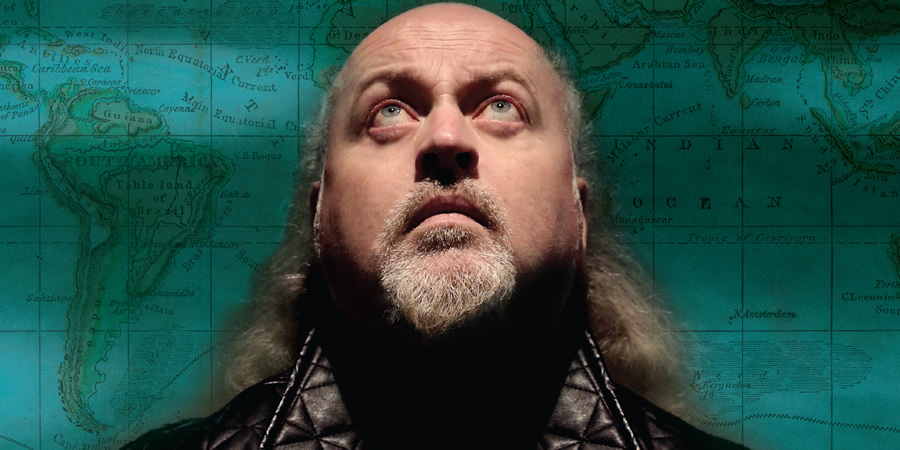 Bill Bailey is to travel the UK in 2018 with a new tour titled Larks In Transit.
The show is described as "a compendium of travellers' tales and the general shenanigans of twenty years as a travelling comedian".
Tour organisers say: "With musical virtuosity, surreal tangents and trademark intelligence, Bill Bailey tackles politics, philosophy and the pursuit of happiness. Plus, he fashions a symphony from a ringtone, tells the real story of Old McDonald and re-imagines the Stars and Stripes."
Fifty-one dates have been announced today for Larks In Transit, with the tour kicking off at the end of January 2018 in Coventry and ending in June at the Peterborough Arena. Bailey will launch the show in Australia and New Zealand later in 2017 before its arrival in Britain.
The new show follows on from Limboland, arguably Bailey's most successful tour ever. Having performed to in excess of 230,000 fans across 170 sell-out dates in the UK alone, including a six week run in London's West End, critics were unanimous in their praise for Limboland with The Times and Telegraph amongst those awarding it five stars.
Tickets for Larks In Transit go on sale on Friday 12th May, with a pre-sale via Ticketsmaster on Wesdnesday 10th May. A full list of tour dates are below.
Before he embarks on his new tour, Bailey will be walking The Ridgeway Walk in support of Stand Up To Cancer, a charity very close to his heart. Joined by a number of his closest pals, the comedian will be trekking the 100-mile route from Bedfordshire to Wiltshire over six days at the end of June 2017 in memory of his mother, who died of bowel cancer in 2005.
2018 tour dates
Coventry: Monday 29/01/2018
York: Wednesday 31/01/2018
Newcastle: Friday 02/02/2018
Southend: Monday 05/02/2018
Stoke: Wednesday 07/02/2018
Sheffield: Friday 09/02/2018
Wimbledon: Monday 12/02/2018
Llandudno: Wednesday 14/02/2018
Carlisle: Friday 16/02/2018
Glasgow: Saturday 17/02/2018
Truro: Monday 19/02/2018
Truro: Tuesday 20/02/2018
Plymouth: Friday 23/02/2018
Leicester: Monday 26/02/2018
Nottingham: Wednesday 28/02/2018
Manchester: Friday 02/03/2018
Cheltenham: Monday 05/03/2018
Basingstoke: Wednesday 07/03/2018
Warrington: Friday 09/03/2018
Liverpool: Saturday 10/03/2018
Reading: Monday 12/03/2018
Reading: Tuesday 13/03/2018
Watford: Thursday 15/03/2018
Watford: Friday 16/03/2018
Blackburn: Monday 19/03/2018
Preston: Wednesday 21/03/2018
Northampton: Wednesday 18/04/2018
Brighton: Friday 20/04/2018
Margate: Saturday 21/04/2018
Southampton: Sunday 22/04/2018
Hull: Wednesday 25/04/2018
Southport: Friday 27/04/2018
Chatham: Tuesday 01/05/2018
Tunbridge Wells: Thursday 03/05/2018
Tunbridge Wells: Friday 04/05/2018
Swansea: Tuesday 08/05/2018
Swansea: Wednesday 09/05/2018
Bristol: Friday 11/05/2018
Hastings: Monday 14/05/2018
Stevenage: Wednesday 16/05/2018
Oxford: Friday 18/05/2018
Guildford: Monday 21/05/2018
Guildford: Tuesday 22/05/2018
Portsmouth: Thursday 24/05/2018
Bournemouth: Saturday 26/05/2018
Aylesbury: Wednesday 30/05/2018
Cardiff: Friday 01/06/2018
Birmingham: Saturday 02/06/2018
London (Hammersmith): Wednesday 06/06/2018
Leeds: Friday 08/06/2018
Peterborough: Saturday 09/06/2018
Tickets via Ticketmaster
---
For updates, click the button below.
Bill Bailey's brand new stand-up tour, Larks In Transit, is expected to be released on DVD and Blu-ray.
Please note that this product's release date has yet to be confirmed. If you add it to your wishlist we will email you when it is ready to pre-order.
Please note that this product's release date has yet to be confirmed. If you add it to your wishlist we will email you when it is ready to pre-order.
It looks like you're in the US? Fear not! Almost everything can still be ordered.
Amazon UK
deliver internationally,
Amazon.com
carries many items separately, or you can look out for US/Canadian flags on our product listings for direct links.
If ordering from a UK store, please note that you are in Region 1 (DVD)/Region A (Blu-ray), whilst the UK is in Region 2/B, respectively. This means that many - but by no means all - may fail to play. Look for products marked "Region free", "All regions", "Region 0" or "Multi-region". Blu-rays may also be marked "Region A/B/C", "Region free", or variations thereof. You may also check whether your DVD/Blu-ray player supports multi-region playback (also referred to as "region free"), or whether it can be set to do so. There should, of course, be no problems with books, CDs, or other physical items.
More advice & help on importing
Share this page