An interview with Vikki Stone, as she prepares to bring her show Song Bird to the Lyric Hammersmith.
This is your fifth solo show - what keeps you coming back?
When I first started touring, I used to do a new show every year, and then because of TV, radio and theatre work I didn't do a new show for 5 years (well, sort of, I wrote a piece called Concerto For Comedian and Orchestra which I did in the hiatus) and it's great to be on the road again with a new show. It's not something that I intend to do every year now, as it takes up a lot of time - and I already know that 2020 is going to be too full with new projects.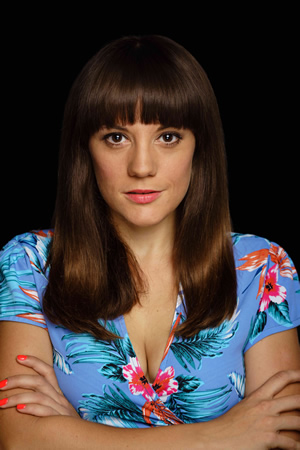 What can we expect from the show - is it a 50/50 mix of comedy and songs?
It is indeed! Some of my previous shows have dealt with heavy topics, and I made a conscious decision with this new show that I wanted it to be joyous and fun. The political landscape is pretty bleak at the moment, and with social media it can feel like we're bombarded 24/7 with stuff that doesn't make us feel good, so I wanted to create a show that felt that an evening of escape, where you can come and have a laugh and forget about all the nonsense that's going on in the background.
Your style has often been compared to Victoria Wood - how much has she been an influence on your work?
As a woman sat at a piano doing comedy songs, there will always be the comparison; it's unavoidable, but extremely flattering. It goes without saying that of course her work influenced me, and of course I'm a fan and I was lucky enough to meet Victoria Wood a number of times over the years.
The most surprising was in 2012, and I was doing a solo show at Kings Place in London. I was in the middle of a song, when I suddenly I looked into the crowd, and I spotted her in the audience. Needless to say I got very nervous very quickly!
She was always lovely to me and I still have a card that she wrote to me back in 2009, when I was in play of hers called Talent and I was playing the role that she wrote originally for herself. She came to watch that play a number of times, and it was always a thrill when she was there.
Victoria Wood was an enormous talent that shaped the comedy landscape in this country, and I'm lucky to have been able to meet her.
You must spend a lot of time on the road when you tour - what's the best and worst part?
Being on the road can be hard, especially as a comedian. It's one of the only art forms where you're on tour totally on your own, so it can be a bit lonely. The audiences on tour make it all worthwhile though, and I really like how they differ across the country. When you're a touring comedian, you can really get to know which bits of the country will be livelier than others.
The worst part, though is all the travelling, but sometimes it can be fun - during the Scottish leg of the tour I had to travel from Glasgow to London overnight, which involved getting the Caledonian Sleeper train. I do love that train, it's feels like something that shouldn't exist in this day and age - going to sleep on a train in Scotland, and then waking up in London.
When it comes to playing Aladdin's Abanazar (who we hear is trying his hand as a warm up for your new show!) - how long does it take for you to get ready - do you do your own make-up?
This year will be my fourth year being a panto baddie, so I've got painting on a beard and moustache down to a fine art. I can get my make-up on in about 5 minutes flat. It takes much longer to get it off though.
In 2016, when I was first Abanazer at the Lyric Hammersmith, I had an entirely green face, and my pores were still green for a good month after the run ended. I had to seek advice from mates of mine who have played Elphaba in Wicked to ask for inside secrets on how to de-green.
What's your favourite part of panto season? And... what's the most challenging part?
I love the fun of panto - particularly playing the baddie. I've been very lucky to be part of shows that have let me have loads of freedom when it comes to the script. I always feel that good pantos need an element of danger about them; you never know what's going to happen, and I definitely bring that to a show.
It's just been announced that I'm writing Aladdin for the Lyric Hammersmith next year, and that is going to be a challenge for me, as although I've been in five pantomimes, I've never written one before. That said, it's a challenge I'm really, really looking forward to.