The acclaimed Aussie brings karaoke quasi-carols to the Soho Theatre.
You'd better watch out. You'd better not cry. You'd better not pout. We're telling you why: yes, Sam Simmons is coming to town, although actually he's already here, spreading festive cheer with his first ever Christmas show: Away in a Stranger. Anyone still pouting can do one, frankly.
Now, Christmas and Australia have always been slightly awkward bedfellows, what with it being boiling-hot summer there in December (serious question: what do they put on Australian Christmas cards? Puddles of melted snowmen? Santa in a string vest, sweating profusely?). So the award-winning comic is boldly eschewing the balmy weather back home to stage his yuletide epic at London's Soho Theatre, right through to early January.
If you're unaware of the terrifically talented - and moustachioed - Simmons, he's a supreme-being of silliness who won the coveted Edinburgh Comedy Award back in 2015 after a string of acclaimed shows. This one sounds a corker too, and might well be worth catching now as he'll presumably not be performing it for a while after January. Mind you, June is winter in Oz...
Anyway, let's check in with our new Mr Christmas.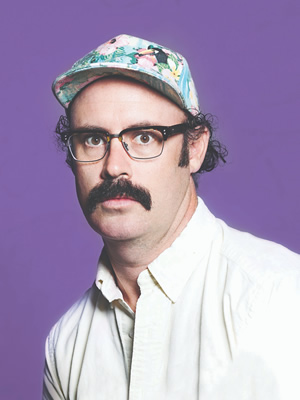 How does Away in a Stranger work then, Sam?
I'm telling the true yet unbelievable Christmas story of a not very famous Hollywood script writer, which is interwoven with Karaoke Christmas carols; actual re-imaginings of pop classics about things that I find funny.
Like the time I accidentally punched a swan.
Basically, it's godless pop for those sick of all the Christmas hoo-harr.
Are there any bits that you're not sure will actually work?
Yes, I'm three shows in and I've only cut one bit, about the frustration of opening a pistachio nut, sung to a Hall and Oates classic. No one liked it. Ohhh.
Have you done a festive show before - or ever seen a great one?
Never and no, it's not really a thing in OZ. Oddly enough though I really seem to have hit a panto vibe with this show, which I'm not necessarily sure is a good thing or not. The crowd do go nuts for the singalongs.
Why should Christmas mean Sam Simmons, rather than Santa, Jesus etc?
Well they're both bordering on fictitious, depending on how you look at it.
Are you a worthy festive icon?
I'm a full-grown man. Just put a bit of tinsel on me head and I look like a winter sex pest.
What will you actually be doing for Christmas this year?
No plans as yet. Wifey and baby are in tow, so I'm thinking some bad telly and some Chinese.
How was 2018 for you - any interesting developments?
I've been the primary carer of my 20-month-old this year, so that's been a lot of fun.
And what's your dream outcome for 2019?
My dream outcome is that all vegetarians will be rewarded with a pet monkey for refraining from eating dead flesh.
That and peace in the middle east.