Every year at the Edinburgh Fringe - the August institution where many of the best leftfield live projects are launched onto an unsuspecting public - there's at least one show that gets the whole festival talking, the 'Have you seen...?' phenomenon. This year, that show was The Elvis Dead.
On paper, Rob Kemp's one-man mash-up musical may not sound like a sure-fire bums-on-seats affair. His long-festering idea was to retell the decidedly niche horror movie Evil Dead 2 via the medium of Elvis Presley tunes, and the resulting show proved a lot less niche than he probably expected.
Having already made a splash at the Leicester Comedy Festival, it rapidly became a huge kill-for-a-ticket Fringe hit, won a Best Newcomer nomination at the Edinburgh Comedy Awards, and now heads for a well-deserved couple of runs at London's Soho Theatre, where the best Edinburgh shows get another life. Another life like the zombies in Evil Dead 2? No, much nicer.
Kemp's show straddles Christmas - now there's an image - as it kicks off with five 9.30pm performances from November 14th, then a bunch of later ones in late November, December and January that plough through the witching hour, which should be pretty spectacular.
We spoke to him the day after another big and appropriate performance - on Halloween.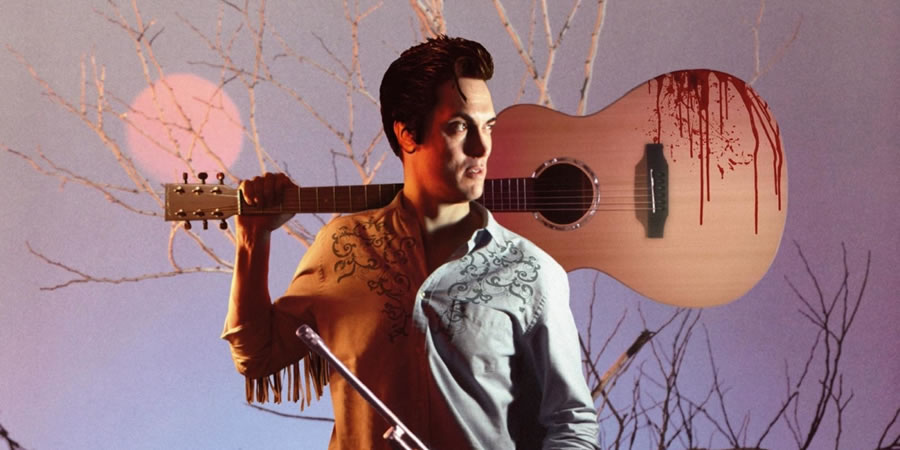 Where were you playing last night?
I did what's essentially a hometown show at the Arena Theatre, Wolverhampton. If you couldn't sell out your home town, that'd be a shocking state of affairs.
I don't suppose you ever imagined selling out your home town theatre with a show that recreates Evil Dead 2 with Elvis songs?
Oh, it was always on the cards - if anything it's been my destiny! No, that's not a sentence that anyone would put together.
When did you realise that the Edinburgh run was becoming a big talking point?
There were a couple of shows at the start where the back rows weren't full, so it was post Ed Byrne and Dara O Briain. I spotted them in the audience, and if there's anything likely to make you forget the words to your show, it's seeing comedy royalty in your crowd.
Ah, they were there together?
Yeah: possibly the best review I got was Dara O Briain saying 'this is what I thought of your show' and pulling out an unopened packet of crisps. I was so entertaining, he didn't eat his crisps.
I heard that you missed the nominations announcement, because of your day job?
I'm exams officer in a Walsall school. I'm lucky enough to get the summer off so I can do Edinburgh, on the condition that I'm there for results day. So I had to take four days out of the Fringe: there's nothing that'll put your feet on the ground faster than someone telling you that you've been nominated for an Edinburgh Fringe award while you're stuffing GCSE results into envelopes. You think 'that's amazing - but this is still my life.'
What's your own background?
I was the frontman in some rock bands in my early 20s, but I've always liked jokes. This is my second hour, but the first one I've taken to Edinburgh. The first was a Dave Gorman-like lecture, and it got nominated for Best Newcomer in Leicester.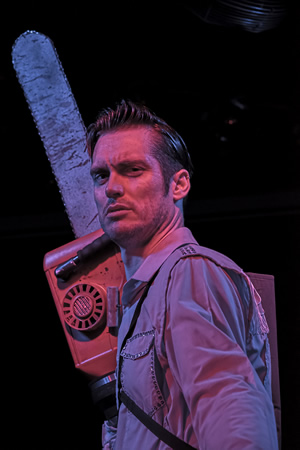 So the idea for the show came about when you were watching Evil Dead 2?
It wasn't that film, it was Bubba Ho-Tep, in which Bruce Campbell [star of the Evil Dead movies] plays an elderly Elvis in a nursing home, still dressed like Elvis, and a mummy starts stealing the souls of the other residents. I was talking about it to a couple of other comics, and they said 'you look a bit like Bruce Campbell' and we laughed a lot at the idea.
They were joking, but I thought 'I'll do something with this.' That was four years ago. The kernel of the idea was percolating.
Can you - at least try - to explain the plot of Evil Dead 2.
You don't need to see Evil Dead 1, as the first seven minutes of Evil Dead 2 is a recap, because they couldn't get the rights - they couldn't use footage from their own film!
After that, it's a man and his girlfriend going to a cabin for a romantic weekend, but then due to a recording on a tape they accidentally re-release some evil spirits from deep, dark in the woods, and it's about the carnage that ensues. I'm trying to avoid spoilers for a 1980s film here...
When I saw it, I was quite surprised that you actually spoke to the audience as yourself beforehand.
I think it creates a nice juxtaposition, the audience first encountering me as Rob Kemp. I usually suggest that they treat it like a concert, and when they pick up on that and sing and clap along, it really adds to the atmosphere.
Do your versions of these Elvis songs have their own titles?
I thought about that, but it was easier for the tech guys to keep the proper song titles. Although I do occasionally refer to it as Always on My Arm, and I know some people who always call it Read from the Pages [we'll let you guess which Elvis songs they are].
Your voice was struggling the night I saw the show, towards the end of the Edinburgh run - did it give out completely?
As it happens, the time I had to take out for my job gave me the rest that I needed - if I'd powered through I probably would have been in a much worst state. And, early on, I jolted my neck, during the 'violence' part, I ended up in quite a lot of pain, having to roll out of bed. I had purple hips by the end, big purple bruises. But, hey, go hard or go home.
Have you had any response from either the Evil Dead or Elvis camps?
I know that a few people have tweeted Bruce Campbell, I'm fairly confident he knows about it - or his people do.
I found it quite funny early on, before Edinburgh, I applied to the Elvis festival in Porthcawl, and the guy got back to me. He was lovely, very polite, but it was an apologetic 'our clientele are purists, I don't really think this is for them'- which is fair enough isn't it? If you're a purist, seeing someone wrestling themselves and mangling the lyrics you've loved for the last 40 years isn't going to make you very happy. He'll regret it though!
He'll regret it when you're playing Wembley, with all the special effects...
I'd like that. The flapping trapdoor. Gore cannons.
Is there a longer-term plan? Will you do the Elvis Dead in Edinburgh again, or a whole new show?
I'm gonna take it back, weekend runs, Thursday to Sunday then three days off of singing. But I do want to take something else up too, to keep my own wheels turning. What I'm aware of, I've done Edinburgh all wrong, and started far too strong!
The nice thing about a music show, though, you could do it forever...
And the fact that neither of the things at the heart of this show are especially timely - I'm not surfing the zeitgeist by any stretch of the imagination. Although, actually, if you pay close attention, there is a Brexit analogy in the subtext.
That's the law now - every comedian must do Brexit material.
For the next 20 years. But I'll happily do this show for as long as it works. Taking the lead from Bruce Campbell and your Mark Hamills, they're known for one thing and they've embraced that. I've got other things in me, but if people love this, I'm not going to be a jerk about it. If they're on board, that's wonderful.
I mean, I say that now. Give it 10 years...