Rachel Fairburn interview
"My boyfriend and me, we're very cynical" Rachel Fairburn maintains. "We say 'we don't get involved with Valentine's Day, we're not interested'. But if he doesn't get me something, I will sulk. I'm not a great romantic but I do like to be appreciated."
The darkly inclined comic might not go in for grand amorous gestures. And her sales pitch for why you should catch her indiscreetly sexy comedy night, Comedians Telling Erotic Stories: Valentine's Day Special, is, typically, blunt. Poignant and violent too. "We're all stuck at home" she points out. "Some people are separated from loved ones. Some are with theirs' and probably want to kill them. That feeling of being part of a community, it's hugely important at the moment."
Swapping seductive tales with her guests, "sultry" Shappi Khorsandi and "lewd" Lou Sanders, this is the latest of Fairburn's storytelling nights, following previous Christmas and Halloween editions. The stories can take any form and Fairburn fondly recalls Jordan Brookes' account of Father Christmas' wife "that was just really sad.
"Jordan's brilliant of course but he delivered it in such a way that you could hear a pin drop."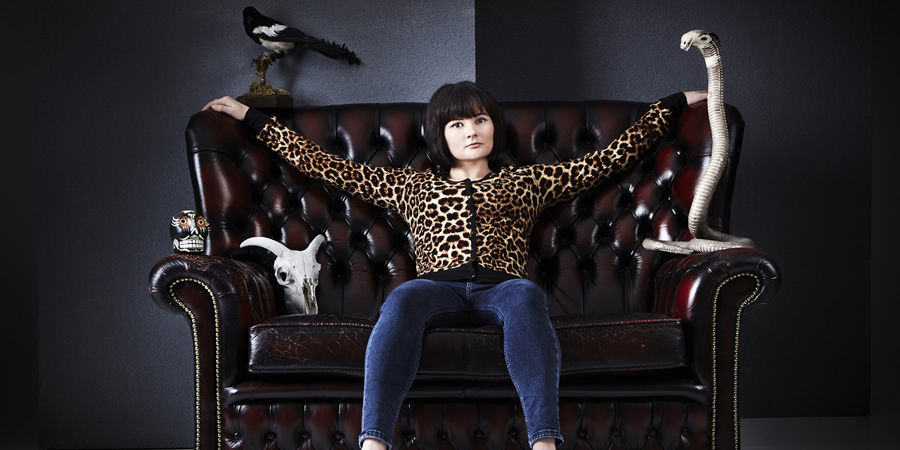 Crafting a longer narrative tends to drive comics "out of their comfort zone a bit, it makes even the most experienced ones nervous". She ventures that Sanders is "perfect for this one because you never know what Lou's going to do. It could be the rudest story in the world. It could be quite sweet. Or just a really funny story about people's dads.
Khorsandi, who won acclaim for her unsentimental debut novel Nina Is Not OK, "will be great too because she's had lots of relationships. She's had her heart broken, she talks from a really personal point of view in her stand-up. I'll be really interesting to see what she's got for us."
Also featuring Will Duggan on keyboard - "he's trying to procure a pair of angel wings from somewhere, I dread to picture his costume ...", buying a ticket for the show will also get you a dress code, cocktail recipe and a present idea to match your relationship status.
At the same time, the show has been a gift for Fairburn's creativity as well.
"Really, it came from when I used to get writer's block. I would just write a short story about anything to get me out of it" she explains. "I also had an in-joke with some friends. They'd say two celebrities and I'd have to do an erotic story about them."
This smutty, often slash fiction traded over WhatsApp invariably attracted some increasingly unlikely suggestions, in fact some truly gruesome twosomes. "They would give you Ross Kemp and a national treasure like Patricia Routledge. Or David Attenborough. I'm not going there. But I did do one about Laurence Fox and Danny Dyer. It was stupid but enjoyable. Through it, I've ended up writing material accidentally for my stand-up, just a little idea or a turn of phrase that comes out."
She is currently working on her next Edinburgh Fringe show, irrespective of whether the coronavirus pandemic allows her to perform it in the Scottish capital or remotely. Previewing at the Leicester Comedy Festival this weekend, Maniac finds Fairburn exploring her mental health through one of her favourite films, the 1980 slasher flick of the same name.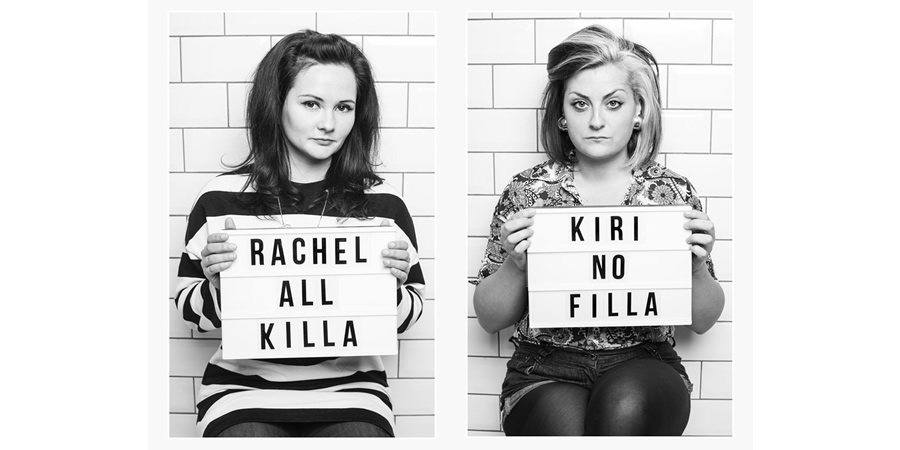 As co-host of the hugely successful podcast All Killa No Filla with Kiri Pritchard-McLean, in which the pair discuss notorious serial killers, the candid comic has "always been interested in true crime and the macabre for as long as I can remember." The "crux" of Maniac is essentially "the things that I do when I'm on my own, or that I think - if I said them out loud or did them in public, would people think that I'm insane?
"On the podcast, both Kiri and I are very open. Because it's basically just a chat between two mates, there's nothing really that I'm not happy to discuss about myself.
"Sometimes there are things I probably should have kept to myself. But when I've discussed stuff that I've got in an amusing way, like OCD and body dysmorphia, people have got in touch and told me they really related to it. And I think it's quite nice to have a platform where you can be open and confident and talk about personal things. I'm the same person on stage as I am on the podcast."
Fairburn's induction into the macabre started young. Brought up by her grandparents, as a five-year-old she would thumb through a book owned by her granddad, collected issues of the sensationalised nineteenth century newspaper The Illustrated Police News.
"Obviously some of them were completely made up" she recalls. "But as a child I was looking at pictures of a skeleton found on a chair, of a kid being thrown into a fire. My mum did say 'I don't think you should be giving her that to look at'.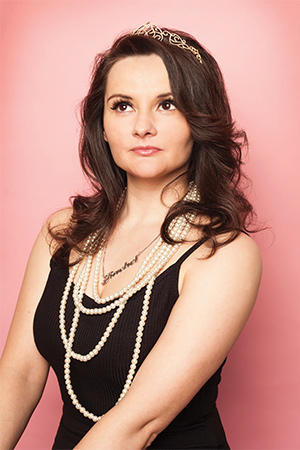 "I was so obsessed with it that I used to carry it round with me and I've still got it to this day. My granddad used to read me ghost stories, he'd make up really scary ones. Also, I don't think anyone who went to a Catholic school completely escapes without an interest in weird things. Even as a small kid, you're surrounded by these bizarre religious effigies. Christ on the cross and all these stories of fire and brimstone. That definitely has some sort of effect."
She was working in John Rylands library at the University of Manchester when she began stand-up 12 years ago on the local scene, absorbing the rare books depository's horror-tinged history and grisly artefacts, such as the eyeballs that nineteenth century chemist John Dalton had donated to science. "And I managed to track them down and put them on display" she laughs. "But I loved every minute of it. We had the list of executions at Newgate Prison ... children being executed, pregnant women being let off until they had their baby. Then executed.
"If you wanted grim, there was so much stuff there that would satisfy you. I was very happy there."
Unlike the tricky business of mixing sexy and funny, as has often been remarked, horror and comedy provoke similar reactions in audiences. And Fairburn's fascination with the luridly scary fed directly into her becoming a comedian she speculates.
"Yeah, it's that tension and release isn't it?" she says "The only films I really watch are horror films. I just love that [she inhales] you're scared stiff and then there's the jump at the end. That's basically what stand-up is, building up to something, then the release is the laugh. So I think my interest in the macabre and strange things in some way led me to do stand-up.
"It certainly led to the podcast. But we've struck a balance there because we never laugh at the victims. There's a lot of true crime podcasts that even I find distasteful. We've had to learn along the way, saying 'sex worker' instead of 'prostitute', learning how different groups prefer to be referred to. About why people kill and how people end up in these horrible situations. I've discovered so much from doing it."
With well over a quarter of a million listeners and those numbers shooting up over lockdown, the pair have resisted the urge to monetise All Killa, eschewing adverts and using the pledges from their Patreon subscribers to cover production costs and donate to charities. "Relatives of the victims are still alive. And people are affected by these crimes. It wouldn't be right to buy a house off the back of it" she explains.
Regardless, having attracted a global audience, with sold out live shows and a 2018 US mini-tour, the podcast has really struck a chord, "primarily with women from their late teens to early fifties. They contact us and say it's so refreshing to hear women talk to each other how women actually talk to each other."
Although they didn't know each other before the podcast, Fairburn and Pritchard-McLean have since also hosted World of Weird on the internet station Fab Radio International. And there are plans to develop the All Killa format into other media, though Fairburn is remaining tight-lipped about which exactly. She admits: "At the moment, we just want to get back out there and do a live show to be honest.
"I'm really looking forward to when we can actually get back on stage. Even though I know that for about a week I'll be so happy that I'm back out gigging. Then I'll start whinging about the travel again."