At this time of year, comedians are often asked for advice and recommendations for the Edinburgh Fringe. As someone who has been going to Edinburgh for nearly twenty years, but is taking this year off to stay in London, here are my Top Ten Tips for Comedians at the Edinburgh Festival:
1. The weather can be very changeable, so remember to wear layers. Eg. cotton, linen, leather, bubble wrap, moss.
2. Don't read reviews. Don't read social media. Bring at least one book with you. Don't read it.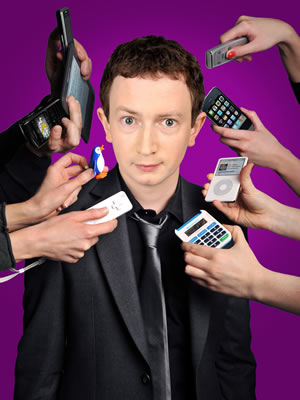 3. The only PR you need is Personal Responsibility. If you're going to sleep with a journalist to get a good review, check that they work for a broadsheet.
4. Make sure you see other people's shows. They can be a great source of material if yours isn't working.
5. Flyering can be boring and predictable, so why not spice it up? For example, dress all in black and jump out at potential audience members from an alleyway in Glasgow.
6. If you're doing a free show, don't forget to work on your bucket speech, so-called because saying it should make you feel a little bit sick.
7. Male comics: simulate your first Wednesday audience by sneaking into a women only sauna. The intense heat and stares of horrified disapproval will be excellent preparation.
8. A lot of your audience will be local Scottish people. Pay them the courtesy of doing the accent.
9. Remember that the Edinburgh Fringe a marathon not a sprint. In that it takes too long and halfway through you'll probably shit yourself.
10. Think "screw this, next year I'm doing The Camden Fringe instead. I get to do a new show and then sleep in my own bed afterwards. Plus the venue will definitely have air conditioning, and if I do a joke about the Tube, I won't get lynched."