Erich McElroy and Steve N Allen team up twice a week to deal with the world's issues. Let's find out more about their Comics Solving Problems online shows...
Hi guys. We're sort-of coming out lockdown now... how are you finding life?
It's been remarkably the same as lockdown, but with the added benefit of watching people with actual jobs get to be out of lockdown - while we are still here at home as most live gigs have been limited. We are still hanging on a dream and a sometimes-shaky internet connection.
So, how do you two know each other?
We met on the open mic circuit, and while - at the time - we were inexperienced in comedy, we were quite experienced drinkers. The haze of our original meetings is forever lost for all time.
We started performing together when we did AAA Stand-Up at the Edinburgh Festival Fringe way back in 2010. We started doing topical shows in London and have done three more together at the Fringe. And now the internet is the only place that will have us.
Tell us about more about the Comics Solving Problems format, and what made you decide to take to YouTube together to do it?
The pandemic made it illegal for us to perform anywhere else - that was a major factor.
The format evolved, sort of, from our last Edinburgh show, called Immoral Maze, where we solved the audiences (and the world's) moral problems. As we were setting up this current show, we realised the news was full of problems - and figured we were the perfect people to solve them. And, again, we had nothing else to do.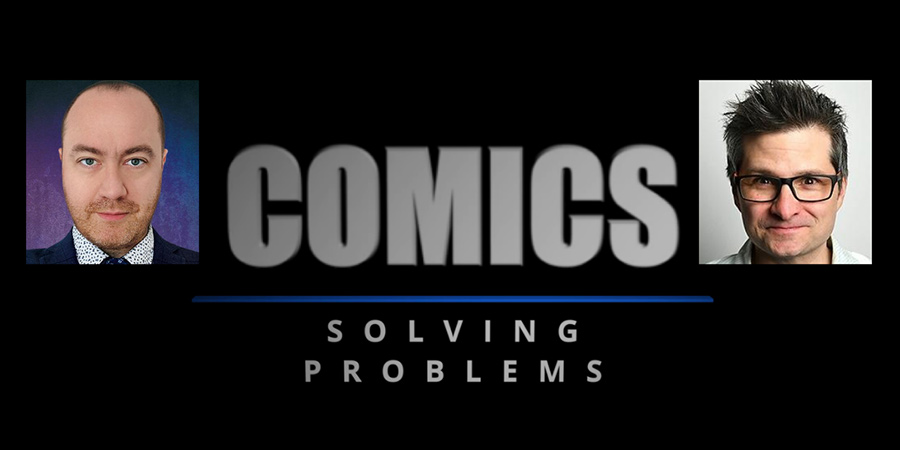 Having two of you on screen - so it's a conversational format - works really well. How much do you plan in advance what you're going to say?
We both spend the day working up our own topics, routines and material. During the show we present them to the viewers but are also presenting the bits to each other. Often, the first time we hear a piece is live - making the other person laugh is a key challenge and point of the show.
Much of your show is topical, and you're going out twice a week... is it tough to keep finding new angles in the news?
It hasn't been so far, as there is a lot of news - and the big stories do manage to keep giving plenty of material. Plus, we aren't afraid to cover the hard topics like how to make a proper cup of tea. Erich will never learn.
Can you talk about the suits... and what are you wearing under the desk!?
Steve was the man behind the suits. The first episode we looked scruffy, and then Steve put on a tie and nice shirt - but Erich was only wearing a plain shirt. Steve made the case 'if we were going to ask people to watch us and give up their time we should look like we made a bit of an effort'.
Under the desks? We let the viewers imagine that.
What has been the best problem you've had to solve so far?
We've had the most fun with dealing with masks - different versions of masks. We've made masks; we've mocked the dipshits that won't wear masks. Pretty much covered every angle.
Steve making a mask out of his own pants was the best solution we found. Although, Erich doesn't like wearing it.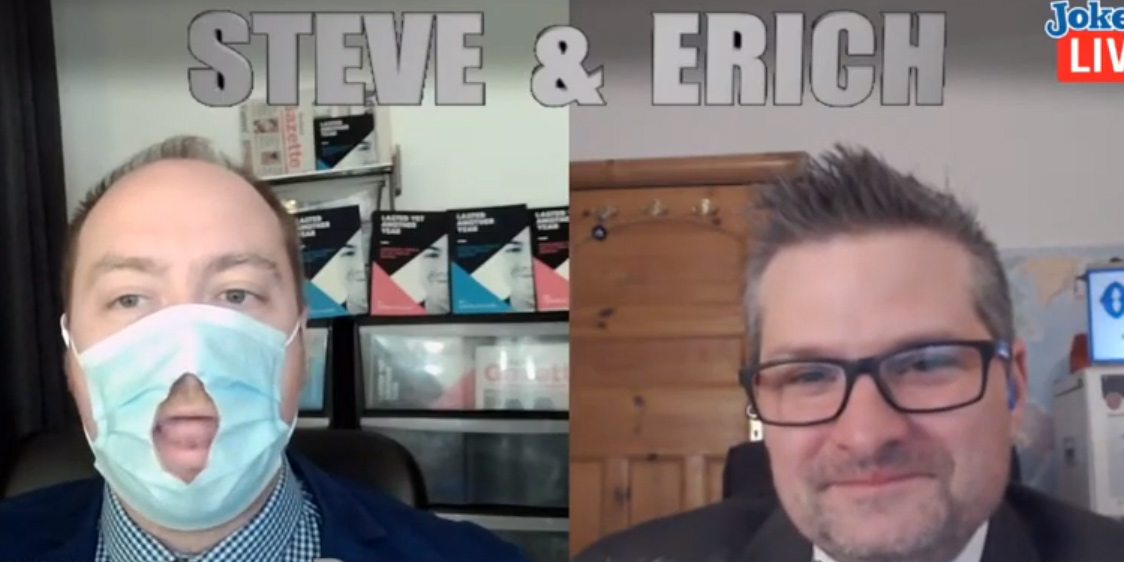 You're having to do all the problem solving ... but there's no one to deal with your issues?! What problem would you like someone to solve for you?
The tech was a challenge at first, but we think we've cracked it. The next problem we are still solving is growing and finding the right audience. YouTube and other online video views are often driven by extremes - we tend to focus on having fun and trying to be funny.
A lot of shows online are hard left and hard right [politically speaking] - and it's difficult when you're just correct.
Do you think you'll keep doing online content like this when the world is back to normal?
We plan to keep going, partly because live comedy's return has been a bit anaemic - but also because we really enjoy doing the show. Also, this last six months has changed where and how people will find comedy. Lots of clubs are including live-stream elements and, just in general for performers, the crisis has pushed things.
Things have tipped for comedy online. It's the place you need to be!