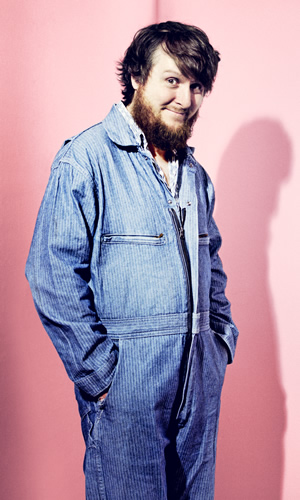 Tim Key might have been a journalist, or a criminologist. Thankfully, he became a comedian instead, and is currently preparing to launch his new live show, Single White Slut, onto the world this spring. Lucy Wood (real-life journalist, read-a-textbook-on criminologist and definitely not a comedian) finds out more from the man himself...
Tell us more about 'Single White Slut'. Has it changed since the work-in-progress at Edinburgh?
Well, it's definitely the same show. There'll be better lights and sounds and I've put on weight in my face so I'll be funnier. But if anyone saw it in Edinburgh they need to know it's the same show. It's always evolving though and will change across the run. Come a couple of times.
Do you look forward to revealing new work?
Yeah. It's obviously nerve-wracking because until you've shown it to people you don't know whether it's only something that works in your own head. But I always like it. When it's a new hour more can go wrong, so when it starts to go right it's satisfying.
I admit, when I heard about 'Slut In The Hut' [the 2007 show], the title put me off a little. I'm glad it didn't stop me! Will we be seeing 'Old Aged Slut' when you're in your twilight years?
It was an accidental piece of branding that got out of hand. I think it's finest hour was 'The Slutcracker' in terms of how it captured the essence of the show. Recently a friend said to me "I assume this the last slut-show" and I hadn't really thought about that. And then I started to think that I should probably assume that too. On the other hand I'd like to make a show called 'Slutdriver' with an enormous truck-cab on stage and me sat in there hooting the horn.
Reflecting on your journey from, say, compering at Up The Creek, how have you changed?
Yeah, I played it drunk at the start. I had a suit that didn't fit, covered in beer. I drank tons on stage. It was more like a character I suppose. Then I bought a machine washable suit and tried to refine it.
Still cans of beer flying about though. And still poems. So the building blocks are the same.
[bCan you remember your first paid gig? When did you realise it would be your path in life?[/b]
I used to perform at The Albany a lot, on Great Portland Street. It wasn't paid per se, but a man called James Wren, who ran it, came back stage and asked if I wanted a pint. For free. It felt like a gamechanger at the time. Having fun and working out how to do it all, and then getting this beer for free. I didn't get paid for a while for my poetry, I think because in my own mind I didn't see it as the type of act that would be paid.
What do you like best about what you do? And what's the worst?
Being on stage is obviously fun. Particularly doing new stuff. The worst thing is obviously the feeling of loathing you get at six o'clock when you've set aside a whole day to write and you've done nothing and know you're going to watch Eggheads.
How do you decide what stays in your set and what's out?
What I like stays. Usually that's a good barometer. I've never kept stuff that I don't enjoy but the audience do, I don't see how that could happen. Once or twice I've kept something that I like and done it until they do.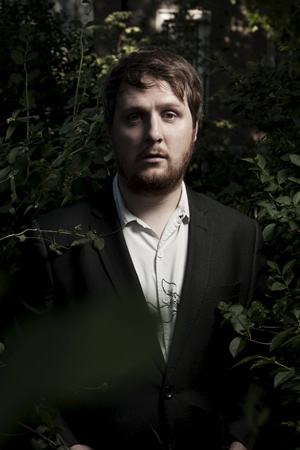 What are you most proud of?
I was very proud of my first Edinburgh show, Luke and Stella [2004]. Not many people came, but I felt like I'd come up with something I loved and believed in. But really I'm proud of all the stuff that I feel is mine.
I did a show called Cowards that we'd done in Edinburgh and got to make three episodes for telly. We were new but all very much singing from the same hymn sheet. I'm proud of that.
And what's the worst thing that's ever happened to you at a gig?
I died in Kilkenny.
Did you ever imagine this would be your career? What did you want to be when you were small?
I think I wanted to be a journalist at one point. Or a criminologist. Not this though. Never this.
What do you think you would have done if you had not gone into comedy?
Weirdly, I would have gone to Russia. I lived in Russia for a year in my twenties and sometimes bits and pieces of that find themselves in my show. There's a true story of regret in Sochi, which has made the cut in this one. My degree's in Russian and I never use it, so I think that's why I try and bang bits and pieces of it in when I can.
What's your earliest childhood memory? And what's the one that stands out the most?
I remember spinning round and round outside a house and falling over and my dad bandaging my knee up with his handkerchief. My brother also remembers that as it being him who was doing the spinning, so maybe it wasn't even me.
I remember Charles and Di getting married and another boy was in my seat at the street party.
Do you have any qualms when your family are in a gig?
Nope. I like it when they're in. So many years of trying to explain what I did and saying I thought it might turn out fine, and them using phrases like "law conversion" and "journalism". Now they're proud of me. They pretend they don't like the language, but secretly they're all over it.
Your shows are very artistic in the sense that you don't just stand there before a microphone. Do you deliberately set out to create something above and beyond 'comedy'?
I always like to have another element floating about in my poetry shows, otherwise it's just a guy doing poetry which I can't really justify. My last show I had a bath on stage with me and dived into the bath and an underwater world appeared on screen. Certainly feels like the actions of a man who has a slight lack of faith in his material.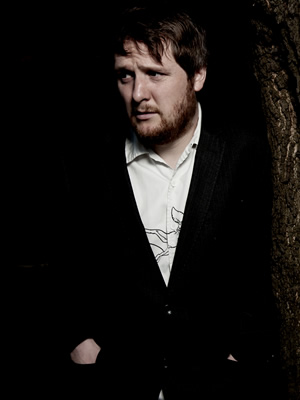 Your onstage self is very deliberate and well-crafted. I love that attention to detail - for example, how you acknowledge the audience as they enter. Why did you decide to take that direction?
Being on the stage at the start was a masterstroke! I'm less nervous that way. Backstage you can imagine a room full of monsters. If you see them come in you see that they're just humans. Nice humans, actually.
You work a lot with your close friends (Freeze, with Tom Basden, for example). Is it like having a support network? How different is it working alone?
It's very important. I love working alone, but it wouldn't work if I didn't have that get-out. And probably vice versa. There's tons of them about, like you say, who are friends first and foremost, but who I'll work with forever. Basden (who I do Freeze with) is a real keeper. Our shows are odd and all over the place, it's fun to experience that sort of nonsense with a friend.
Is there more pressure involved in being a solo performer?
No I don't think so. If you're one of four or one of two you still have to make sure you don't ruin it. It's just slightly more obvious if you screw up your solo show.
You have some fantastic projects to your name; what would be your absolute dream?
Making something a little more substantial but which I love, with the people I collaborate with at the moment.
I am so happy to be of the Alan Partridge generation - how does it feel to be part of the legend, as Sidekick Simon?
Yup. Weird.
So back to Single White Slut. If you had to sell your show to a stranger, how would you go about it?
There's some nice bits about India and I wear a denim jumpsuit.
What else is happening for you in 2014?
My radio show's going out now [Tim Key's Late Night Poetry Programme], which I'm really enjoying listening to, it's right up my street. Then this Single White Slut stuff, then not sure. I've got some writing projects bubbling away. I'd like to do some acting in the summer but I might need to write that because I'm not great at auditions.
And finally, if you were allowed to perform only one more poem ever, which would it be?
An ox?
An ox?
An ox?
An ox?!
I could barely conceal my incredulity.
Why had she bought me an ox?
For more on when and where you can see Tim performing live visit www.theinvisibledot.com