Black Comedy Awards 2013 - Results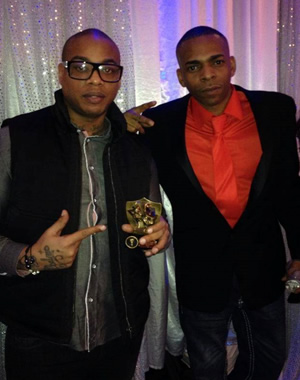 The results of the Black Comedy Awards 2013 have been announced.
The awards, which have the objective 'to celebrate and honour the very best in black British and International stand-up comedy and comedic acting talent', were this year held in Wembley on Thursday night (19th December 2013).
The biggest winner of the night was Richard Blackwood, who won three awards. Other notable winners included Slim (pictured in the red shirt, alongside Best Newcomer Dizzle), who retained his crown as 'Best Male Comedian' for the second consecutive year, and fourth time in total; and Gina Yashere who took the 'Best Female Comedian' and 'Best DVD' trophies.
Felix Dexter, who passed away in October, was honoured with the Lifetime Achievement Award.
The full results are as follows:
Best Male Newcomer: Dizzle
Best Female Newcomer: Thanyia Moore
Best Supporting Actor: Richard Blackwood (for Donkey in Shrek)
Best Theatre Lead: Angie Le Mar (for In My Shoes)
Best Female Comedian: Gina Yashere
Best International Comedian: London Brown
Best Comedy Movie: Kevin Hart's Think Like a Man
Best Comedy Actor: Kevin Hart
Best Web Series: Meet the Adebanjos
Best Theatre Show: Shrek
Best Male Comedian: Slim
Most Popular DVD: Skinny Bitch by Gina Yashere
Best Stand-Up Comedy Host: Richard Blackwood
Best Radio or TV Show Host: Curtis Walker (Colourful Radio)
Lifetime Achievement Award: Felix Dexter
The Black Comedy Awards, organised by Tiemo Entertainments, have now been running for 10 years. This year's ceremony took place at the Crystal Banqueting Hall in Wembley.
The award winners were voted for by the public, with a separate judging panel 'overseeing the process and, if and where necessary, having a say in the final outcome'.
To find out more about the awards visit tiemo.co.uk