Tom Craine interview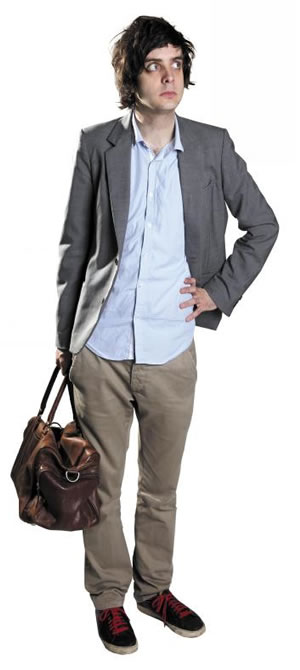 Almost-Welsh and with more eggs in more baskets than a battery farmer, Tom Craine is going to get some serious 'new Mark Watson' quotes if he's not careful. Only on the circuit for a few years, the west-countryman has already got a regular show on Radio Bristol, a sitcom looking promising on Radio 2 and a sketch show at an advanced stage, as well as various handy bits of acting and writing work. What an annoyingly talented bastard.
The sitcom is The Sharp End, written with veteran stand-up Ian Stone and starring - impressively - Alistair McGowan and Michelle 'Green Wing' Gomez as warring consumer show hosts. The pilot seemed to go well, so it's touch-wood time as the participants await the green light to go forth and write more episodes. Craine may well be one of the nervier, nail-bitier participants at this year's Fringe then, but we met him in a nice London pub a few weeks before the big trek north...
How did you get into radio?
I did student radio, won a couple of awards and then bits and bobs of music journalism for Radio Wales, before being asked to do some co-presenting on Rhod Gilbert's show. That was kind of how it started. I've been doing the BBC Bristol show since the end of last year. That was originally from me doing guest spots, and not being too dreadful, then pitching an idea. Each week I chuck around a theme with another comic, I have a rotating group of people, and it's great fun. It's a real learning curve. I hope I'm better than when I started.
It's a nice gig anyway, but has the iPlayer changed the way comics and presenters view regional stuff on the Beeb?
iPlayer is great, it allows a much wider audience. I have listeners from across the world, and they can listen at their own discretion. None of this 'right-place, right-time' nonsense. It also allows people to Twitter links to their favourite shows which helps, word-of-mouth wise.
What's the story behind The Sharp End?
There's a top producer called Frank Sterling who works for a company called Unique. He saw me at a gig when I was starting out, and I had a very informal meeting with him, no great plans at that point. I came up with the idea two years ago now, and Ian Stone I always held in great regard. It's nice to write with someone who has a different level of experience and a different voice, and we both find each other funny.
The consumer show seems fertile ground for comedy...
I've always found things like Watchdog hilarious. They're just so crippled with problems and the presenters are invariably so self-aggrandising and pompous that it's a lovely foundation to write comedy from. It's something that would support a show for quite a while as well, rather than something that's shot its load after 30 minutes.
How did you find acting alongside Alistair and Michelle?
At the read-through I was genuinely nervous. At one point I had to do a Jeremy Clarkson impression and fundamentally I can't do a Jeremy Clarkson impression, but Alistair was more than accepting of the fact that it wasn't my forte, so took some time to teach me how to do it. But I'm sitting there thinking "why have I written an impression when I can't do impressions, and it's my character doing the impression, and the man whose main career device is doing impressions is sitting in front of me?" But no, he was really useful and helped me through it.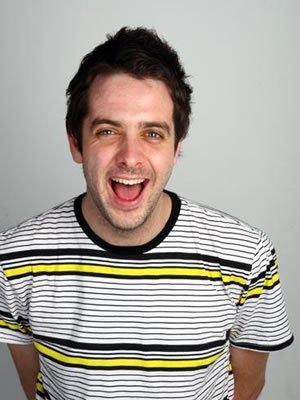 So what happens now?
We wait. We twiddle thumbs. We had very, very good reviews, so that was good.
You haven't tempted fate and started writing further episodes?
No, we have ideas, we have storylines, it's a weird sort of limbo. But then a lot of work in comedy's like that: pitching, and having ideas, two or three things knocking around.
You have a sketch show on the cards too?
With Nat Luurtsema and Dan Antopolski, we're hoping that takes off. We're filming with BBC after Edinburgh. With Dan, I've just gigged with him and got on with him, really liked his stuff, and all three of us have the ability to write a sketch quite well I suppose, quite succinct ideas. It's the most relaxed I've been in a writing group. We should have done an Edinburgh show this year really...
I saw your solo Edinburgh show last year and you hardly drew breath. Can you keep that up this year?
I think this year's show will be quite different. Not massively so, I'm not Milton Jones, with crazy one-liners, I still look and sound like me, but it's a bit more me, a bit more honest. It's nice to talk about things you have an emotional attachment to.
So what's it about?
It's called Choirboy to Addict & Back Again. It's about my life, and more generally how hard it can be to stick at the things you enjoy. It also has a song in it. All frightfully exciting. It doesn't make any great strident points, but it has a bit of a take-home message. Whether you choose to take it home is entirely another matter.
'Choirboy to Addict and Back Again' is at Pleasance Courtyard, Edinburgh until August 29th. Listing