Gyles Brandreth interview
It's often tempting to begin one of these introductions with a bit about what a varied career the comedian in question has enjoyed/endured (delete as appropriate). The late great Humphrey Lyttelton probably takes the biscuit: steel worker, grenadier guardsman, cartoonist, jazz trumpeter, and host of I'm Sorry I Haven't A Clue for 35 years. But a current Radio 4 panel show stalwart has an impressive assortment of outlets too.
Gyles Brandreth will be best known to comedy obsessives for his regular appearances on Just A Minute in particular, and for mocking his regular Countdown appearances with guest spots on The IT Crowd and Mitchell & Webb's Numberwang (where he rubbed shoulders with a newly-crowned Oscar winner). In fact he's now personally spinning-off from Dictionary Corner by launching a wordy podcast with Countdown's Susie Dent, Something Rhymes With Purple.
But the writer/presenter previously best known for his jaunty jumpers took a serious departure in the 1990s, achieving a long-term goal by becoming a Conservative MP. Indeed, he became a high-ranking whip (the ones who tell MPs how to vote, not always successfully), and launched one major bit of legislation that had a seismic effect on yours truly, right behind the venue for his Hertford show. All will be revealed below.
Actually it turns out that the Parliamentary years were often very funny too: his wickedly revealing Westminster diaries, Breaking The Code, were re-published a few years back, and they're thunderously entertaining; and enlightening, if you want a backstage look at how Brexit came about. It's also surprisingly saucy - turns out politicians and theatrical types get up to all sorts, behind the scenes.
Backstage theatre life is also the subject of Break A Leg, the live show Gyles is now touring around the UK, after a sell-out run at last year's Edinburgh Fringe. On the morning I phone, the great raconteur is eager to talk about that, and comedy, with no hesitations. Just a few deviations.
Gyles, tell us about Break A Leg...
Essentially what the show is, it began a couple of years ago - I went to do a memorial service for the late Sir Roger Moore - my favourite James Bond. This was at Pinewood Studios, a wonderful event, and at it I was chatting to some people... I'll get to some comedy in a minute.
Roger Moore stories are absolutely fine...
I went to a school where his best friend from the army taught us maths, so aged 10 I met Roger Moore, he would come down to the school to see his friend, in this amazing sports car, and he was then appearing in The Saint. Then when I grew up I met him again, and I told him I wanted to be an actor.
I said 'you've made a bit of a hit of it,' and he said 'well I don't do very much,' - he was very self-deprecating - 'I've only got two looks for the screen', and he did them - one with his left eyebrow, one with his right eyebrow. 'That's all I offer.' I said 'if it's that easy, can you show me?' And he gave me a masterclass.
So I began practising, and became very good at lifting the left eyebrow, but I could not get the right eyebrow up. So after we'd been doing this for weeks, I said to Roger, 'look, this is not working, I can get the left eyebrow up but not the right,' what's going wrong? And he said 'Oh Gyles, it's very simple: it's just you're half the actor I am.'
That's a good Roger Moore impression too...
Thank you. I was telling this story at his memorial service, a great gathering of the great and the good - Michael Caine, Joan Collins, they were all there - and somebody said 'oh that's a lovely story, why don't you do a show about people you've met?' So what Break A Leg is - this is a long way to getting round to what the show is...
You carry on, Gyles...
... Break A Leg is a celebration of brilliant and funny people that I've met, and it starts in the 1950s, when I'm a little boy, and I'm listening to the radio - I was introduced to British comedy, as will many of your readers, through radio; through the voices of people like Kenneth Williams, Frankie Howerd, Jimmy Edwards, Tony Hancock. Voices I heard when I was a little boy. June Whitfield! Who was the daughter in Take It From Here.
Did you know June?
June Whitfield makes a guest appearance from Heaven in the show, because the last thing she recorded was a song, with me. Just before Christmas. It features in the show at her request: she's on the radio, I sing live, and people find it very touching.
So the idea of the show, it's funny, occasionally touching, and it's a celebration of theatre and live showbusiness.
Which this is too: you up there performing...
The reason I'm doing the tour is that I just love getting out there and doing things that are alive. You can get perfect stuff in the movies - I adore the movies - but it's always perfection. The sound, the editing, it's all perfect, and that makes it somehow removed, there's something glossy about it. Whereas live theatre, live comedy, it's raw.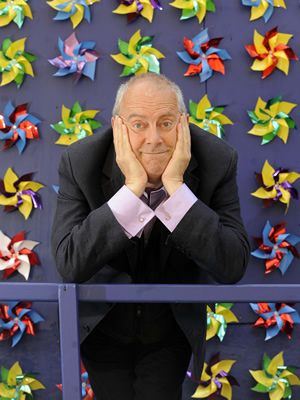 I've been reading your political diaries, which are incredibly revealing - do you touch on those encounters in the show?
No, I don't really, I've done a political show, and I might do one again, but I decided to opt out of Brexit. I've opted out of it totally, in my life as well as on stage. If I mention Brexit during the show I give everybody their money back. It's a guaranteed Brexit-free zone.
I don't blame you. I've seen audiences turn because of it. It can really split the room.
I've opted out, at home too - it's given me hours! I don't watch the news, I don't read the newspaper, it's fantastic. It's given me so much freedom. I loved being an MP, it was a great time, and I hope you'll find there are a few laughs to be had in the diaries.
There's an interesting story early on about Frankie Howerd's, er, requests. I've heard people say similar things before...
That is very interesting, people have got the same anecdote about Frankie Howerd, ranging from people of the generation of Max Bygraves, right the way through to... I know Griff Rhys Jones had the same experience. Those that knew him called him Frank, and I admired him hugely, and enjoyed his company. He appears in my show, because I do a better Frankie Howerd than I do a Kenneth Williams.
Back to the book: I've just reached the Maastricht bit, which is fascinating, if you want to find out why Brexit is happening.
You're right, in a way Breaking The Code is a good guide, because in a sense nothing has changed, the fundamentals of the dilemma were there in the 1990s. There's a very funny parody on YouTube of the song We Will Survive, and I'm charmed by it because it's advocating that I should come back. I'm ready to serve!
I hoped, when I was a child - I wanted to be Prime Minister, and there may be people reading your piece who wish that I were Prime Minister. But I'm not. You'll have to come to Hertford to see me, not Question Time.
Speaking of Hertford, I got married in the rather nice building behind the Hertford Theatre - am I right in thinking that you're responsible?
Yes, that was me, my one contribution to the world. I'm responsible for the 1994 marriage act, and that's what made being able to get married in a castle or stately home, or a grand hotel, possible. Before that, if you wanted a civil wedding, you had to get married in a registry office.
I took that through as a private members' bill. It was because a lady in my constituency owned a castle and she wanted to have weddings there, and couldn't see why you could have a wedding in a cathedral but not a castle.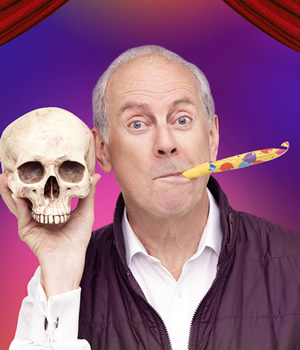 Indeed - I've only just realised that it was so recent.
My other contribution to British society is the empty plinth in Trafalgar Square. One of the things that Britain does best is comedy, I thought it would be rather fun to have some great comics on that plinth - a gallery of great comics.
But they explained to me 'they've got to be dead.' So I said 'lots of great comics are dead.' And they said 'never mind that, it's got to have some military association.' All of the people in Trafalgar Square are soldiers or sailors.
I suspect one day the present Queen will be there, on that plinth. But until then that's why you have temporary exhibitions, because of me, I spotted it.
I wonder if many people who've been married in hotels realise your involvement.
They don't! What can you do? I once was on local radio, and my wife was slightly alarmed when the fellow introduced me as 'the expert on the marriage act.' She was inclined to fall out of her bunk at that.
Do you remember doing a sketch with our new national treasure, Olivia Colman?
Numberwang. Well the reason that came about, I have a son, Benet Brandreth, he's a barrister but he also does stand-up. At Cambridge University he was the vice president of Footlights, when the president was David Mitchell. So he knew David, Robert Webb, Olivia Colman, all the same generation - so that's how I came to be doing Numberwang.
But my greatest claim to fame is having been in The IT Crowd. Oh yeah. I've got my finger on the pulse. As you sit there, I sit here, looking at a picture of our cat on the wall, painted by Jack Whitehall.
Ah yes, you knew his dad...
I still know his dad! I knew Jack when he was just a twinkle in his dad's eye. The nice thing about me, I go back to knowing people of the Arthur Askey generation, Cyril Fletcher, comics who were big in the 1930s, right up to today. Because obviously I do a lot of radio and things, so I meet a lot of the current people, the Joe Lycett generation. I'm down with the new kids: Jack's a bit middle aged for me.
He's done quite well for himself.
What's so nice, when I was in Edinburgh in about 2010 - maybe 2007 - he was still at school I think, and he was my gofer, he used to get me coffees and things. Jack Whitehall was my gofer: there's your headline.
That's your next show title...
Maybe that's what I should call it! Instead of June Whitfield making a guest appearance from Heaven, I could have Jack Whitehall making a guest appearance from Los Angeles.
Poolside.
As it should be.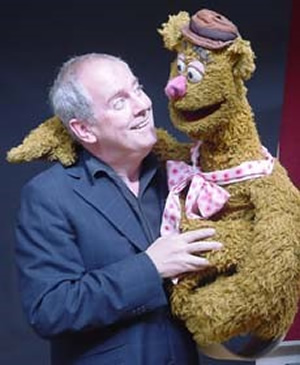 You mention in the diaries about being a big Jim Henson fan.
Ah yes - the joy is, I love meeting interesting people. Achievers. I find that exciting. Jim Henson I met, and he discovered that I have a collection of teddy bears, and he volunteered, 'would you like to have the original Fozzie?'
Believe it or not, within two weeks a huge box - huge, the size of a coffin, wrapped up in brown paper and string, arrived at my house. I opened it up, and inside was the original Fozzie Bear.
Crikey!
It's as big as a human being, full-size. And it's now on show - my teddy bear collection all lives now at Newby Hall in Yorkshire, near Ripon. I have a thousand bears, including a Nookie Bear - do you remember Nookie? We've got the original Sooty; the Paddington Bear that was on television with Michael Horden's voice, and pride of place goes to Fozzie. It's the most wonderful thing to have in my life - who could ask for anything more? I live with Fozzie Bear.
You gave up lots of showbiz work to become an MP - how did you get back into it afterwards?
I lost my seat in 1997, and I was very lucky, I was offered a radio show by LBC, which I did, and a newspaper job on the Telegraph, which I took. But then my wife said 'what do you want to do with your life?' and I said 'I want to be a in a musical!' I wanted to do Henry Higgins in My Fair Lady. Rex Harrison, the original Henry Higgins, features in my show...
Then I thought, actually I wouldn't mind doing Hello Dolly as well. It ended up with me doing all the musicals, 100 musicals in 100 minutes; it was a show called Zipp!. We did Edinburgh, won lots of awards there, took it on tour, ended up in the West End at the Duchess Theatre. And 20 years on, there is talk of a revival, which is rather exciting.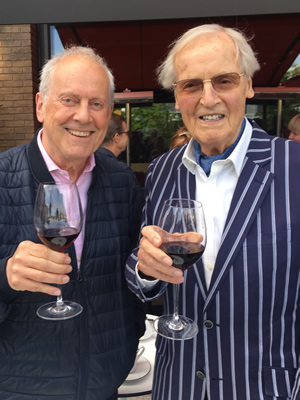 In a way Edinburgh changed my life. I'd said 'where shall we do this show?' and somebody said 'do Edinburgh, they've very forgiving, lovely place, you'll meet all sorts of people.' And I loved it, there are teenagers there, old people - my friend Nicholas Parsons, 96 in October - and so every couple of years now I go to Edinburgh. Not this year, because I'm touring this. But next year I'll be back.
Every two years seems to be the way - it's a long haul, a full Edinburgh Fringe.
It's a long haul, it's very tiring, because you're spending so much time promoting it, and seeing other people's shows, you really don't sleep for a month. But it's fun. What I found also, the world of comedy is very generous, I'm very blessed in that I've known a lot of old-school comics.
When I was in my 20s, I worked as the support act - wait for it - for Bernard Manning, at his club in Manchester. Can you imagine? When I was about 22, 23, I shared a dressing room with a stripper. Ah, that was quite an experience...
There's a very funny anecdote in the diaries about sharing a mirror with a dancer in panto.
Oh lord, exactly, that was an experience as well - but I love doing panto, that one was with Brian Conley, the best Buttons in the business; Bonnie Langford, the best Cinderella; Christopher Biggins, the best dame...
Fry & Laurie were a bit nasty about you in their Countdown sketch. Was that when you were an MP, or before?
Oh, that was a long time ago, when I was on TV:AM, wearing my jumpers.
Do you regret the jumpers at all?
Not for a moment! What amazes me, I wore my last jumper in 1990, which is 30 years ago, haven't worn one since. But I promise you, not a day goes by without me walking down the street and somebody saying 'where's your funny jumper?' - 30 years! But I'm very grateful to them. This week my Spitting Image puppet was sold. £615. I was very pleased.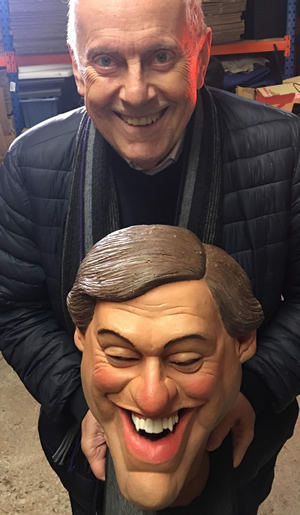 You didn't bid?
I said to my wife, 'I'm going to buy it, for you!' She said 'it's bad enough having the original - I don't want a rubber version.' I was on TV:AM for seven years, which is often parodied, so there's a little touch of immortality with things like Fry & Laurie, and Spitting Image. There was even a little namecheck in the new Alan Partridge show.
That's right - what did you make of it?
I haven't seen it! I long to, but I'm out working every night, I tend to watch TV on a Sunday, but I've been doing charity shows, corporate work - I'm busy every night.
I suppose it's easier than all that constituency stuff you had to do before the '92 election, in Chester?
It is. That's hard work. My daughter, Aphra, she is the prospective parliamentary candidate in Kingston and Surbiton, which is right by where she lives - I had to travel up to the North West. When you're a candidate, you're not paid, you do it for the love, but it's still hard work.
Your wife, Michèle Brown, has written an accompanying book for the tour - have you got a new book out too?
I've got one at the moment called Have you Eaten Grandma? all about spelling and grammar and punctuation, and it's been a surprise bestseller, which is amazing - people love the English language. Those are the great loves of my life: my wife and children, comedy, the theatre, and the English language.