Glenn Wool interview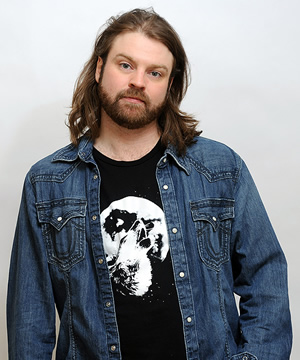 He came to us from another land, left due to a major trauma, and has now briefly returned. Glenn Wool really is a lot like Our Lord Jesus: he even bangs on about sandals below.
The Canadian comic's carbon footprint is a bit heftier. Having got divorced and sold the house, Wool is now flying the world like George Clooney in that film: wherever he leaves his trucker cap, that's his home. He's back in the UK and Ireland over the festive period though, followed by a January collaboration with Frankie Boyle, which may be a little less family-friendly.
Also not-for-the-kids is Wool's new stand-up DVD, the aptly-named No Lands Man, an hour of entertainingly candid travelling tales about butts, Belgium and beavers (the furry mammals).
I was going to ask how you've been, but having watched the DVD, I feel like I know more than enough already.
Well, let's be honest, you know my version of what's happened. Actually I am pretty good about being honest about when I'm wrong, but I've noticed that comics I've been meeting lately, some of them, any time they tell a story, they've never ever made a mistake. It's weird, I don't know if it's a new thing that's happening right now, where people have these comic book memories of what happened.
Surely flaws are funny?
That's what I think too, but it seems to be going in different directions where people will tell you embarrassing situations, but they'll hide stuff; like if they're coming across as a bit of an asshole in the joke, they won't do that anymore.
Is it a new breed of stand-up, looking to get a TV-friendly persona going?
Yeah, it definitely happens, even if that's not what people thought when they got into it, the right svengali grabbed them by their haircut and wiggles them in front of the camera. I say run with it, go for it, I'm glad somebody knows what they want.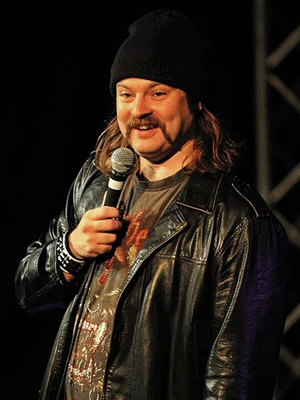 So you're back in the UK for a bit?
Yeah, I've come back like the warrior from the road. I just got back from Cambodia, and I literally have limped off the plane. It's not as cool as it sounds, it was the end of another Asian tour and I did love Cambodia but I have a pair of flip-flops that I bought the day before Michael Jackson died - that isn't why I bought them, it just tells you how long I've had them. They were great, they were called Australian Beachcombers and they formed to my feet, they're extra wide so it's hard for people to step on your toes.
So how long has Michael Jackson been dead? That's how long these flip-flops have been a part of my life. But the tread went, and it's the rainy season, so I was risking falling over on the streets of Jakarta, and you know, I'd rather have unprotected sex in a Calcutta brothel than fall over in the street in Jakarta. So I had to get new flip flops and they gave me the worst blisters I've ever had in my life.
So Jakarta and Cambodia - what were you doing there?
Gigs man, I did the Jakarta fringe festival, and I got a guy in Singapore who books gigs, and they've got an extra run now that occasionally goes in Ho Chi Minh City and Phnom Penh and I knew I was going to have a week off [in between] so I looked into Cambodia, and it's just wonderful there.
You're still travelling constantly then, and presumably still homeless? Not that I'm saying that's a necessarily negative thing...
Well, when you see natural disasters on the scale of Hurricane Sandy and all that, you think, 'we're all gonna be nomads'. That's the thing, by no means was this a surprise, and the people who told us about Sandy have never said 'that'll be the worst one! Back to normal'.
Are you mostly based in the States now?
Probably about six months of the year. I just shot a pilot for the History Channel, I shot that in September, I was supposed to hear something about it soon, so if that goes through then, yeah, I'll be in the states for longer.
You and the History Channel sounds an interesting mix.
It's sort of like - I think I can talk about it - it's about how the rich got rich, I interview them. I did the first one and it was really good and we had some fun, I'm just waiting to hear back. That's the one positive too about the nomadic lifestyle, I really just follow the work.
So there's irons in the fire, America's looking good, we're shooting stuff over there, and Europe, and me and Rhys Darby are always talking about making a show together when Rhys... I'm just waiting for his career to dip a bit. His career has to dip or mine has to take off, "Hey remember that show?" "Yeah, let me just get done with the Oscars over here." And there's The Lumberjacks too, who'll be going on tour in April/May time; that's me, Craig Campbell and Stewart Francis.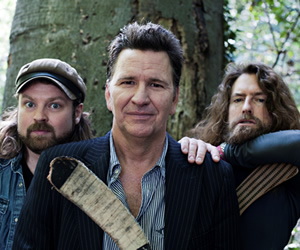 I'm quite surprised Stewart Francis has time, now he's a big TV star?
I know, hey, I'm not questioning; not only that but there's two tours we want to do and there's TV interest afterwards. It's difficult because I have so many different agents in so many different parts of the world that vie for my time, so I'm pretty booked for some time now.
How are you finding the US TV industry? I can't imagine you reacting too favourably to all those 'helpful' notes.
For that History Channel thing, they don't really give me a ton of notes, for that I was sort of searching for stuff, and they were like 'hey man, we hired you for you, do what you gotta do.' Luckily it worked out. The only notes I ever get given when making programmes I'm very happy for, because I've got a lot of experience as a live comedian and less in front of a camera - I'm getting ready to be a diva but I'm not a diva yet.
You certainly aren't sanitising your stuff for potential TV stardom: there's some candid stuff on the DVD.
Yeah man, my girlfriend Carol, she brought it up: I've had a long history of being quite open about medical problems that I've had, and she goes "you're not the only one who gets these things, but you're the only one who seems to be proud of them."
That show I did before, Bizarre Cocktail [about some sensitive penis-related issues], I was explicitly told by a lot of people not to talk about that stuff on stage. A lot of comics told me I'd never get laid again, 'do not ever mention venereal disease' - and now it seems to be almost a required subject for certain comics. I'm not saying that I started venereal disease comedy... but I don't think that show got enough recognition. I wish I'd put it on CD.
You could take the Herring route, tour the old show again?
Yeah, if I could remember it.
Anything else nasty happened since the DVD record?
I just got bit by bedbugs in Alaska. I did something dumb - fell asleep just in my underpants on a red leather couch in a band's house. This venue I was playing, they have different comics and bands on, and they got bands on with the downward trajectory, Survivor or whoever, with a drummer who's now living on that couch, fleas everywhere. It was shitty, everything else was great about the house, I was going to have a kitchen, I was going to roast chicken, but they had bed bugs and I had to be shifted to a hotel.
You must find houses really exciting now.
It's amazing, I love having a kitchen. So we'll see about this show in the States, if something comes of that, and if not there's always the Lumberjacks. So I will be able to settle down... in maybe the next five years.
You're in the UK over Christmas?
I'm in Ireland, my girlfriend, we're gonna go to her parents' place for a week over Christmas, then we're gonna go to Glasgow for two weeks in January, me and Frankie Boyle are going to make some comedy sketches together, and see what we're gonna do with them.
Sounds promising. No festive gigs for you then?
I made a deal with myself a few years back when I started to make a little more money that I would not do Christmas gigs ever again.
It must have been tricky telling your long stories at Christmas shows?
A lot of the time those audiences just don't have the mental capabilities to understand humour, definitely not in that state. They're drunk and thinking about how they're going to grab the secretary's boob. I just don't want to talk to those types of people.
Final question then, all that flying, do you worry about your carbon footprint?
I've got a gigantic one. But it's not a carbon footprint, it's a carbon fun-print, I spread joy around the world. Smiles are just as important as rainforests.
The new DVD, No Lands Man, is available now, visit www.glennwool.com for details.