Sacha Baron Cohen creating football thug comedy film
Sacha Baron Cohen creating football thug comedy film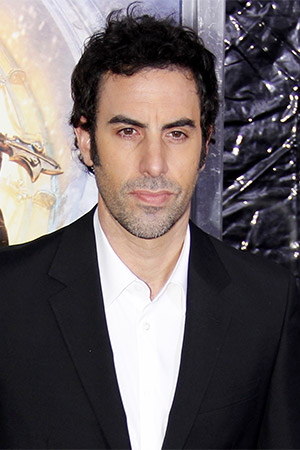 Sacha Baron Cohen, the actor best known for roles such as Ali G and Borat, will reportedly play an extremist football thug in his next comedy project.
The Daily Mirror reports that the comedy star has been in the North of England for the past few weeks researching for his new film project; the aim being to develop a football hooligan character.
As with his other hit comedy movies, the award-winning star aims to film himself interacting with unsuspecting members of the public and celebrities whilst disguised in character. The pretence given to those he comes into contact with is that he is being filmed for a documentary.
The newspaper calls the part "his most vile and controversial character yet", adding "the as-yet unnamed chav will be seen throwing flares from the stands and targeting players and referees with coins and beer bottles".
A source told reporter Clemmie Moodie: "Sadly the football hooligan seems here to stay. Sacha loves playing extreme characters and has done some extensive research on how these cretins behave.
"He will be pushing his own alter-ego as far as he can, making him incredibly stupid, narrow-minded and offensive. The plan is to try to fool a couple of famous football pundits and Premiership managers with his disguise, and use them in the film."
The source added that the current England manager is a prime target, saying: "Roy Hodgson is the ultimate target and Sacha hopes to engineer an opportunity to set up a meeting, posing as the ultimate and most dedicated England fan."
Sacha Baron Cohen rose to fame through Channel 4's The 11 O'Clock Show in the late 1990s, primarily with his character Ali G. His first major film, Borat: Cultural Learnings Of America For Make Benefit Glorious Nation Of Kazakhstan, was released in 2006 to widespread praise. It has since gone on to make over $260 million worldwide.
In 2009, he released Bruno, a film featuring a character initially developed through spin-off TV series Da Ali G Show. This movie went on $136 million worldwide.
Sacha Baron Cohen's subsequent big screen comedy-related roles have included scripted film The Dictator and voice acting on the Madagascar animated franchise. Last year he featured in the film adaptation of stage musical Les Misérables.
The comedian, who has recently filmed scenes for Anchorman 2, had been due to star this year as Freddie Mercury in a biopic film of the singer, however it was announced in July that he had pulled out of the project due to "creative differences". Queen drummer Roger Taylor has since commented: "We felt Sacha probably wasn't right. We didn't want it to be a joke. We want people to be moved."
The title for the comedian's new football-centred film is not currently known. The Mirror reports production on the movie will begin early next year. There is speculation the film could be released to coincide with the FIFA World Cup, which will take place in Brazil in July 2014.
Below is the famous 2001 Comic Relief sketch in which Ali G asked England football star David Beckham and his wife Victoria some personal questions:
And here is the speech Sacha Baron Cohen gave in character as Ali G when accepting the Outstanding Achievement award at The British Comedy Awards 2012:
Share this page