Keith Lemon and Paddy McGuinness MovieFest event
Win tickets to Keith Lemon and Paddy McGuinness MovieFest event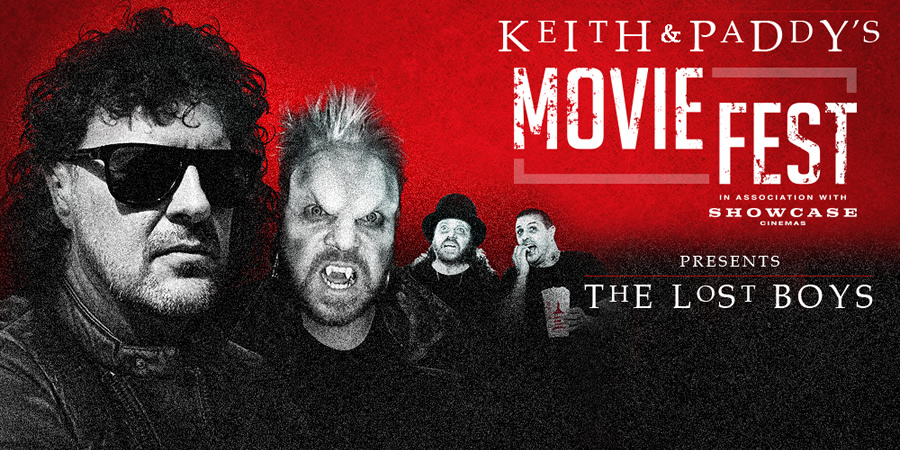 Keith Lemon and Paddy McGuinness are hosting a Halloween-themed event in association with Showcase Cinemas. The duo are promising a night of spook-tacular fun alongside a screening of 80's horror comedy classic The Lost Boys.
The event will take place on October 18th at the stunning Victorian Theatre at Alexandra Palace in London... the perfect setting for a night celebrating classic Halloween cinema!
MovieFest sees Keith and Paddy pay homage to their favourite films with a fusion of live comedy sketches inspired by the chosen movie and the era, alongside a screening of the film on a giant screen. The evening finishes with an 80s-inspired DJ set hosted by Keith and Paddy, where the duo play their favourite tunes from the decade all with a suitable Halloween twist.
MovieFest was launched in summer 2019, with Keith and Paddy performing to a sold-out live audience at Tatton Park in Cheshire, followed by a traditional outdoor cinema screening of the 80's musical classic Dirty Dancing.
Talking about the next event, the organisers say: "MovieFest is the ultimate Halloween treat for any fans of The Lost Boys, classic horror and the 80s in general, and with the presence of Keith and Paddy audiences are guaranteed a hilarious night out!"
Paddy McGuinness comments: "Proper excited to be back on stage with Keith for MovieFest this Halloween. We are both huge fans of 80s movies and love putting our own spin on these timeless classics. Our rendition of The Lost Boys is definitely something you don't want to miss - it's gonna be a belter!"
Keith Lemon adds: "Really excited about bringing back MovieFest with me good mate Paddy McGuinness! We had lotsa fun and good times with Dirty Dancing in the summer. Now we're givin' MovieFest a spooooky twist with one of me absolute fave movies - The Lost Boys! There'll be drinks and good music! It's gonna be a wicked party!"
To find out more and book tickets visit moviefestlive.com