Get Started In Stand-Up book
Win a copy of Logan Murray's Get Started In Stand-Up book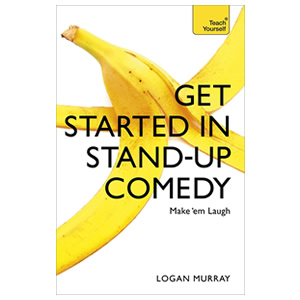 Logan Murray, one of the UK's most acclaimed and successful tutors of stand-up comedy, has a new edition of his book out under the title Get Started in Stand-Up Comedy.
The perfect handbook for all budding comedians or comedy writers, this is a guide to understanding, developing and, most importantly, delivering a great comedy routine.
Known for his 'Stand Up and Deliver' courses, Logan Murray has successfully taught the techniques of stand-up comedy to thousands, and in this book he distils his years of experience into the essential skills for a great and enjoyable performance.
He will help you find your creative streak and your funny side, build the confidence to deliver, and explain the finer details of stagecraft, from dealing with hecklers to coping with props. There is a full guide to the practicalities, from finding gigs to securing an agent, with plenty of valuable hints, tips and advice. Drawing on Logan's years of teaching and his own successful stand-up career, with top tips from some of the most well-known people in the business, it is guaranteed to bring a smile to both your face and that of your future audience.
This new version is now fully revised and updated with new material on setting up and running a comedy night, and includes new sections offering advice on festivals and how you can mine almost any subject for jokes.
Get Started in Stand-Up Comedy is available from all good retailers. Amazon has it listed for £11. For further information visit www.hodder.co.uk