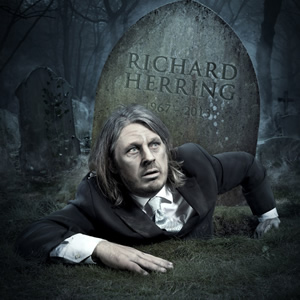 Richard Herring: We're All Going To Die!

In celebration and promotion of the tour of his 5 star Edinburgh Fringe show, Richard Herring is producing this occasional podcast to look at the funny and philosophical side of death, full of material and ideas that there was not room for in the tour show. It's an extra for anyone who has seen the show already and a taster of what's to come for anyone who hasn't yet. To find out if the tour is coming near to you, see links for tickets and read press and reviews about the show please visit www.richardherring.com

WAGTD! #1: I'm Going To Live Forever! - In the first episode of this occasional series Richard discusses whether death is a subject for comedy, picks his favourite amusing deaths, reveals how he intends to achieve immortality and confesses to multiple murder.

He is also joined by a very special guest who will interview him about his own experiences and theories about life and death. Also featuring the Tibetan Book of the Dead, Supernatural Babies and Hollyoaks.
To download this podcast to your computer, click on the link above.
Date: 20th September Length: 27 mins Size: 25.22mb Page
You can subscribe to this podcast series via iTunes software.
This is the geeky option. You can subscribe via the RSS feed:
http://feeds.feedburner.com/RichardHerringWereAllGoingToDie
Follow @Herring1967 on Twitter for updates.