How the London Comedy Writers group made their sitcom podcast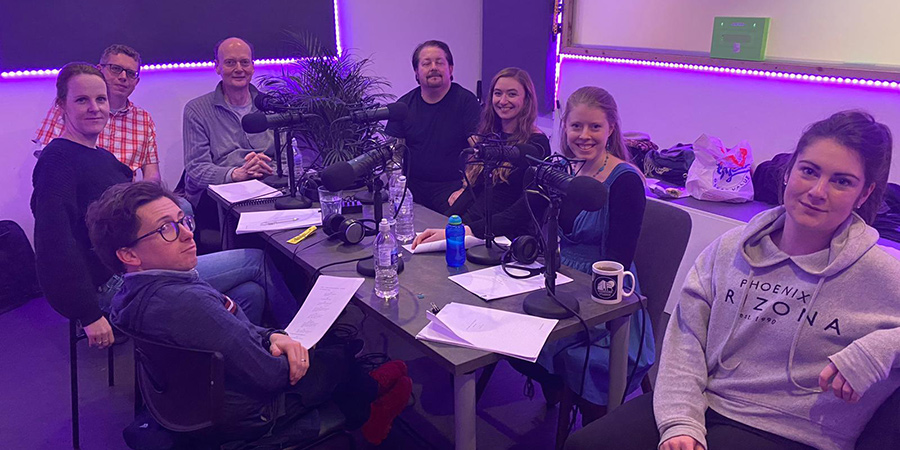 The Bureau Of Lost Things is a six-part sitcom, in podcast format, about a dedicated team who strive to reunite lost things with their careless owners. Alan Devey talks us through how a group of comedy writers and actors helped bring the project to life.
---
I started to attend London Comedy Writers meetings in 2016. While this open grassroots group of likeminded scribes had been going since 2001, this was the era when LCW was expanding under the chairmanship of Robin Bailes, with many projects on the go (a YouTube channel, live shows including Sketchageddon at Vault Festival, and more in the pipeline).
Something mooted the following year was the first LCW podcast. Initially envisaged as a weekly audio piece with a fast turnaround, a trio of short scripts were dashed off by Robin and two other committee members then brought along one Tuesday evening in London Bridge for feedback and workshopping.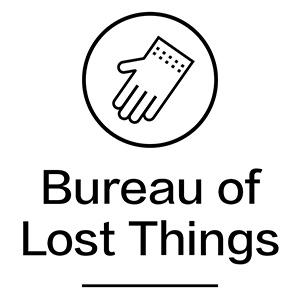 The response from everyone in the room was largely positive and there was talk of assembling a writers' room from LCW's regular attendees. However, geographical circumstances led Robin to step down as chairman later that year and it seemed like the moment for a comedy podcast had passed. Not so! From then on, The Bureau Of Lost Things seemed to take on a life of its own. First our LCW casting guru Glenn Cooper (@greboglenn on Twitter) expanded his short to a half hour and received an overwhelmingly encouraging response at the subsequent reading. This would later become BoLT's Episode 1: Make Mine Mink.
Three other regular attendees were then inspired by the characters and situation to write spec episodes: Olly Allsopp, Andy Flood and myself. We all had our episodes read at meetings during 2018/19 then refined them following feedback from peers.
By this time, I'd been asked to join the committee to help up LCW's social media game and I ended up co-producing our sellout live shows at London's Canal Café: 2018's Shuffle Play and the following year's Sketchley Park. For myself, I'd long thought podcasts should be part of any burgeoning LCW brand. After all, we see much hilarious material pass through our fortnightly meetings, most of it never to see the light of day - why not tap into this rich vein of creativity? I was also aware we now had six standalone Bureau Of Lost Things scripts - enough to make a series in the classic British sitcom mould.
Robin was prevailed upon to expertly expand his script for Episode 2 - (Would You) Like a Virgin? (title by me, sorry) - and I had a go at doing the same to an original story by Helen Green for Episode 4: Hermann Takes a Trip.
One of the great things about London Comedy Writers is that you soon become aware of how much underemployed acting talent there is in the capital at any one time. We've had many great comedy performers volunteer to read material for us so it was comparatively straightforward to find a cast of the highest calibre. Everyone agreed to be involved which felt like another vote of confidence in the material.
LCW stalwart Nick Ewans was the obvious choice for Raymond the bureau archivist while Grace Morgan (who, despite her clear talent, has a career in the real world and only acts for the fun of it) was a shoo-in for cynical con-artist Cara.
We were all chuffed that the in-demand Michael Keane (actor in many famous TV shows and the creative force behind The Intrepid Adventures Of Pamplemousse Lautrec) said yes to playing put upon new recruit Will.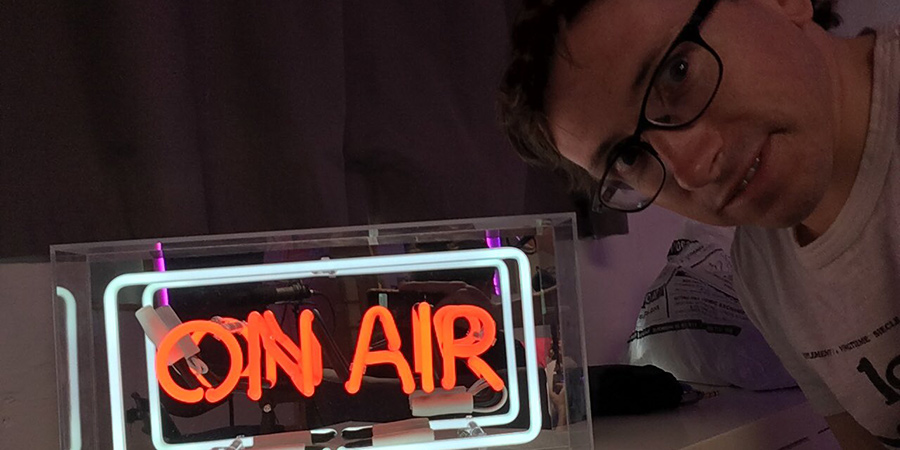 So that just left unstable corporate overseer Veronica, from the central four. By sheer good fortune we had recently undertaken an LCW group outing to the premiere of low budget Irish comedy Lost And Found (showing now on Film4!) where we were entertained by the terrific performance of Annette Flynn. We made her acquaintance afterwards and Annette subsequently came along to LCW before agreeing to participate.
We were then able to get the highest calibre guest stars from other group regulars, the likes of Jon Hansler, Jessica Flood, Rachel Fenwick, Gillian Horgan and Emily Stride. We also tapped into the experience of renowned podcast maven Felix Trench (Wooden Overcoats) who gave us insights into the technicalities and advised us to record all the episodes in the same place as quickly as we could, because you never know what's going to be around the corner - sound advice!
Myself and Glenn attended one of the Rise and Shine audio events for those starting out in podcasting which was helpful and is highly recommended. The next stage was to find a studio both affordable (LCW relies entirely on donations from members), accessible, and which could provide us with the facilities required.
We settled on Outset Studio in South Wimbledon (they have since opened other branches in London Bridge and Hoxton) because their recording area had enough room for five or six actors. With Glenn directing, myself producing and both of us assuming 'showrunner' duties, a large space was vital. So many studios didn't seem to have room for more than the traditional 'presenter and guest bantering' set up. Outset could kit us out with six mics for actors while the rest of us perched nearby. This was key and, I have to say, Outset didn't let us down during any of the sessions. If you're doing a scripted podcast with up to six actors, I can't recommend them enough.
So everyone took the no money we offered them and joined us for recordings on Saturday afternoons (or latterly, Monday evenings, after Mike landed a role in The Play That Goes Wrong six evenings a week - yet he still set aside his night off to record with us).
We met in that obscure, perpetually rain-lashed part of South London after reading through the scripts a few days before in the pub (remember them?) to work out any kinks in the writing or solve character queries. The final session took place in early March 2020, not long before the first lockdown, but by then we had everything we needed for a first series 'in the can'.
Grace then put us in touch with her mysterious friend from university who was looking to get back into sound design after focussing on his academic career and that's how 29 Owls In A Studio came to do the editing. And what a tremendous job this parliament of birds did too.
By December of 2020 we were ready to launch, although we took the decision to delay release until after the distractions of the festive period. Since we were back in lockdown, we thought there would be room in peoples' schedules for silly, escapist entertainment that raised some laughs during dark times. I was also keen to release the episodes on a particular day, once a week, for six weeks. This was in tribute to the classic British sitcoms that inspired us, and also so no one's individual work would get lost in the promotion. There are upsides to delayed gratification after all, and we definitely felt that every writer and guest star deserved to have their work as effectively showcased as we could manage.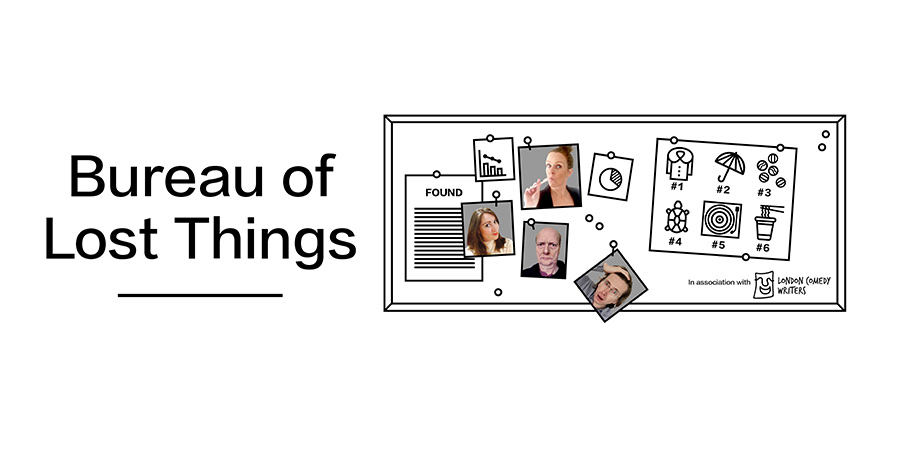 And so, something like three and a half years after the idea was first mooted, Bureau Of Lost Things finally hit the 'airwaves' and the response so far has been overwhelmingly positive. We've learnt a great deal during the process, from starting out as fumbling amateurs to, hopefully, now being in a place where we can create other podcasts in future, tapping into the funny stuff we see every fortnight at London Comedy Writers, online or in person.
If there's one takeaway from this experience I would stress, it's that you should put some guidelines for writers in place, if they're going to be allowed to go off and play in the world you've created. However good each standalone episode may be, when people work with your characters to generate plots unilaterally, there will always be conflicts of continuity.
For me, ironing out these inconsistencies and contradictions was the biggest challenge, but it's something I think we've managed to accomplish (for the most part). I know that Glenn and myself (and hopefully everyone else involved) takes a certain pride in the end product and everything we've achieved. Certainly, it's been gratifying to observe the listens, downloads and 5-star ratings mount up as the weeks have gone by and our surreal workplace comedy is finally released, out into the podcast wilds.
---
The Bureau Of Lost Things can be found wherever you get your podcasts from, including iTunes and YouTube
You can follow the show on Facebook and Twitter too.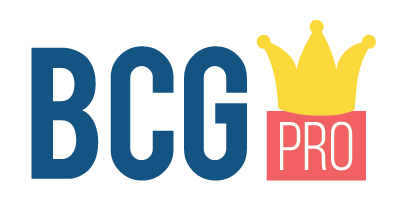 This article is provided for free as part of BCG Pro.
Subscribe now for exclusive features, insight, learning materials, opportunities and other tools for the British comedy industry.