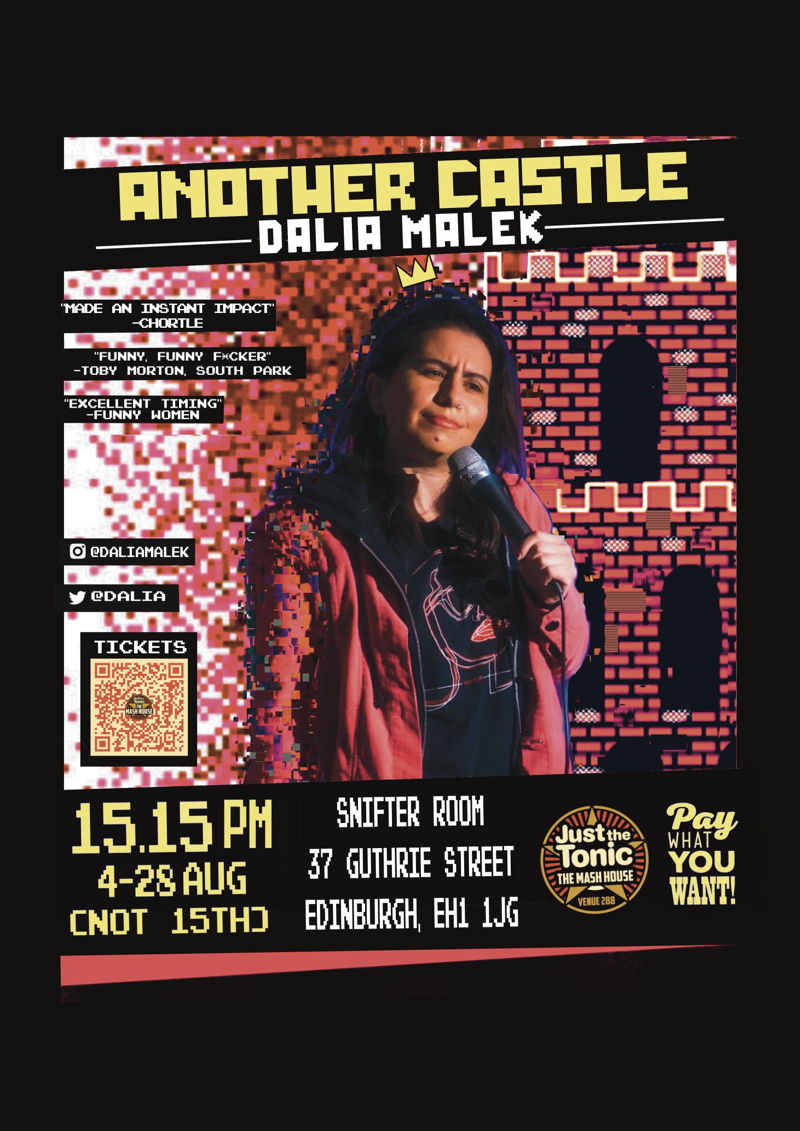 Rather than a posed shoot, I decided to use candid live photos from a comedy show for my poster and flyer. I never know what my face is doing, and this is what it does when I perform stand-up.

Photographer Mike Falzone is known around the LA comedy scene for capturing perfect moments before, during, and after live performance. He's mastered a seemingly impossible skill of making people look good while they're in motion, so it seems almost unfair that he's also an exceptional comedian. This shot is of an expression I've been referring to as "my stand-up face," which this photo helped me notice is what my face does any time I start getting into the disillusionment behind my jokes. Mike has an eye for flattering angles, and he shot lots of cute photos during this same show. But my stand-up isn't cute so, in spite of my instinct to put my cuteness on display, I went with the realest one that exhibits the essence of my perspective: "Really, life? You're gonna be like that?" Note that as someone whose identity centers around her cuteness, this is very brave of me.

Greg Edwards is a multi-skilled visual and graphic artist based in LA. He's also an infuriatingly talented comedian, and you can't hate him for all that because he's also the nicest person. "Black American" from his conceptual Black Flag Series, which highlights the contributions and pain of Black Americans, hangs framed on my living room wall, reminding me to look past the fuckery in our country and focus on the builders, rebuilders, and changemakers. A tiny crown, checkered bricks, angled text, vibrant color scheme, background paying homage to 8-bit pixelation, and more distorted pixels that you can almost hear zapping as they creep into my body, all simultaneously give it the recognizable Greg Edwards hallmark while accurately representing the theme and vibe of my show.

My debut show's not that deep, but as a video game loving depresso dweeb I rely on a heavy Mario Bros. analogy focusing on a reference to Toad's phrase at the end of the castle levels: "Thank you Mario, but our Princess is in another castle." Everything I've ever aspired to do has been in another castle, which is apparent on my face and in my consumption by pixel.

Not pictured here is the back of my flyer, which has another photo from Falzone's same live shoot where I'm screaming into a microphone next to another tribute to the video game castle, which looks like a hollow-eyed face screaming back at me. If a feel-good show by a feel-bad comedian appeals to you, come through Just The Tonic's Mash House in the Snifter Room any time from the 4th to the 28th of August (not 15th) at 15:15pm and press Start to begin the 60 minute quest.
Designer

Greg Edwards

Photographer

Mike Falzone

Performer

Dalia Malek

Show