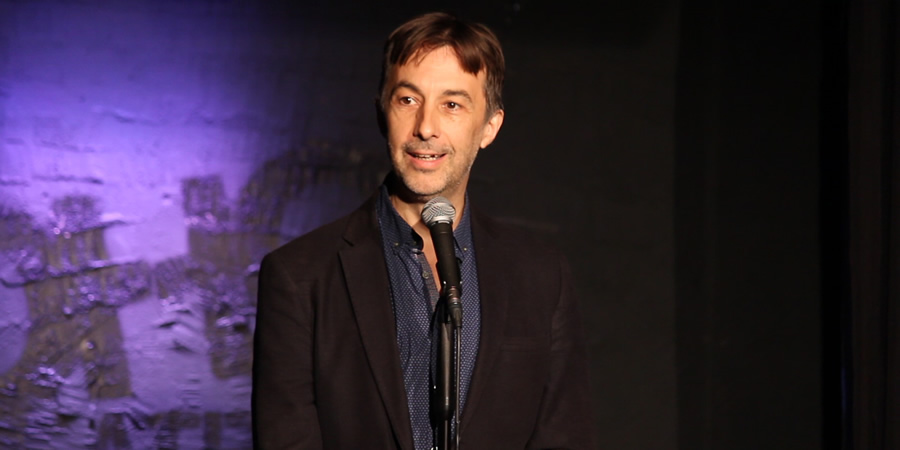 Chris is the author of A Director's Guide to the Art of Stand-up and the forthcoming (11th Feb 2021) Creating Comedy Narratives for Stage and Screen - both published by Bloomsbury Methuen.
He has taught stand-up, sketch comedy and sitcom for over 15 years. He teaches on the BA Comedy Degree at Bath Spa University (which he helped develop), at the British Library and independently in London, at Bristol Improv Theatre and for ten years at City Lit in Covent Garden.
Chris recently script-edited a BBC radio sitcom, a comedy short film that was a global hit, a hit comedy play seen at Assembly in Edinburgh and Soho Theatre (that he also directed), and he is currently working on a commissioned Channel 4 sitcom script. Writers he's coached have been short-listed and amongst the winners of the BAFTA Rocliffe sitcom writing competition and have multiple film festival, live and broadcast comedy credits.
As director he has worked with actor/writers Alys Metcalf and Roxy Dunn in the comic two-hander plays You Only Live Forever and In Tents and Purposes at Assembly, Edinburgh and Soho Theatre, London; Katia Kvinge on her Edinburgh show, Squirrel at Gilded Balloon; Steve Whiteley with his urban poet stand-up character Wisebowm (now a Radio 4 sitcom which Chris is script-editing); Cariad Lloyd, Phil Whelans and Kim Noble in art/comedy project Last of the Red Wine at the ICA in London; with BBC Arts Editor Will Gompertz on comedy art lecture Double Art History at Underbelly on the Edinburgh Fringe; and he directed and helped develop the stage show of, science comedy phenomenon Festival of the Spoken Nerd, with shows in London Edinburgh and touring (now on Radio 4).
Alongside his core comedy work, he has developed a unique training programme to apply comedians' techniques in business. Clients include ITV, Channel 4, Google, Warner Brothers, Bank Paribas, UBS, MUFG, Allen & Overy, Digitas, The Mill and advertising agencies McCann,180 Kingsday, 101, M&C Saatchi, MRM Meteroite and BBH. He has also shared the skills of stand-up with a diverse array of people from scientists to mathematicians to best men to Chinese teachers (who didn't speak English.)
---
Courses
Services
Get you characters and story working in your 30 mins TV or radio script.
Testimonials
TEACHING:
"For the next 10 weeks, every Wednesday evening, in a room above a pub in central London, I learned how to be funny. My tutor was called Chris... His understanding of comedy was captivating, encyclopaedic."
Will Gompertz, BBC Arts Editor
"I first met comedy coach Chris Head in the back room at The Old Queen's Head pub on Essex Road in Islington. Terrifyingly, I'm there to see my mum perform her first stand-up gig… I'm happy to report that everyone who attended managed to craft five minutes of comedy delivered with surprising confidence and pizazz on the night. The performances I saw were incredibly polished and (thankfully) very funny. While naturally some were funnier than others, I would never have guessed they were a bunch of first timers."
Rosie Fitzmaurice, London Evening Standard
"So transferable can stand-up skills be to other industries that Head now gets hired in-house by ad agencies, banks and law firms to give courses to employees to help them with things like pitching or giving presentations."
London Evening Standard
"The ideal person to nurture new talent."
John Crace, The Guardian
DIRECTING:
"There are poignant moments in Chris Head's production... but any threatened earnestness is undercut with wit or absurdity... The most entertaining elements here are the meta-theatrical interludes, in which Dunn and Metcalf step out of the action to talk about their creative process. The rivalry that characterises their double act is brilliantly sustained with faultless comic timing".
The Times (on "You Only Live Forever", Edinburgh Fringe)
"It's beautifully directed - the drama of the play develops alongside the comedy of the between-scene interludes: ingenious & compelling."
Gyles Brandreth (on "You Only Live Forever", Edinburgh Fringe)
""a celebration of British eccentricity at its best and the national treasure that is the Ordnance Survey Map... educates, amuses and delights in equal measure"
***** The Wee Review (on "The OS Map Fan Club")
"a tale of love, rhyme, and gluten. Performed by YouTuber and character comedian Steve Whiteley (known as Offkey Steve), this is a heartfelt and highly entertaining piece of modern storytelling, a hip hop love story of the Instagram age."
**** Fringe Guru (on "Wisebowm: The Struggle is Real")
"One of the most enjoyable theatrical experiences I've encountered so far at the Fringe this year."
**** Scotsman (on "In Tents & Purposes")
"We are back in school for a performance called Double Art History - literally behind desks in a classroom in Edinburgh University... there is genuinely a test at the end - 10 questions on the isms - which most of the class pass with flying colours (having muddled our fauvism with our cubism, we lagged slightly with 80%) before the class is dismissed and we leave, not just entertained, but genuinely having learned something new about modern art."
bbc.co.uk (on "Double Art History")
"The funniest closed-loop complex integral routine I've ever seen – they'll have you rolling in the aisle like an infinitesimal disk of radius epsilon."
Simon Singh (on "Your Days Are Numbered: The Maths of Death")