Richard Briers blue plaque unveiled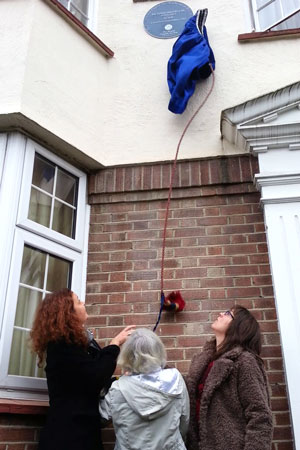 The British Comedy Society has unveiled its 45th Blue Plaque, dedicated to late actor Richard Briers CBE.
The plaque was unveiled at Briers's former childhood home of Pepys Court on Worple Road in Raynes Park, south west London, on Sunday 1st November 2015 by his widow, Anne, and daughters Lucy and Katie.
The unveiling was attended by colleagues Sir Michael Gambon (The Other One), Peter Egan (Ever Decreasing Circles) and Susan Hampshire (Monarch Of The Glen).
Briers lived at flat 2 in the small art deco block with his parents from 1940 to 1947. With the local Rialto Cinema backing on to Pepys Court's rear garden, the location proved perfect for the young Richard to become immersed in acting after finding a rear door he could sneak into the cinema by, therefore avoiding paying to see the films of the era.
Richard's actor daughter Lucy said of the location: "We felt it would be interesting for people to understand a little more about my father's roots, and how far he came through his hard work and unique talent. Dad would have thought it was great, and the young boy he was when he lived at Pepys Court would have thought it was extraordinary."
Gareth Hughes, British Comedy Society Chairman, commented yesterday: "It is only fitting that a true great of British stage and screen be honoured with a plaque forever marking his former home. Some of Richard Briers's most important formative years were spent here at Pepys Court and we are delighted to recognise his contribution to British comedy with today's unveiling."
Funds raised at the unveiling and a reception afterward will be donated to the Actors' Benevolent Fund, of which Richard was a keen supporter and his The Good Life co-star Dame Penelope Keith is President.