Paul Kaye plays deranged wizard Howell in fantasy comedy series Zapped. As the sitcom returns, we talk to him about A&E trips, hot sets and what to expect from Series 3.
Zapped is now in its third series. Recommissions are never guaranteed, so it must be great to be back?
Yeah it's great. I'm thrilled for the writers Paul, Will and Dan and for all the Muntyfarian cast and crew. Dave Lambert, our wonderful director, has the energy and enthusiasm of a nine year-old so we all happily buckle up and let him conduct the madness. I wasn't sure the first series would get a second, but the second series definitely deserved a third! Everything feels like it's gone up a notch this time round.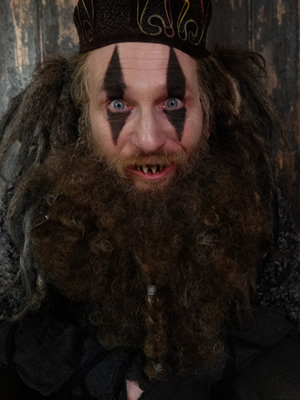 Tell us more about what Howell gets up to in this series?
Well, I got to hang out in Isleworth for an episode which was an unlikely thrill. I managed to kick a karaoke machine to death, have a pre-watershed foursome and do a scene with the mighty Steve Coogan.
Howell's wonderful fun to play, he's basically a cosmic Arthur Daley. 99% pure unadulterated bullshit and 1% genius. But that 1% can go a long way.
There's loads of great guest stars appearing across the six new episodes. Who did you most enjoy working with?
Tracy Ann-Oberman is an old mate of mine so it was brilliant having her around. Mark Heap always makes me laugh, I love his dragon spotting character in Episode 6.
Clive Russell I've worked with before and Cyril Nri, they're both such classy actors.
Mr Coogan was genius of course, Rich Fulcher gamely sat through 6 hours of goblin make-up every day and Felicity Montagu plays Munty's head librarian with deliciously menace. I think the fact that Zapped's attracting such great performers is a sure sign that we're going in the right direction.
Munty is a real visual treat. What's it like on set?
We were filming down in Wimbledon Studios this year and the combination of a record breaking summer, wearing layers of hessian and having a face full of humongous beard extensions meant I lost nearly a stone in weight. Munty is an extremely sweaty planet.
The day before filming began, I thought I'd have a gentle game of tennis with my son and managed to fall over, break my little finger and rip the entire nail off. Howell's hyper activity in Series 3 was constantly tempered with trying to avoid any contact with my snapped manky digit. Keen-eyed observers will notice that I'm wearing a leather sheath over it, which kind of suited the whole Howell look to be honest.
I tend to remember jobs based on the injuries I was carrying at the time. I know people who've never been to A&E in their entire lives, I'm there on average 5 times year. I was born with a broken arm so I guess the cast was dyed.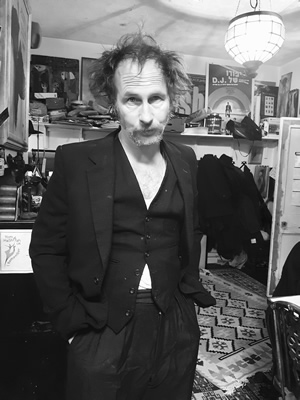 Now the series is firmly established, it feels like the format could run-and-run. Presumably you'd be up for returning for more adventures?
Oh for sure. It's such a blast to do. It's a brilliant team of people and I hope it goes on and on. I think Slasher and Howell should tie the knot at some point, Munty could do with a big old wedding. It'd also be nice if Steg got to break his virginity sometime soon. The boy's absolutely bursting with shpich. That's yiddish for Harry Munk.
If you were transported into Munty, how do you think you'd cope?
Well, I don't drink and there doesn't seem to be anywhere else to hang out other than the Jug And The Other Jug. Oh, tell a lie, I forgot that we've introduced the Munty Baths in this series! I do love a steam.
Back on Earth, when I say I'm going to the gym I really mean I'm going for a long steam with shit loads of Olbas. I come home after an hour all red faced and sweaty and that's what counts right?
What would I miss on Earth? Filming Zapped Series 4? Oh yeah, and my family, our cat, Steve Bennett, liquorice rizzlas, those new Tehini and Pistachio bars they do in Tescos, Chopper Coppers, geese in flight, A&E and Sudafed Max Strength Sinus Capsules. I think that's about it.
What's up next for you Paul?
I'm off to Lithuania in a couple of weeks to film Catherine The Great with Helen Mirren. I'm playing Emelian Pugachev who led a Cossack rebellion. He was also a part time Peter the Third impersonator and a self-deluded shaman. Interesting chap, if a little bloodthirsty.