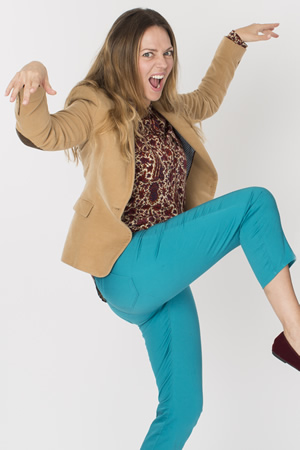 Daisy Beaumont is Debs Mason, Lauren's sister.
Hi Daisy. Why did the first series of You, Me & Them chime with audiences to such a degree?
For a start, it's a great show! But beyond that, everyone recognises a character in this sitcom and is able to identify with them. Real people have foibles, too. Just like these characters, we're all a little bit odd! In this show, you see people making mistakes, but with a lot of heart. In real families, there's always a lot of chaos, but everyone is still doing their best. That's what You, Me & Them reflects.
What is the relationship like between Debs and her sister, Lauren?
They're very close. They have bonded over the years. They have come to understand what their mother is like, and they don't take it personally if she's being annoying - you know what mums are like! But they're very close to their dad. He's lovely and is the pillar of the family.
How have you found it working with Eve Myles, who portrays Lauren?
It's been great. It's lovely working with her. We hit it off immediately. She's naughty and playful and a ruddy good actress, so doing scenes with her has been a complete joy. I have a sister in real life. We don't tease each other as much as Debs and Lauren do, but we do have a lot of laughs together.
Have you enjoyed collaborating with Marcus Garvey too, who takes the role of Debs' husband, Keith?
Absolutely. It's been brilliant. He is the best fake husband a girl could ask for! That'll be on his gravestone!
How does Debs view Ed?
To begin with, she's not sure about him. Between you and me, there's quite a lot of jealousy of her sister there! Suddenly Lauren has a swimming pool and can wear nice clothes and doesn't have to worry about paying the next bill. But gradually Debs is coming round to Ed. She's not as nasty to him as she was in the first series. But I think there is still a bit of Cinderella in Debs - 'I want to go to the ball!'
How would you characterise Debs' relationship with her daughter Ellie?
Debs had Ellie when she was just a teenager, so they have a sort of sibling relationship. Sometimes they're definitely more like sisters than mother and daughter. They're moody with each other and wind each other up. Debs is quite immature, but there's a lot of love there. They really care about each other.
Do the cast all get on?
Absolutely. This is like another family for me. That's reflected on screen. We have a lot of laughs together on and off camera. When the alarm goes off at 5.30 in the morning, it's not a struggle to get up and come to work here!