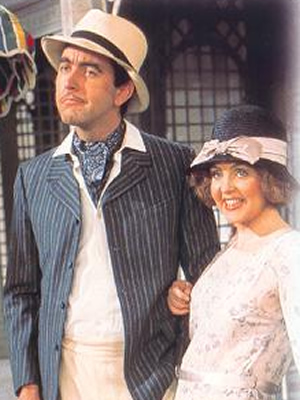 By the 1970s, there had already been several attempts to transfer P.G. Wodehouse's work from the page onto the screen. The author himself had worked in Hollywood in the pre-war era but had been left dissatisfied by his light workload. Numerous film adaptations followed and the BBC also showed dedication in producing several series including World of Wooster, Blandings Castle and The Reverent Wooing of Archibald.
As some of the writer's most celebrated characters such as Jeeves and the residents of Blandings had appeared in the aforementioned shows, the producers decided to trawl through Wodehouse's other short stories for inspiration. They chose a wide selection of tales with particular preference being given to those featuring the Mulliner family.
Real life husband and wife John Alderton and Pauline Collins were chosen to appear as different characters in each episode with the supporting cast changing each week. The producers also secured a coup by persuading Wodehouse to record his own special introduction to each story despite being in his 90s by this point.
The first series proved successful enough for a second to be commissioned, however there were some significant changes. Michael Mills, who had a long history of adapting the author's work, replaced David Askey as the producer whilst Wodehouse, due to his death at the age of 93, was sadly unable to make any further contributions.
A full two and a half years passed before the final series emerged. There were again some notable changes - Pauline Collins did not appear and the role of producer again changed, with Gareth Gwenlan taking charge.
The BBC had, by this point, mined the writer's work thoroughly for more than a decade and it is telling that no new adaptations were made until many years later. It was not until the 1990s that Wodehouse rose to prominence on the small screen again with Jeeves and Wooster and this time it was ITV not the BBC reaping the benefit.