Witless, the sitcom about two mis-matched people placed together in a witness protection programme, is back for a third and final series.
Fans of the comedy thriller will remember that Series 2 ended with multiple cliff-hangers. Our heroes Leanne and Rhona had made a right mess of trying to infiltrate a gangster-populated wake. The credits rolled as Rhona found herself trapped upstairs in a room filled with guns, and Leanne prepared to fight a murderer on the road outside. Meanwhile Leanne's love interest Patrick was also in real trouble, as ruthless gang boss Willy Wheelan had discovered he'd be double-crossed and was now taking the vintage bear collector for a ride in his car.
We've had to wait in limbo for a whole year to find out what happens next. But, at last, Series 3 is now here, with the action continuing directly on. Pause button released. We won't spoil the story in this article, but suffice to say with five new episodes coming to BBC iPlayer as a 'box set' this Wednesday, it can probably be guessed that the central duo continue to at least survive beyond the opening credits sequence.
The characters have come along way since they were first thrust together in 2016. The dynamic has changed to the extent uptight Rhona no longer despises spontaneous Leanne, in fact you could almost say they were friends? They certainly rely on each other now. But what about the actors that play them? When asked if it was good to reunite on screen, Kerry Howard (Leanne) and Zoe Boyle (Rhona) replied in unison, without hesitation, that they "loved" being back together.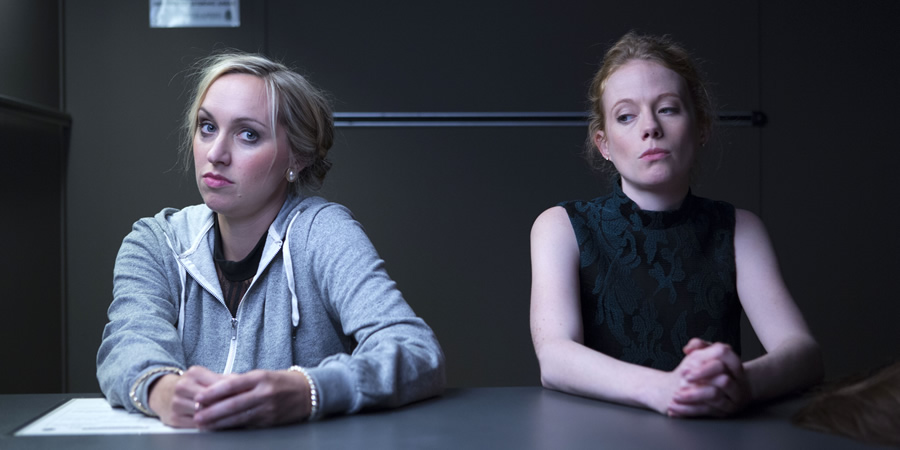 Despite now being closer, the characters still have their differences though. Howard says: "It's the classic odd couple, isn't it? I'm a little zany and she's very straight laced... although she's a bit of a killer now!"
Thinking about why the dynamic works so well, Boyle says: "It's funny because, in the odd couple thing, I always identified with the Rhona character... I think that says a lot about me! In an odd couple pairing you can identify with either one or a bit of both or whatever, and I think that's why the show works so well, because you relate to either one."
Witless was conceived by writers Joe Tucker and Lloyd Woolf after they had worked with Kerry Howard on her sketch show. The concept morphed during the development process into an action-packed comedy. They explain: "When we did the first series, to be honest, we thought some weeks it'll feel like a sitcom and some weeks it'll feel like [blood-splattered crime comedy film] Fargo.
"What we realised in writing that first series was, if you want to really do a story that compels you to watch next week, you've got to commit to it; you don't really have room to have a week about getting a misunderstanding to do with the electric bill, or something. If you leave a cliff-hanger you've got to follow it up! So the more we went along with it, the more that [the action elements] became a bigger part of it."
Witless certainly features shock moments, and there's some more unexpected surprised in store in Series 3. Tucker and Woolf explain: "We wanted to do whatever the coolest thing was to happen next, and not to worry too much about whether it counted as a scene out of a sitcom. We let ourselves follow it and go where it needed to."
All the adrenaline-fuelled moments certainly appealed to the stars. Zoe says: "Filming can be a little boring, so when you get given a good action piece or something that gets you running down the street, it wakes you up again!
"I like wielding a gun. I actually quite enjoy that, although I shot one for another TV show and cried... I didn't shoot anyone thank god, it was a blank, but it was a really loud blank and I cried at the noise!"
The new series was filmed just after Kerry had given birth to her second child, so she appreciated all the running about. "I got my baby weight off, it was brilliant." Remembering back, she says: "He was 10 weeks-old and I was on set going 'I'm not sleeping'. I just had my tits out all the time." Zoe quickly clarifies that Kerry is talking about breast feeding, but admits "I saw a lot of nip!"
It's been pointed out that this is a comedy about two women, but is written by two men. Zoe says: "What I like about Witless is it's a show about two people in witness protection... they just happen to be women. I think there could be more shows like that where the gender isn't the issue of the day, because I think if we're to advance, the stories need to be about the stories and not about the gender." Kerry adds: "Yes, exactly, the jokes weren't 'oh I'm a woman, I've got a period!'... it was about the situation."
The creators, taking up the topic: "When you're writing - to get poncey here, you're doing these big acts of imaginary empathy; you've got to try and imagine what it's like to shoot someone, or run away from a gun. None of these are things we've done [in real life] - you've got to try and be convincing as you can to put yourself there, so in the grand scheme of it being a girl, that is actually less of a leap than being chased with a gun."
Howard concludes: "It's such a positive thing to do, and it's a good lesson for other writers out there: you don't have to only write about your gender."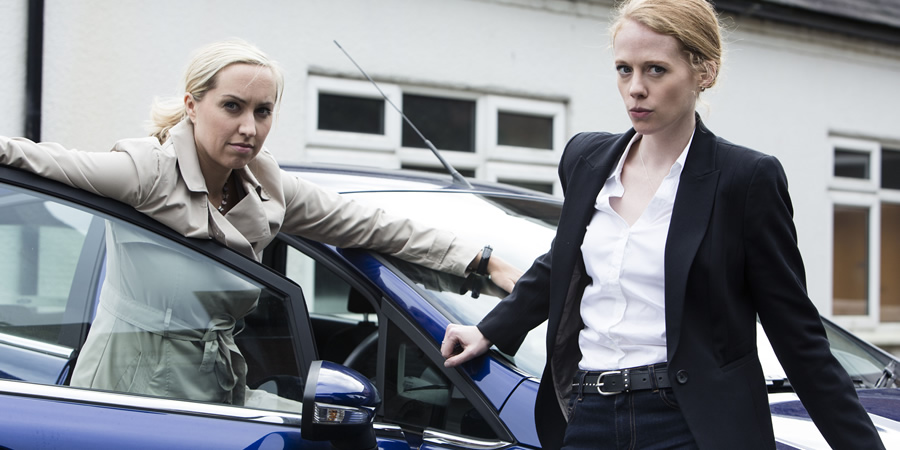 It's been signalled that Series 3 will be the final series of the show, so viewers will get a firm conclusion to the story this time, rather than another cliff-hanger.
A 'designed' ending in comedy is a rare thing. Normally the goal when launching a sitcom is to go for as many series as possible before you unexpectedly get cancelled, but the stars knew when they signed up for this project that it would have a finite lifespan. "The audience would get sick of it, putting us constantly in jeopardy."
The writers admit that when they started with Series 1 they didn't actually have an end in mind. "We really didn't, we should admit. Other than we sort of knew that it wasn't going to be a thing that could run and run.
"We knew we were going to do an ending at some point... but we just hadn't thought of it at the start. We'd love to say we planned it all from the start, but we didn't!"
The good news is a solid ending is sorted now though. "It's rare to get the opportunity, and it's a privilege to choose the manner of your own passing and to actually finish it 'on purpose'."
So what did the lead actors think when they read the scripts for this final series? Kerry says: "I didn't expect any of it, to be honest. I had my own ideas, then I read it and when certain people got killed I was just like 'what!?!'... it was shocking, but brilliant, because I was like 'nobody is going to suspect this'."
Zoe continues: "This series definitely went darker than I thought it was going to go and I was quite surprised but impressed by the darkness and how gruesome the humour becomes."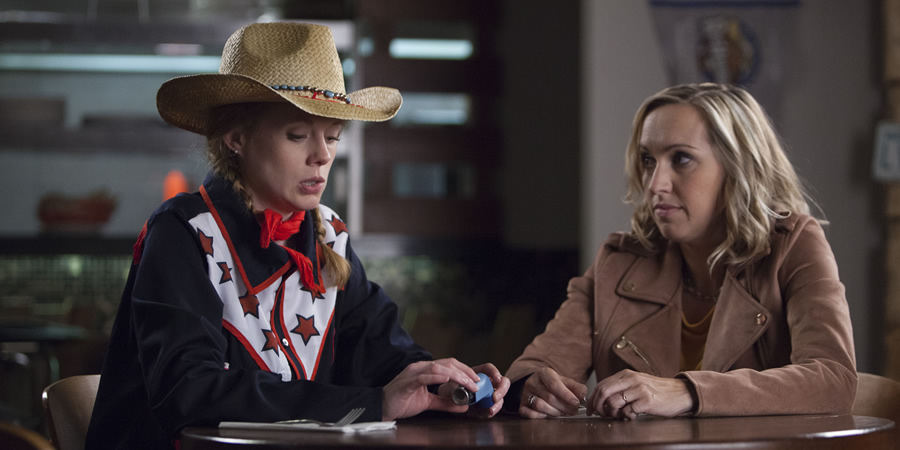 Filming the final scenes turned out not to be as emotional as expected though. Zoe says: "Wrapping filming is always a little anticlimactic. I was almost trying to squeeze out a tear to show that I really care!... but then it did gradually dawn on us, so by the wrap party we were in bits."
Kerry: "When I did a bit of ADR [additional voice recording], I burst into tears. I was like 'oh my god, it's the end!'
"We were in denial. I was like 'well, it'll come back', but we've literally finished the story."
With many colourful characters in the show, could there be a spin-off though? Joe and Lloyd contemplate the question. "Mmm... We've not really thought about that. It was really tempting to try and get more of them [the supporting characters] into this series. We thought we'd visit so many more of the characters at the end, that we'd touch in with where they all are and stuff, but then we were swiftly told we can't afford any of that. You have to have a bit of discipline sticking to what you're doing. A lot of them we miss. Jackie and Sergeant Forrest... characters that we were really fond of."
After further thought, they conclude: "It could happen."
We'll keep our fingers crossed then for a sitcom following useless DC Snowberry and, if he survives, a comedy with DJ Sound As F*** too, but firstly, and most excitingly, it's time to concentrate on whether Leanne and Rhona can keep themselves alive through to the end of these final five episodes!
---
Witless is on BBC iPlayer now, and BBC One on Friday nights.