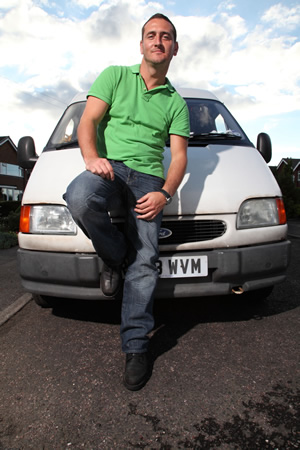 When Will Mellor first read the script for White Van Man he was taken aback not only by the quality of the writing - given that it was a new writer - but also by the name on the page: Adrian Poynton, who was the warm-up man for BBC Three's long-running successful sitcom, Two Pints Of Lager And A Packet Of Crisps, starring Will. Will was delighted to see his name on the script and that his old colleague is now a success in his own right.
"It amazed me that it was Adrian's writing. It came off the page so easily, which is sometimes difficult when you get a new writer. It sometimes takes a long time to get that across."
"He writes very good conversation, great characters and it's a very naturalistic way of writing and speaking. I found it really easy to work with his script and that's why I wanted to do the show - I was really impressed. It's different, as well, because it's got that drama element - it's not necessarily a show full of gags and jokes."
Will plays Ollie, an aspiring chef whose dreams of one day owning his own restaurant are dashed when his dad, Tony, played by Clive Mantle, suffers a heart attack and has to take early retirement. A reluctant Ollie takes over his dad's painting and decorating business, although the path to becoming a handyman is a rocky one as he faces a constant stream of chaotic situations.
The challenges and frustrations of his new calling are further hindered by layabout Darren, played by Joel Fry, Ollie's hopeless sidekick - who seems to know anyone and everyone in the community.
"Ollie's confused why everybody else thinks it's normal behaviour to be doing what they're doing while there's chaos going on around him," laughs the Two Pints star. "He doesn't understand why he's clashing with everyone and that no-one sees that Darren is just a layabout - they don't get it! But that's what I think the fun thing is - the audience are going to see the journey through Ollie's eyes and see where it takes him."
"I think Ollie's going to learn, in the end, that it's the best job in the world for him, but he's got to learn that for himself and he's got to get used to being part of the community - which he's not really been. The community's got to get used to him, too."
Ollie also tries to make a living and support his father while pursuing his crush, Emma, played by Georgia Moffett, who he met at catering college. "Ollie has obviously got a really soft spot for Emma," explains Will, who hails from Stockport. "He acts like he's not a pushover, but he is - he lets things happen without noticing they're happening and, with Emma, he believes the good in her that she won't nick his ideas, or she's doing it for the right reason, and lets her get away with it a little bit."
Will is full of praise for his fellow cast and, in particular, Joel Fry, who plays his worse-than-useless helper, Darren. "Joel Fry is like the wife!" laughs Will. "We lived together when we were filming. We get on great - he's such a quirky lad. The cast are great and it all just seemed to come together naturally. I loved doing White Van Man immensely and we had the best time doing it."
When it came to doing research for the role, Will didn't need to look further for inspiration than his dad, who was a handyman. "He's been doing it for years and they came up with a couple of storylines from some experiences that my dad had been through. My dad fixed everything - if anything in the house broke he would fix it. He'd even pick things up on the side of the road that people had left and take them home and fix them."
"We used to go to a tip when I was a kid. I'm quite proud of it - I come from a council estate background, working class - and when we used to take stuff to the tip my dad would lower me in and we'd pick out some stuff so he could fix it and give it to people in the family. So I come from that sort of community where everyone looks out for each other - none of us had anything so we all just made sure we looked out for each other. He's an inspiration as to what a handyman should be."
"So I think that's what I love about this programme - it's got that warmth to it. The community are together and Ollie has got to try and fit into that community and try and let go of his dream of becoming a chef."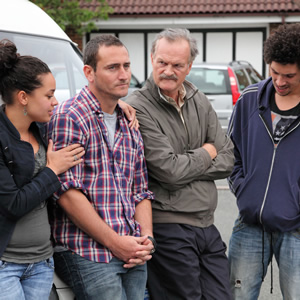 So, has Will ever driven a white van before? "I have, but only when I've been moving house!" he laughs. "It's quite empowering driving a white van. Obviously, we've tried to stay away from the stereotypes of white van men, as I think that would have been an obvious route to go - the show is a bit deeper than that. It's quite fun when you're in the van in the daytime when you're filming and getting looks from people!"
Having had a little taster of life as a handyman, is it something Will would like to do? "I would never call myself a handyman - I've done a couple of things like put a wardrobe up for my son. My wife loves flat pack - I can't stand it! She gets excited over flat pack! She looks at the instructions and I do the manual labour. I'm okay if I've got to destroy something - if I've got to smash up a wardrobe I'm happy with that. If I can get away with not doing any handyman stuff I get away with it! I actually invite my dad down to come and stay with us when I need something doing. My dad does it all for me, he's fantastic."
Will's very excited about White Van Man and hopes viewers will tune in to watch the series. "It's driven from the beginning of a start of a new era for Ollie and whether he's going to succeed or fail. Just laugh along with his failings and just get to know these characters and the community because we're trying to build a community in this series. Ollie's got to find his way into that community and win people over. Come along with the journey and see how it unfolds. There's always someone who needs something doing in the house and as soon as that door opens you're walking into their world and that's where the stories start."