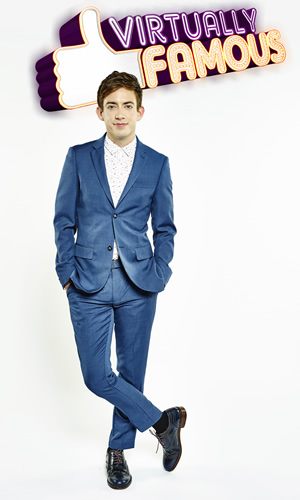 Kevin McHale is back to host a second series of Virtually Famous, the E4 panel show which surrounds itself with the funniest and weirdest internet content. We caught up the American star to discuss the format, ponder why panel shows don't work in the States, and more...
Hi Kevin. You're back filming more Virtually Famous...
Yeah! I was a little nervous to go back, I was hoping we hadn't forgotten how to do it in the first place. But it has felt so comfortable getting back into it. It feels good to be back!
Virtually Famous is just a really fun show to do. It doesn't feel like work. Especially for me - I get to sit back and listen and laugh at all these brilliant comedians who come on the show.
Talking of guests... are you aware of who some of the personalities are? We're aware they're probably not known in America, where you live most of the year.
I usually find out a day or two beforehand of who is going to be on, but it doesn't necessarily mean I know who they are... so I do my own little research and look them up. But, even then, like if someone comes on from a TV show, it doesn't mean I've seen the TV show, so I know of them, but...
I think they like it that way though, so they can make fun of me on the show. That's fine!
Did you know the team captains - Seann Walsh and Chris Stark - before you started?
I knew of Chris because I've been friends with Scott Mills for a fair while now [Chris appears on Mills' Radio 1 show]. I listen to his show, so I knew of Chris that way. When I actually found out Chris was doing it, I was like 'what the hell?'... I text Scott and said 'what is going on?', and he said 'yeah, I just found out too'. It was like, 'this is so weird... it really is such a small world!'. When I came over to London, Scott took both of us out to introduce us properly. We went out that night and immediately got on.
I didn't know Seann, I met him a couple of days before when we were setting up the show...
What were your initial reactions? He's quite a larger than life character...
Yes he is! The thing is, with a lot of comedians, I find they can be super calm and quiet and then when you see them [performing] they'll have their moment where they're just crazy.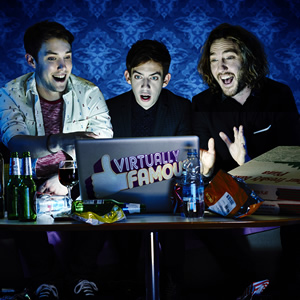 But when I met him he was just super nice and kind. I probably shouldn't say that, as it's not like anyone has said he is a 'super badass'... he was just super nice. When we finally got to do the show and see him do his thing... he's a master at it, and I think he's hilarious.
So, now you're into Series 2, have the three of you got fed up of each other now?
No, not at all, I think they're both great. At the end of the show we're like 'was that good for you?', 'was this good?'... so we're all trying to deliver the best, most entertaining show possible. Everybody is really involved and kind of working their arses off to make sure that it comes across how we want it to.
We have that camaraderie now. Before [in Series 1] we were getting to know each other, but now we have that rhythm and everyone knows their position, so we can play with it and give each other shit, which is great... ha ha.
So you've got some more funny videos for the teams to look at this series?
We've had some crazy people. I think this series so far has had a lot of pranking involved. There's been a lot of pranking videos. There's this whole family who keep pulling pranks on each other... it's horrible, but it makes for great television.
This season we have a whole new section where we take some of the best pranks and challenges on the internet and make our panellists do it. It's been great as it gets everyone physically involved. Everyone has been up for it, which has been nice; because I have a feeling it can be intimidating if you don't necessarily know what you're getting yourself involved in, but everyone has been good so far.
Panel shows aren't really a format on American television?
No, not at all! When I first talked about doing this show I sat and watched panel shows for days, so I've got to love panel shows a lot.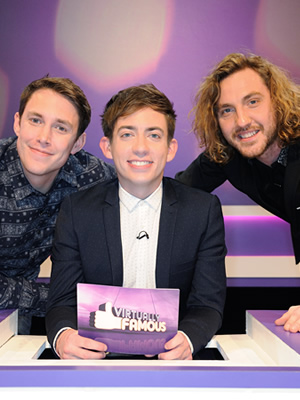 Why, if they're so popular in the UK, do you think that they're not on American TV too?
It's the more risqué things... you're really seeing these comedians uncensored and unfiltered, which is why they work so well. But, meanwhile, in America it's a bit more restricted... so where, here, you can put a panel show on any of the major networks and it would be ok, in the States you'd only be able to do it on a paid channel like HBO or Showtime or something like that, and I don't think the viewership or the demographic would necessarily be there on those networks.
It's a weird thing. It works here because the networks here are more willing to show the stuff... which is great, because I think panel shows are such a unique thing. They're all so different, but they work so well and are funny for different reasons.
So, when you were offered the chance to host your own panel show, how long did it take you to say yes?
At first I said no!
I'm not a host - I come from acting and music - so hosting seemed a very unnatural thing for me to do. I never thought about being a host; and when they said 'panel show' originally, I thought it'd be something like X Factor where you'd be sitting behind a panel and judging people... actually, I was more receptive to that!
But I happened to be over in London a couple of weeks after that initial conversation and they were like 'why don't you just come and meet with us?', so I did, and they were just so nice and just so funny, and at that point they told me the concept of the show and I had such a great time with them I said 'I'll do whatever you want to do', because I just enjoyed being with them so much.
It hasn't lost that [good feeling]... everyone who has been involved with the show behind the scenes has been great. Everyone is super fun and supportive and it's just a good group of people, so I've really enjoyed doing it for that reason.
Long may Virtually Famous continue, but has hosting this show given you a desire to do other comedy shows too?
Oh, well, thank you very much - I hope Virtually Famous will go on for a while!
But, yes, it has. I've never gotten to work directly with so many comedians before. Stand-up comedy is one of my biggest fears - I really respect comedians; I think it's just one of the hardest gigs, and you see how talented they are on the show, so I'd love to be able to work with more comedians.
I've always been a big fan of doing comedy anyway - and Glee was a comedy, well it was more comedic in the beginning anyway! - so I've always perhaps been more geared to do comedy, but Virtually Famous has definitely has re-energised my excitement and passion for comedy.
Virtually Famous is on E4 on Mondays at 10pm.