Series 1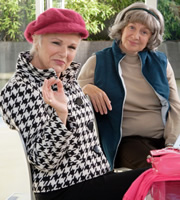 First broadcast: Thursday 24th December 2009
Victoria Wood returns with a 60-minute special for BBC One featuring sketches, personal injury commercials, unlikely sporting events and a dance number bringing together the killer combo of midriff bulge and Busby Berkeley.
First broadcast: Wednesday 30th December 2009
This searing in-depth documentary tells the story of how a lot of people, some of whose names the makers never really got to grips with, stood in a wet field trying to make a funny programme for Christmas.
First broadcast: Saturday 5th June 2010
A bumper (re)collection of the BAFTA-winning comedianne's most recent Christmas TV sketches, including the definitive costume drama Lark Pies to Cranchesterford, the Midlife Olympics, and the further adventures of Acorn Antiques star Bo Beaumont - alias Julie Walters.