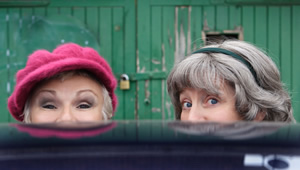 Victoria Wood has done us all a favour. Christmas is traditionally the most frantic time of year, so she has come up with the inspired idea of condensing all your seasonal TV favourites into a single hour. Welcome to Victoria Wood's Mid-Life Christmas.
The comedian explains the thinking behind this concept. "The show is a whole night's telly crammed into one hour. Christmas is a stressful time and, by compressing an evening's viewing into 60 minutes, we hope families will have more time for other festive traditions such as arguing with relatives and defrosting turkeys under the hot tap."
This BBC One show is like the best kind of Christmas stocking, packed with delightful festive treats. It features Beyond The Marigolds, a spoof fly-on-the-wall documentary of a week in the life of Bo Beaumont (played by Victoria's long-term collaborator, Julie Walters), the hilariously precious actress who portrayed Mrs Overall in Acorn Antiques; a pastiche of costume drama, Lark Pies To Cranfordchester; a winning send-up of sporting events, the Mid-Life Olympics 2009; and a series of deft parodies of TV ads.
Victoria has not made a Christmas special for nine years, but she has really relished her return to the genre. The widely-loved comedian, who has been responsible for such classic offerings as Victoria Wood - As Seen On TV, dinnerladies, Pat and Margaret and Victoria's Empire, reflects on what prompted her to come back to the seasonal special. "I'd been having all these ideas for sketches, and it seemed like the best format for them was a special. It's lovely to be on telly at Christmas because you get such a mixed audience. It's the best possible showcase."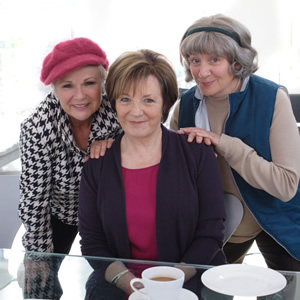 Victoria, who two years ago starred in BBC One's memorable Christmas drama, Ballet Shoes, particularly enjoyed being reunited with Julie Walters. In the parody fly-on-the-wall documentary, Julie plays Bo, who - despite massive evidence to the contrary - still believes she is a huge star. Bo lives in a drab flat, "on the borders of Paddington", with her deeply loyal companion, Wendy (portrayed by Victoria). Bo attempts to underline her star status by auditioning for various Reality TV shows, including Strictly Come Dancing, Dancing On Ice, I'm A Celebrity ... Get Me Out Of Here! and a celebrity recipes show. Anton Du Beke, Torvill and Dean and Delia Smith all make cameo appearances as themselves.
Victoria explains why, some quarter of a century after Bo first appeared on TV screens, that there is still such mileage in this glorious comic creation. "Bo is Julie's favourite character to play," observes Victoria. "I thought it would be lovely to take Bo out of Acorn Antiques and put her in the modern world. We placed her in shows such as Strictly Come Dancing and Dancing On Ice. How would an old-style actress deal with the idiots who work in modern TV?"
An acclaimed stand-up who has won mantlepiece-endangering numbers of British Comedy Awards, Victoria also gets great comic value in her Christmas special out of sending up period dramas such as Lark Rise To Candleford and Cranford. In Lark Pies To Cranchesterford, Victoria herself plays the bustling woman in charge of Cranchesterford's Post and Potato Office. In an amusing twist, the 19th-century characters all have very 21st century feelings and language. The exteriors were shot on the actual Lark Rise To Candleford set in the West Country. The comedian outlines the motivation behind this spoof: "As soon as I saw Lark Rise To Candleford, I wanted to do my own costume drama. But fans of real costume drama shouldn't worry - it's all done with great affection."
The show also features a send-up of sporting events. The 2009 Mid-Life Olympics, held in Brentford, naturally enough, showcases such events as The 4 by 400 Hedge Trimming and Ladies Outdoor Parking. "I thought it would be fun", Victoria enthuses. "The Married Couple Self-Assembly Flatpack competition could never be confused for a real Olympic event!"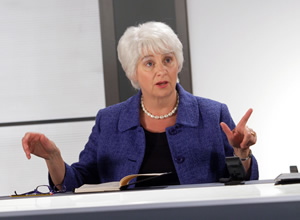 In addition, Victoria Wood's Mid-Life Christmas includes a wicked send-up of The Apprentice. Victoria plays a very surprising version of Margaret Mountford.
Victoria has always loved spoofing other shows: for instance, the accuracy of the parody in Acorn Antiques meant many viewers were never again able to take seriously the real-life soap, Crossroads. But she is choosy about what she pastiches. "You can only send something up when it lands in your lap. You notice things that start to tickle you, and then you want to spoof them."
Over the festive period, BBC One will also be screening What Larks!, an entertaining behind-the-scenes look at the making of Victoria Wood's Mid-Life Christmas. "People love these behind-the-scenes programmes," muses Victoria. "It shows them how things are put together, and they feel like they're getting an insight into a secret world. But more often than not, all we do when making a programme is wander around a wet field while someone shouts 'turn over'. Then we have to do it all over again! This documentary shows the general bafflement as we blunder through, trying to get it right!"