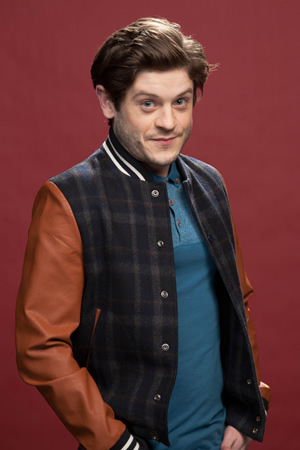 Iwan Rheon is the youngest main cast member in Vicious. He plays Ash...
What was your first reaction when you were approached about Vicious?
I got a call asking if I wanted to audition for a new sitcom starring Ian McKellen and Derek Jacobi. I replied, "Er, yes." Who wouldn't want to work with two of our greatest actors?
What appealed to you about the show?
I love the script. It's really sharp writing with very well observed characters who feel like they've got great depth. The relationships are tremendous.
Please describe Ash to us...
He is a very honest, good-natured, polite young man from Wigan. It's wonderful for me to play a nice guy for a change! Ash is very game, he's up for anything.
How would you characterise his relationship with Freddie and Stuart?
He is like a ray of light in Freddie and Stuart's world. He loves to hang out with them. He's never experienced anything like this before. For him it's a very exciting and different world. He's looking for companionship and he doesn't know anyone in London.
He wanted a new start down South - he had had a few problems with this family and wanted to get away. Freddie and Stuart are very welcoming, but they also talk straight. They give advice and become like a surrogate family for Ash. They are the people he can go to with his problems.
How do things unfold over the course of the series?
Towards the end of the series, Ash comes into his own. He starts off quietly, but that pays off as he comes out of the shell. Gary says he sees Ash telling his grandchildren when he's Freddie and Stuart's age about the two amazing guys he met when he first came to London. I have met a few people like Freddie and Stuart. They really exist. They're fabulous characters.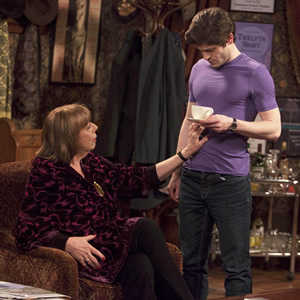 Tell us more about the relationship between Freddie and Stuart.
They bicker a lot, and that is very entertaining to watch. But on some level, you can see that they're very fond of each other. You get moments in each episode where they are very tender. That makes it far more comfortable because the bickering comes from this great love they have for each other. A group of lads I used to hang out with at school were like that. We were always taking the mickey out of each other. Banter is a very British thing. You have to be able to take it as well as dish it out, but it's always underpinned by a great mutual affection.
How do things pan out with Violet?
It's a flirtatious relationship, but only from one side! It makes Ash uncomfortable being hit on in this very unsubtle way, but it's very funny. It's never done in a gratuitous way. It's all good fun, and there is nothing that would genuinely scare Ash off.
How have you found it working with Ian and Derek?
At first, it was very surreal and overwhelming. In some scenes, I'm the only one who isn't a knight! But you can't let that get to you because it has to be a working relationship. When you actually do the scenes, you're simply collaborating as actors. Ian and Derek are very humble and have never made me feel like I don't deserve to be there. They've been great with me. It has been the most wonderful experience for a young actor.