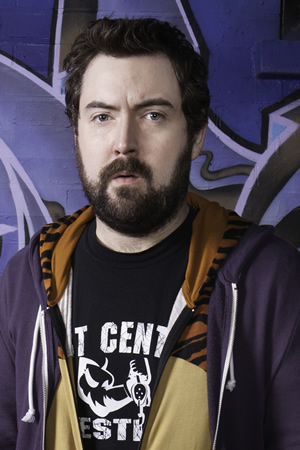 Ahead of Series 2 of Uncle - the hit BBC Three sitcom about Andy and Errol, a mis-matched uncle and nephew combo - BCG chats to Nick Helm. He talks below about how it's hard not to swear in front of his co-star, and explains how live comedy is still important to him.
Congratulations on the success of Uncle. A win at the Broadcast Awards this week to add to the list of plaudits. What can we expect from Series 2?
The new series is the same characters, but different voices. Errol is a year older... well, we're all a year older! Basically we left the first series where I had a job at Carpet Brothers and had a restraining order put against me so I couldn't see my nephew. But we started seeing each other in secret and playing video games together...
This series picks up a year later, where we're still struggling with this restraining order. Episode 1 is really about getting the gang back together and the rest of the series is new adventures.
As you say, Andy now has a job working in a carpet warehouse. What job do you think you'd be doing if you weren't working in comedy?
My favourite job was working in a bar - I was a barman, and I did love that. So maybe if I wasn't a comedian maybe, by now, I'd own my own pub. But maybe that would have destroyed me. I like cooking, so maybe I'd be a chef... but, then again, don't make your hobby a career.
We loved the songs in Series 1. Can we expect more music in the new episodes?
Yeah, there are songs in four episodes this year. Episode 1 is a very music-heavy episode. I co-write the songs as my creative input into the series. It's been really fun this year.
The way we do it is Ollie [Oliver Refson, the writer/director] will give me a list of song titles he's got. He'll give me a brief and then I'll go away and write to that brief. For example, he'll go "call this song Back To The Future, and we want it to be kind of an electro-pop number"... and I'll go off and write something and then he'll play it back and go "yeah I like that", or "change that".
It's kind of fun because I don't have to come up with it all by myself. When I do stand-up I have to generate everything. Get in front of a blank piece of paper and think about the fact you could write about anything - that's how writer's block happens! But when someone goes "this is what I want", you can go off and do that, and it's brilliant.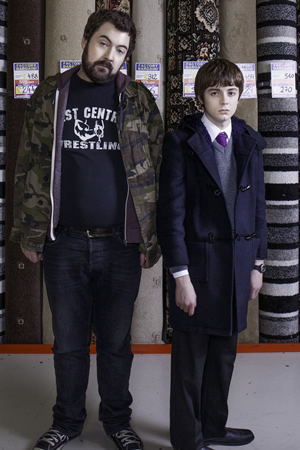 Your co-star Elliot Speller-Gillott has kind of grown up on screen...
He was 11 when we did the pilot, 12 when we did the first series and this time - we filmed this one about three weeks later than we did before - so we actually filmed over his birthday, so he went between being 13 and 14 on camera. So he's really grown up!
But because of regulations you still can't swear in front of him?
He's allowed to swear... he can say whatever the fuck he likes, but we can't say anything in front of him!
We're not allowed to swear in front of him until he's 16. When he's 16 we're going to fucking let rip on the little c***, ha ha.
You have to be very 'zen' about it, and just kind of adopt a different lifestyle for seven weeks of the year. I swear a lot normally - I'm one of the few people that thinks swearing is big and clever, so it's really difficult not to swear in front of him, but somehow we manage it.
Sometimes you'll get a guest star that comes on to the set and they think it's a bit of a joke to swear in front of the kid... and you go "If I'm not fucking swearing in front of the kid for seven weeks, you're not going to turn up for an afternoon to swear in front of the kid!". Ha ha. It's been a bone of contention a little bit.
Off screen, how similar is the relationship between the two of you as the relationship between your characters?
In real life he's not very geeky. He's just a fairly thoughtful, considerate young man. He's probably more mature than I am.
He's brilliant - I think he's a really great guy. We get on really well. But I'm not a relative, so we don't have that mentor-student relationship.
Now he's 14 we've got more in common than when we was 11. He's just started getting into the music I used to listen to when I was his age: Blur, Pulp etcetera. That makes me feel incredibly old, but at least it gives us something to talk about.
My favourite scenes to film were when we were in the car together, or on a bench or sofa, and we just sat and chatted - just me and him. Those are the best scenes because it's about me and him sparring off each other.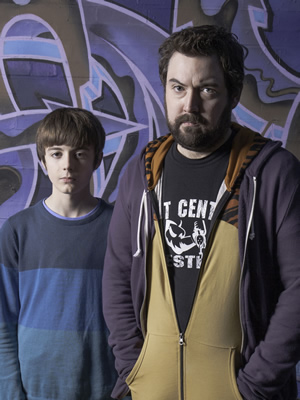 Could you see the show still running when he's, say, 20?
Well they did that with Only Fools And Horses didn't they? I'm not saying Uncle is Only Fools And Horses, but I am saying that it's not about age but relationships.
We're lucky we didn't call the show Little Boy! It's called Uncle and it's about an uncle and his nephew, and it's not age dependent. We're always going to have that relationship, so I think it can run and run if people want it to.
BBC Three is potentially due to online-only later this year though...
Speaking on a personal level, BBC Three has been really good to me. I did Russell Howard's Good News in 2010 and that's the thing that broke me really. Then I did Live At The Electric. And then BBC Three saved Uncle from Channel 4 when they didn't want it... so BBC Three has been really great, so it's a shame that it's going.
I don't know what's going to happen to Uncle, but we got repeated on BBC One in the summer, so I think if BBC Three does go online I don't know how much that would affect the show.
I don't know though. Nobody tells me anything - I'm the last person to find out!
Talking of BBC Three, you have another show - Nick Helm's Heavy Entertainment - launching with them soon?
That's out in May I think. They're bringing out Uncle then they're having a little break so people don't get confused why Uncle Andy is shouting at all the nice people - ha ha - but, yes, then Heavy Entertainment is out.
I'm really proud of that. That's my stab at trying to translate my Edinburgh shows, and what I do on stage in front of 20 audience members in tiny little clubs, and put that on telly in a way that people haven't seen before.
Talking about 'Uncle Andy shouting', do you have any problem with Uncle fans now turning up to your live shows not realising you adopt a more 'full on' persona for the stage?
What am I supposed to fucking do about it? Ha ha. I've been gigging for seven years; Uncle has been out for one... and people come along and go 'Ohhh'. What were they expecting, an hour of me sat on a bench with a kid?
It's really weird because when you do comedy on a stage, even though it's just as manufactured as any other theatrical thing, people still think whoever you are on stage is who you are off stage.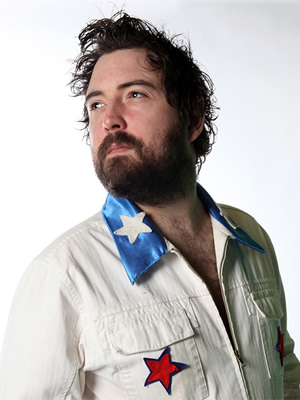 I did a Christmas show, which was the first run of shows I'd done since Uncle had come out, and you could definitely spot an 'Uncle crowd' because they were a little shocked and on the back foot. I don't want to be the sort of person who comes on stage and talks about their TV work. I just addressed it and then everyone was on board after that. You just have to get it out the way right at the beginning or you've got an hour of people confused you're not the same person...
What's up next? You're writing a Channel 4 sitcom, we hear?
I've got a pilot for Channel 4 - it's not 100% been commissioned yet, but that's my next project.
I'm doing a thing for BBC online at the moment, Elephant. I've made it with Esther Smith, who plays Melody in Uncle and is in Cuckoo and Cockroaches. We've written that together, acted in it, and I've directed it. That's coming out as part of the Funny Valentine season on BBC iPlayer. I'm very happy with it and think it's great.
Are you finding all this TV work is preventing you from performing live though?
I've got lots of interests, and I think now - whilst I've got the opportunity to do stuff - that's what I want to do. But I don't plan on leaving live work, I think I'm just taking a few months to concentrate on doing some other stuff.
That's really why I did Christmas shows at the end of the year though. I didn't have physical time to do a full Edinburgh run last year - that was quite upsetting for me because I've done it almost every year since 1997. But I'll keep my hands in and I'll still be gigging, but instead of an Edinburgh run I might do a Christmas show every year.
I don't ever want to leave live comedy because it is a completely different feeling. On a TV set you've been up since 5am, and then you film all day and by the time you get home it's 9pm, and there's no adrenaline rush. You are performing, but in tiny little bites - there's lots of sitting around and there's no rush, and then, six months later, it's all edited together and people watch it and say 'well done'... but when you do live it's instant and you get that adrenaline rush and you come out and you feel amazing. It's a totally different thing. It's a different skill, incomparable really.
I'd never want to pick one over the other. I'm really proud of all my live stuff and so it's important for me keep doing that, but I'm also proud of my TV work.