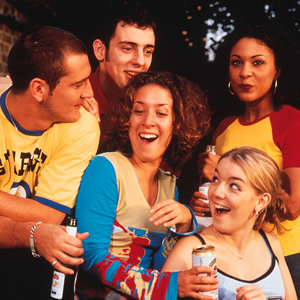 Two Pints Of Lager And A Packet Of Crisps is a sitcom set in the northern town of Runcorn. It follows the lives of a group of 20-something friends whose quest in life is mainly to drink beer, have sex, smoke and eat takeaways. Two Pints hasn't had much luck in award ceremonies, and despite constantly getting bad reviews from TV critics and many viewers, it has become one of Britain's longest running sitcoms, with a strong and loyal fanbase.
Two Pints is the brainchild of child-prodigy writer Susan Nickson, who started work on the show when she was just 18 years old, after winning a number of writing competitions and awards through her teens.
The first series was broadcast on BBC Two in 2001. Viewers were introduced to the girls (Janet, Louise and Donna) and to the boys (Gaz and Jonny) in this first series. Flo, Donna's mother, was also a regular contributor with her tasteless comments and bad advice.
Series 2 - which was transferred to BBC Choice - followed on from the first series with pregnancy scares, more sex and marriage proposals.
The first two series only had 6 episodes each, but as BBC Choice made way for BBC Three in February 2003, the show was given a bigger budget and 10 episodes of Two Pints were commissioned for Series 3. Two new characters were also introduced: Gaz's half brother Munch, and Louise's boyfriend David.
A Christmas special followed this third series - it was a unique musical extravaganza set back in the days before the terrible fivesome were ever a fivesome, and Janet and Jonny hadn't even met. This episode was made up almost entirely of surreal musical numbers, something very rare in sitcoms. This brave gamble managed to attract some rare positive press for the show.
In the later series, true love faltered when Janet decided to leave the house she shared with boyfriend Jonny, and Gaz was astounded to catch Donna having a late-night tryst at The Castle with an old fling. He is soon left wondering who will be around to satisfy his insatiable sexual appetite as Donna announces she is off to start a new and exciting life journey.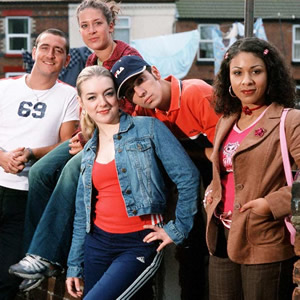 Meanwhile, Louise's student days are over when she finally graduates from college, but the precious one quickly discovered how tough life can be in the real world.
Series 6 was broadcast in 2006. It gave Gaz and Jonny some particularly tricky questions to answer: Which one of them was the father to Janet's little boy, Corinthian? Would Janet actually cast them adrift and take a job-of-a-lifetime aboard a cruise ship? And would pork scratchings really beat Mini Cheddars in the World Cup final of bar snacks? And if that wasn't enough excitement, Louise uncovered shocking revelations about her parentage.
The seventh series was originally planned for 2007, however the production team were too busy working on a new show - Grownups, another crude sex-obsessed sitcom written by Susan Nickson and starring Sheridan Smith - to complete the Two Pints filming. The series finally made it to screen on the 13th January 2008. In a brave gamble for publicity, viewers, and to push the cast and crew to their limits, the opening episode was broadcast live from BBC TV Centre and, not only that, but the script deliberately included a number of difficult tongue twisters and physical stunts to up the risks and really keep the cast on their toes during the half hour.
It soon became apparent to fans watching the start of the seventh series that the rumours were true - Ralf Little, who had played Jonny, one of the main characters, had indeed left. The plot saw Jonny killed off-screen, with the second episode of the series devoted to his funeral/memorial service. In a witty nod to fans, Nickson chose to kill Jonny via a shark-jumping competition. 'Jumping the Shark' is a colloquialism used in the TV industry to denote the point at which the characters or plot of a TV series has veered into the ridiculous. The phrase originated from a scene in the American sitcom Happy Days and, to ensure there was no doubt as to their intention to include this reference, Janet repeat The Fonz's catchphrase "Aaay!" during the episode.
Series 7 introduced new character Timothy Claypole, the camp new bar manager at The Archer public house.
Although the final episode of Series 7 made it look like the show might be finishing, Two Pints was indeed back in 2009 for an eighth run, with another new character - Donna's boyfriend Wesley. The show started with a Comic Relief special in which the characters of Two Pints joined up with the production team's other two teen-orientated BBC Three sitcoms, Grownups and Coming Of Age. The series ended with a viewer vote to decide the outcome of a momentous plotline - something the show had done before with great success.
By 2011 - 10 years after the show first made its début on TV - just two of the original cast remained. The Archer was given a mini makeover and Tim's feisty younger sister Cassie was introduced, bringing all kinds of drama with her. Meanwhile, following a horrific accident at the end of Series 8 that had left him paralysed, Gaz was given a new friend in the form of carer and wannabe footballer Billy.
An eleventh series could still be to follow...