Twirlywoos co-creator Anne Wood explains more about the show...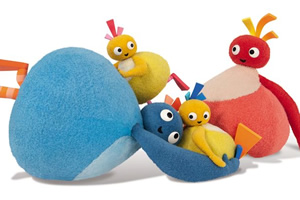 Can you describe Twirlywoos in your own words?
Twirlywoos is a situation comedy for 3-4 year olds who enjoy the fun of watching characters on screen who know much less than they do.
How did the idea for Twirlywoos come about?
Having worked with Steve Roberts on our very successful short animation Dipdap, we wanted to work together on a longer format, taking some of the ideas that had made children laugh so much in Dipdap.
Tell us about the characters and your favourite thing about them?
The Twirlywoos are bird-like creatures, each with their own characteristics. Chickedy and Chick are an endearing double act. Toodloo is full of frolic and loves to dance. Great BigHoo is the most cautious in his approach to life but is full of curiosity and is most reassuring in the way he joins in the fun.
It's 18 years on from the launch of Teletubbies how do you think the market/audience has changed?
The market may have changed since Teletubbies in that there is a great deal more competition out there now but the audience does not change. Young children approach the world from their own unique standpoint as they have always done.
This is your third major production with the BBC. What do you enjoy about working with them?
Working with CBeebies is always a pleasure and for Twirlywoos we were delighted that Kay Benbow, Michael Towner and the team were able to join us for detailed discussions of each storyboard before we went into production.
What have you learned from previous series which you brought to bear while developing and making Twirlywoos?
Each Ragdoll programme grows out of the one before. It is a never ending journey. We learn most from watching children's responses and Twirlywoos in particular owes much to the children's responses to Dipdap.
How does Twirlywoos differ from other pre-school series on screen at the moment?
Twirlywoos is different in that it is stop-frame animation and contains very little computer generated material. Its main difference, however, is that its animated characters have adventures in the real world.
How did you develop the educational and interactive elements of the series?
From the outset, we invited Professor Cathy Nutbrown to consult with us about the patterns of thinking from which children's early learning develops. The concept which she approved has become the foundation both of the programme and all developments from it, including interactive.
How did you develop the Twirlywoos characters to make them visually and emotionally appealing to children?
In the early stages of developing Twirlywoos we did a great deal of experimentation both with dolls and through trial animations before we presented the series to the BBC.
Can you tell us a bit about how you collaborate with Steve Roberts on the project?
As Creative Director of Ragdoll, all programme ideas begin with me but I am always seeking a creative partner to work with. With this person in mind, I devise a framework within which I think the Lead Creative's talent, in this case, Steve's, will flourish. Together we talk about the capacity of the characters for comic action and what form they should take. It was Steve's idea to use stop-frame animation. I then devised the structure of the programme to arrive at a rhythm which I think children will respond to and this gives us an approximate length which is essential to our first attempts at writing. We then discuss ideas together from concepts approved by Professor Cathy Nutbrown, which Steve then illustrates, and then, together with other writing colleagues, we discuss the final form of each story.
What do you hope children will get from Twirlywoos?
Our greatest hope for Twirlywoos is that it will add to children's confidence in their own learning. All Ragdoll's programmes aim to create confidence and knowledgeable viewers.
What are you most proud of about Twirlywoos?
The greatest thing about Twirlywoos is the entire production team who have embraced the idea with truth and affection. It is a complicated show from a production point of view and it has been extremely important that each person engaged in it along the way has understood its intention and the meaning of every shot. The stop-frame combined with live action is something we have never attempted before and because of the support of the team I am very proud of the finished result.