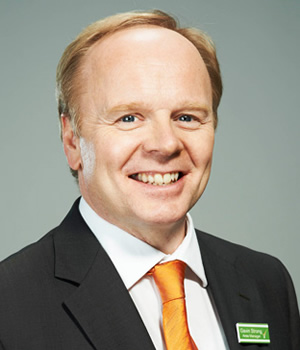 Jason Watkins has filmed over 50 episodes of 'Trollied' now. Here he briefly talks about Series 5...
Hi Jason. Are you looking forward to playing Gavin again?
I am very much. I love playing Gavin and it's nice to be playing him again in the fifth series.
It's good to develop a character over time and what's great about this time is, again, the scripts are really excellent and they lead him somewhere different. That's what you want with a character you've played a lot. It's great to see that while he's the same person, he's being asked to do different things.
He's professional, meticulous, and slightly anal but he's passionate about his work... and stressed. He's like a sort of father figure around the place.
And there's a love interest on the cards...
He does have a love interest this time, which he hasn't had for a while. There was Anna, previously, but I think he was bamboozled by her. Now, with this new character, he's absolutely swept away and can't help himself. So that's great.
What's the best thing about being in Trollied?
I just love the cast and the whole feel of the series. It feels like a sort of touchstone for me each year. It's no mean feat to have made five series of a comedy show, but it's always fresh. This year we have new characters coming in, including one played by Sarah Parish, so it's great to be in something familiar that has new ingredients around you.
Has starring in Trollied changed your own experiences of supermarket shopping?
I get recognised as Gavin in certain supermarkets. I've been spotted in Waitrose and I was tweeted after I'd been in Sainsbury's.
Do you have a favourite aisle in the supermarket?
I like all the little packets in the Valco supermarket; the pasta, the rice, the sugar - the staple goods. And we do lots of little physical bits with those and try to create ridiculously difficult routines of Gavin showing his dexterity in stacking shelves.