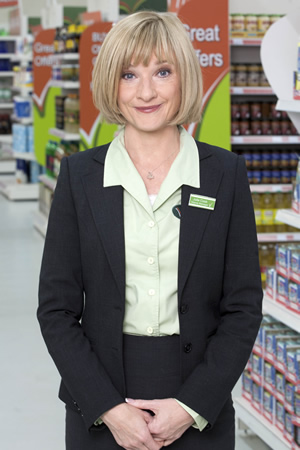 Jane Horrocks returns as Valco deputy manager Julie in Series 3 of Sky1's hit sitcom set in a supermarket. Here she discusses all-things Trollied, as well as her admiration for Julia Davis...
Hi Jane. What can you tell us about the latest series of Trollied?
There's one big new character, a PR guru kind of guy, played by Chris Geere. He comes in and tries to turn everything upside down and to reinvent Valco in quite a strange wacky way. You then see how the rest of the staff cope with it and the ridiculous things that happen during that time.
And Gavin's Spanish girlfriend also makes an appearance, right?
Yes, absolutely, which is very interesting. It's not particularly good for Julie.
So can we look forward to plenty of awkward scenes between Julie and her love rival?
Yes, they go through various stages of liking and disliking each other a lot.
Do you think Gavin and Julie will ever get it on?
Oh I don't know. I have a feeling it's unlikely but who knows?
This is your third series of Trollied. What keeps you coming back for more?
It's fun, the people in it are fantastic and all the actors are really, really great fun. I like playing the character but I have such a good time with the core cast - we gelled instantly and got on incredibly well. I've not actually laughed as much on a set as I have done on Trollied.
Wow. You've worked on a lot of stuff...
I know, but I think this is actually the most fun I've probably ever had in a job. Really, really good fun. It's the combination of the actors involved. They're all really down to earth but all individual people, like the characters, really. Just great fun people.
What do you think is the most challenging thing about working on Trollied?
It was incredibly cold this third series. It's not so bad in the summer but that would always be the first thing that I would say. It was hideous.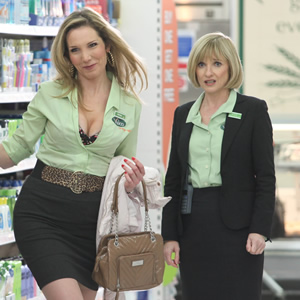 There are a lot of colourful occurrences at Valco. Have you ever seen anything particularly weird take place in a supermarket?
Not the sort of things that Trollied depicts! I love all those incidental moments but, to be honest, I just go and do my shopping and I don't look out for moments.
Talking about your career as a whole, what's the best piece of advice you've been given? Can you remember a particular pearl of wisdom that's held you in good stead?
I read an article years ago by Fulton Mackay, who was in Porridge, and I remember him saying 'don't take things too seriously'. I think that's a really good piece of advice.
And who do you most admire in the industry? Is there anyone you particularly look up to?
I think Julia Davis is brilliant. I don't watch much television so I miss a lot of the things that people are in but I do make an effort to watch Julia. I loved Hunderby.
So you like your comedies quite dark?
Yes, I did like that aspect of that comedy. I think her writing is just so different and out there. She is a very, very clever person and what I liked about Hunderby was that while I knew a few faces in it, there were a lot of new faces, which I thought was really refreshing.
Trollied is on Sky1 on Thursdays at 9pm. Here is Jane in an advert for the supermarket...